Eye Makeup Tutorial: Plummy Golden Eyes
Hello Everyone,
So, continuing to clearing my backlog in posting makeup looks and tutorials shot long back, here is this rich plummy pink makeup look with a pop of gold. I was super excited to create this look with only plum-pink tones on the lids but as you can see it didn't turned out that well but I could see my mistakes only after taking all the photographs. 🙁
It looks like I completely missed on doing the crease work. If it had been possible I would have taken a fluffy blending brush and blend that pink in crease with light brown shade. I am also debating on the fact that if a particular look doesn't turn out well, should I post it on the blog just to look at it years later and think what the hell were you thinking 😉
Steps to Achieve this Look:
I shouldn't be doing this at all as the eye makeup is not something I would like you people to create as is but you are free to include your own variation and make this thing work.
Used a satiny shimmery rich plum eye shadow from the Sleek Rio Rio palette and places it all over my lids with a flat shading brush.
Pick a matte taupe black shade and place it in the outer-V corners with a  pointed pencil brush. I did not blend it at all as I wanted to have that striking black in corner
Place a dark reddish-pink eye shadow it in the socket area between the lids and the brow bone using an angled brush, to add sort of pinkish plum effect to the look.
Then using a fluffy blending brush blend the crease color. I would suggest picking up a matte taupe brown shade for a better transition and look on eyes.
Highlight the brow bone with of your favorite peachy highlighter
Time to add pop of gold on lower lash line, using slanted liner brush apply a bright lemon yellow eye shadow. I used loose pigment from MAC in Old Gold I guess. I would suggest not to extend it till the wing as I did but until the end of your Outer corner
Use the same highlighter that you used on brow bone to highlight inner eye corners
Apply false lashes and line the upper lash line with any of your black liner, Curl your lashes and coat them with your favorite Mascara.
Here is a close up look at the steps..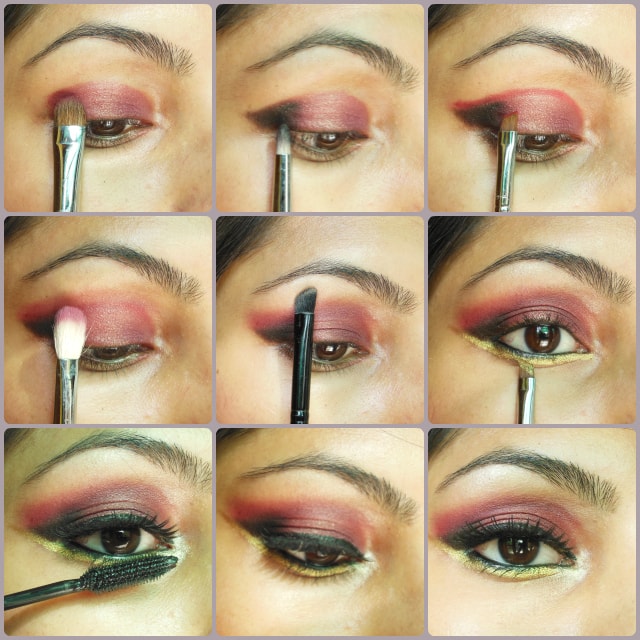 Products Used:
MAC Loose Pigment – Old Gold
Face Products:
Brushes Used:
Don't Miss to Checkout:
Share your thoughts and feedback in comments below
Loads of love.. :-* :-*
PS: If you get inspired and recreate the look, don't forget to share it. Tag me on instagram, facebook, twitter (@Poonam_BMM). I would love to see it on your eyes.