Eye Makeup Tutorial – Copperish Brown Eye Makeup
Today I am going to share a simple Brown eye look with a touch copper pink. I have mixed two pinkish copper eye shadow to achieve this look. The look is very simple to re-create I have kept it simple and not intense and hence can be easily worn even during day time. If you crave for more drama than add some more black on outer-V corners. You can also jazz it up with shimmers/Glitters for evening parties.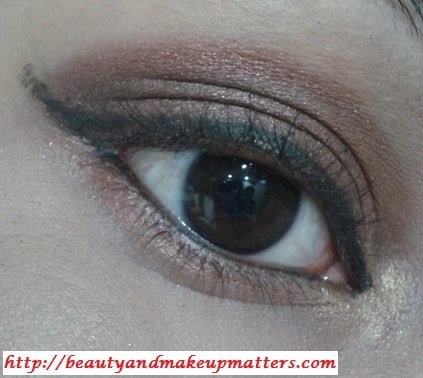 Steps to Achieve the Look: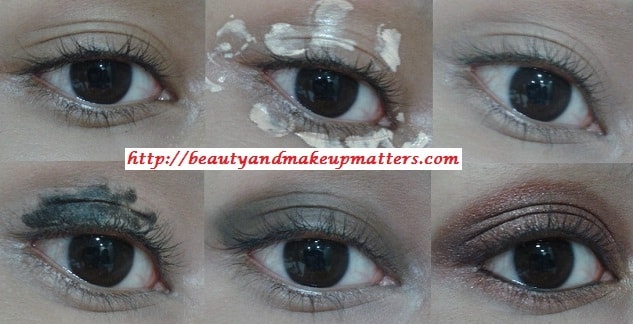 Prepare eye by applying a small amount of Garnier Tinted Eye Roll On over the lid and under eye area, to hide the slight pigmentataion and righten up the under eye area. It works nicely as a eye shadow base
Now apply Faces Kajal on the outer corner of the eye lid. I have used this kohl due to its soft creamy texture which smudges easily and gives the desired intensity to the Smokey eyes.
I used Lakme Absolute Eye shader brush to smudge the Kohl over the lid. The bristles are soft and blends the color nicely over the crease and outer-V corner of the lid
Now, Colorbar Spicy brown Eye shadow and pat it lightly over the Outer-V corner and toward the centre of the lid and blend it. The angled shape of the Lakme Absolute Eye shader brush does this pretty good job at blending the eye shadow. I was looking for my Faces Eyeshadow brush but must have forgot to carry it in my bag so used the Lakme Absolute Eye shader brush for the complete look
I used the pretty pinky copperish shade(last one) from the Chambor Trio –Dazzling Sphinx and used it to fill in the center and inner side of the lid using the unused side of the same Lakme Absolute Eye shader brush and started blending it with darker shade on the outer corner and over the crease. I used the angled tip of the brush to apply the color on the lower lashline too. I applied a bit of color to outer-V corner to give a hint of pinkish shade.
To highlight the inner corners of the eyes I used the (Middle) shimmery golden shade from the Chambor Trio –Dazzling Sphinx
Apply Faces Kajal-black to the waterline.
To add definition to the whole look I used the Maybelline Gel Liner-Black with the Vega Eye Liner brush and created a winged at the corner.

You can add Mascara and a highlighter to the brow bone to complete the whole look.
Products Used: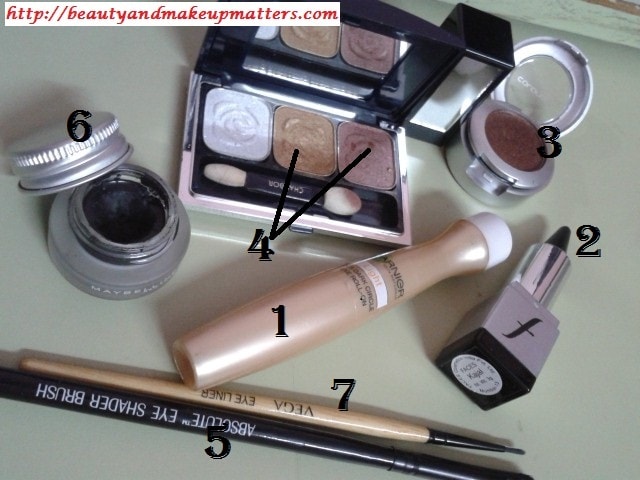 Vega Eye Liner brush
Let me know, how you did like this look, through your valuable comments!