Eye Makeup Tutorial- Peacock Blue Eyes
Hello Everyone,
Let's take a break from those colorful and bold Eye makeup looks and give this subtle peacock blue eye makeup a chance! This was my first stint with Zoeva Rodeo Belle Eye Shadow Palette and I wasn't sure what to expect so I just went ahead and applied the colors on my lids sans any base. The eye shadows were no doubt looked more vibrant in hand swatches but I loved how wearable and comfortable they were on eyes. The shades blended in perfectly giving soft transitions in the crease as well as outer-V without much effort.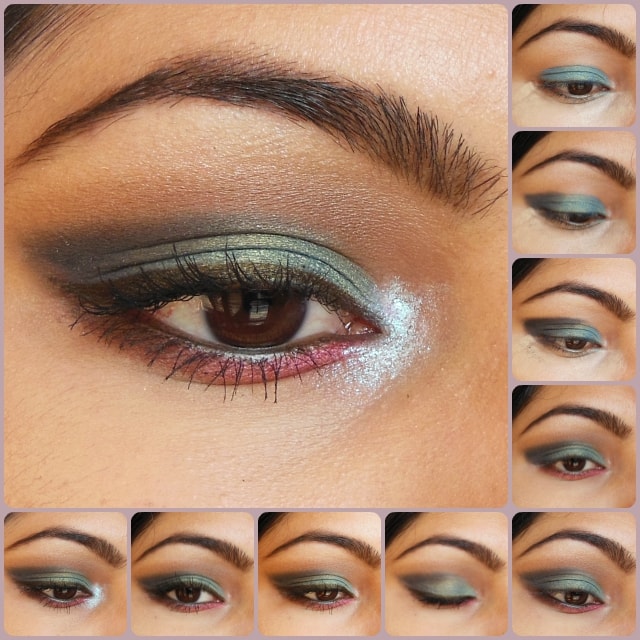 If you would like to make this eye makeup look more vibrant I would suggest using a good eye shadow base to really strengthen the blue tones of the lovely metallic golden-blue shade of the palette and add some loose glitters on top for a glamorous touch.
Steps to Achieve this Look:
Pick the metallic peacock blue eye shadow, Yee Haw! and pat it all over the lid with Flat Shading Brush. Pack the color until you get the desired intensity, you can even apply an eye shadow base or use a black liner as base to intensify the look.
Pick a matte taupe blue, Day Money shade and place it in the outer-V corners with a  pointed pencil brush. I did not picked a darker brown or black as wanted the corner to look soft but with tones of blue
Place the medium gray eye shadow, Smoking Gun it in the socket area between the lids and the brow bone using blending brush, to add a little smokey effect to the look but without going overboard with the shades.
Then using a clean, fluffy blending brush apply the light matte brown shade, Rodeo Ready and blend the crease color just a bit for a soft transition on the crease area.
Highlight the brow bone with this lovely peachy highlighter in the palette, Early sunrise for a defined look
Lets add some glam to lower lash line, using pointed pencil brush pack the bright reddish pink, Bang Bang in the inner 2/3rd of the eyes closer to lashline
using slanted liner brush or any thin liner brush apply the shimmery brown, Western Diva eye shadow on the outer 1/3rd of the lower lash line
I used felt tip liner for lining my eyes but turned out more brown than black and I actually liked it better so let's skip Black and use a dark brown eye liner on the upper lash line and tight line your eyes with the same liner.
Curl your lashes and coat them with your favorite Mascara. Apply false lashes for more glamorous look
There was something missing in there so I used Reflecting Teal pigment from MAC on the inner eye corners for that bright look
Here is a close up look at the steps..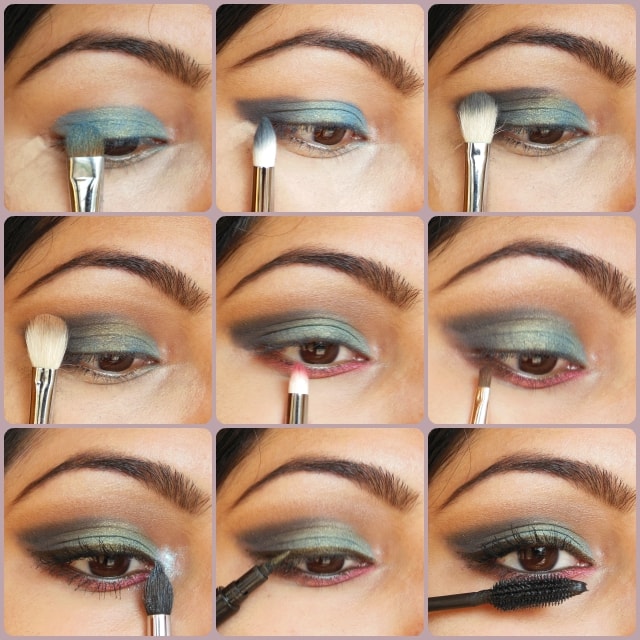 Products Used:
MAC Loose Pigment – Reflecting Teal
Brushes Used:
I paired this look with a bright tangerine Orange shade and a peachy blush.
Don't Miss to Checkout: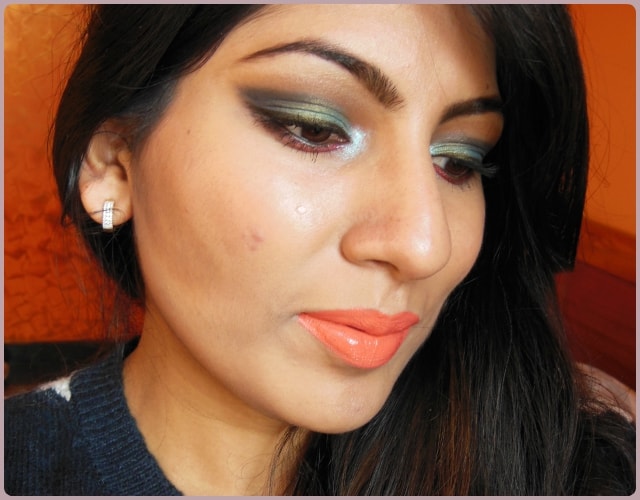 Hope you liked the tutorial. Share your thoughts and feedback in comments below
Loads of love.. :-* :-*
PS: If you get inspired and recreate the look, don't forget to share it. Tag me on instagram, facebook, twitter (@Poonam_BMM). I would love to see it on your eyes.