Eye Makeup Tutorial: Party Perfect Rose Gold Eyes
Hello Dolls,
I am very excited to share this makeup look today because this is one of my favorite neutral glam eye makeup look. I have always loved rose gold tones on the eyes but never got a chance to try it myself but thanks to Makeup Geek Cosmopolitan Eye Shadow, which is a gorgeous shimmery rose gold eye shadow who inspired me to create this look today.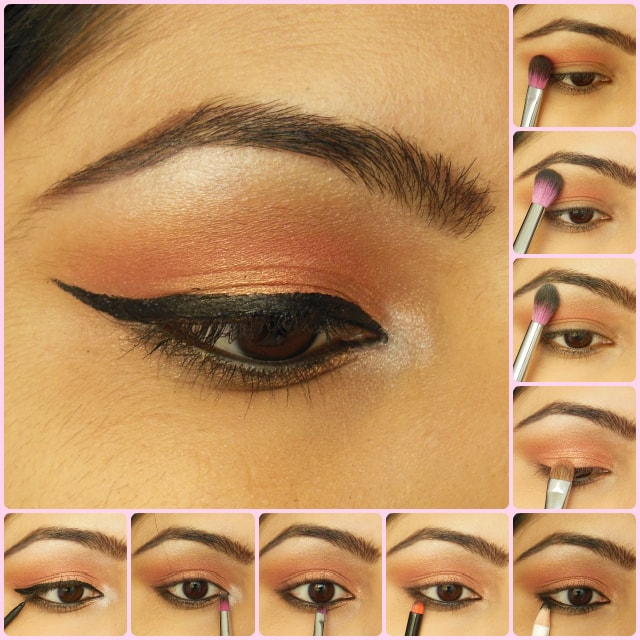 The steps might look like a lot of work but trust me this is one of the simples eye makeup look and you can easily get it by adding extra 5-7 minutes to daily eye makeup routine.
This eye makeup is perfect for any family function, festive celebrations or even wedding occasion and will work with any traditional or western outfits you plan to wear.  You can check the full face makeup look with Rose Gold Eye Makeup Look and get an inspiration on how pair this Eye Makeup Look.
Steps to Achieve the Look:
I started a little different today so after concealing my eyes I buffed some orangey coral eye shadow, Makeup Geek Mango Tango in the crease with a fluffy shading brush. I didn't take the color too high but just along the crease and Outer-V area.
With a fluffy blending brush I picked some neutral brown eye shadow, Makeup Geek Frappe and diffused the crease color a little bit in small wiping motions.
To clean up the brow bone area, with a tapered blending brush I picked a soft shimmery white eye shadow, Makeup Geek Ice Queen and blends it all over the brow bone for that uplifted eye look.
Time to apply my inspiration for the look, the shimmery rose gold eye shadow, Makeup Geek Cosmopolitan on lids with a flat shading brush. Packed the color all over the lids till I get the desired intensity
Using the same fluffy blending brush blended any harsh edges into the crease and outer V.
Line lower lash line with black Kohl pencil and smudge slightly on the outer 1/3rd for more intensity.
With a small smudger brush apply a shimmery bronze eye shadow in the outer 1/3rd of lower lash line
Pick the same rose gold Eye shadow on the rest of the eye with an angled liner brush
Open up the eyes by adding the same highlighter shade on the inner eye corners using a pointed pencil brush
Finish off with a thick winged eye liner and coats of your favorite Mascara, apply false lashes for more glamorous look
The pictures aren't doing justice to this look and I swear it looked pretty and vibrant in person.
Hope you enjoyed this tutorial!!
Share your thoughts and feedback in comments below
Loads of love.. :-* :-*
PS: If you get inspired and recreate the look, don't forget to share it. Tag me on instagram, facebook, twitter (@Poonam_BMM). I would love to see it on your eyes.