Eye Makeup Tutorial – Orchid's Garden
Hello Girlzz,
I have shared this Orchid's garden inspired look few days back and today I am going to show you how did I achieved this look step by step. Radiant Orchid, Pantone color of the year is the least explored shade in my makeup vanity but not this year. I have sorted out all the makeup products in this shade from my stash and will try to put them to maximum use in 2014. Let's get started with the tutorial first.. 🙂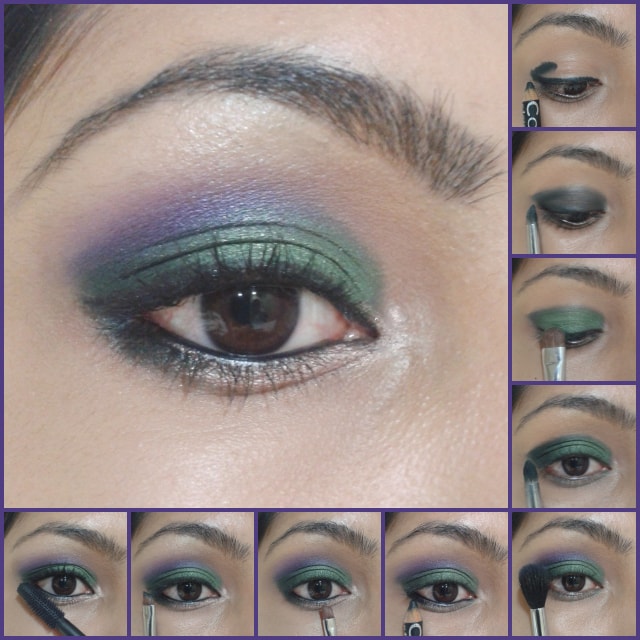 Steps to Achieve this Look:
STEP 1: Start with concealing and priming your lids with an eye shadow base. Then line your upper lash line with a black liner and create a slight V at the outer corner to define the crease.
STEP 2: With a pointed pencil brush smudge the liner/kohl all over the lids (below the crease line), this will create a base for green eye shadow that we will applying in next step and will make it look richer on application.
STEP 3: Take dark green eye shadow, I used Colorbar Green Stroke Eye Shadow and pat it over the lids with a flat shading brush. Restrict the application to center of the lids, leaving the outer V corner.
STEP 4: With the same pointed pencil brush used in Step 2, apply some black eye shadow on the outer V corner for an intense effect.
STEP 5: Using a fluffy blending brush, pick pearly bright purple eye shadow and apply it to the crease line, along the edges of green eye shadow, in a sweeping (back and forth) motion. Repeat the step till you achieve the desired intensity but make sure the brush movement doesn't go beyond the crease area leaving the brow-bone alone.
STEP6: Apply kohl to the waterline and outer 1/3rd of the lower line.
STEP7: Take a shimmery golden bronze eye shadow and line your inner 2/3rd lower lash line, use the same eye shadow to highlight the inner eye-corner. With a shimmery peach shade highlight brow bone.
STEP8:  Line upper lash line with a black liner. I used L'Oreal Gel liner with SIGMA Angled brush. Create slight wing at the outer corner along the eye shadow on the outer-V.
STEP9: Apply mascara loads of mascara on both upper and lower lashes
Clean the under eye area for any fall outs during application and you are done!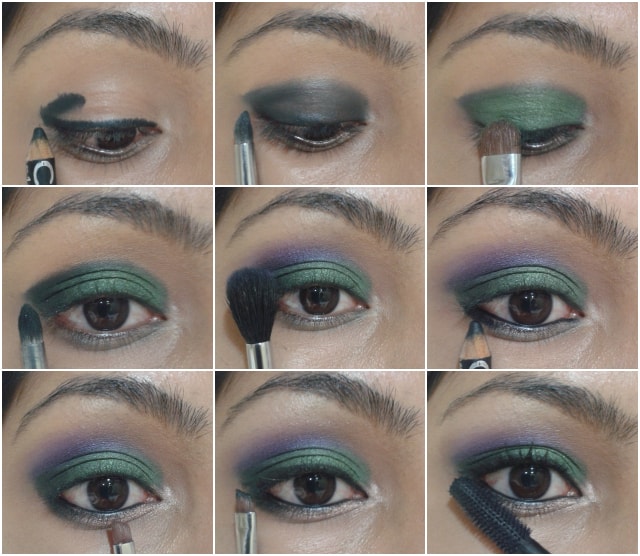 Products Used:

Brushes Used:
This makeup can be paired with your favorite Pink or golden party dress look. Add on some glitters for that extra ooOOmph. Pulling off purple eye makeup could be a challenge but I feel this purple in the crease look will help you flaunting color of the season with ease.
Hope you liked the Tutorial!!