Eye Makeup Tutorial – Orange Obsession
When I bought this Colorbar shimmer brick I wasn't even sure whether I will be actually using it, bought it for the sake of it being a dupe of Bobbi Brown Shimmer Brick. I usually don't wear blusher to workplace, when in mood I lightly stroll The Body Shop Kabuki Brush over the brick and swirl around my cheeks giving an almost undetectable color and slight sheen.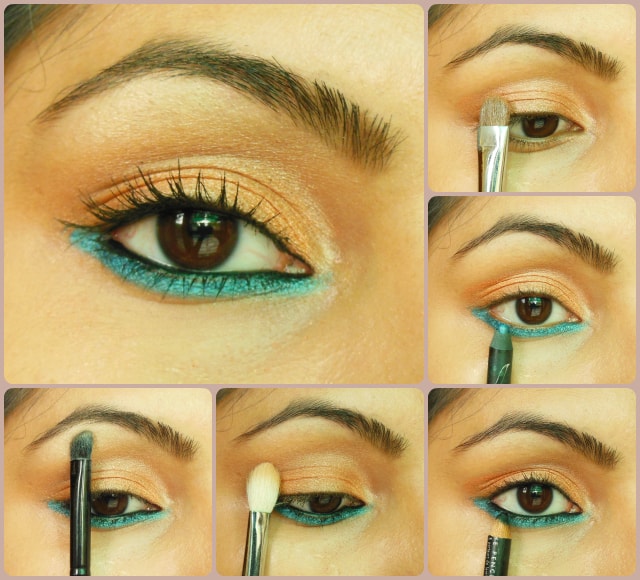 I wanted to get more out of it than just being a blush, so I dabbed the shades on my lids and wooaahh…. my eyes were glistening! I was highly impressed with the way it transformed my eyes and made them shine, they were gleaming with joy. To complete the look, I added my favorite aqua blue to line my lower lash and tight lined waterline with my favorite dark black Kohl.
Here's a quick Step by Step Tutorial to achieve this look:
Dust the shimmery coral shade all over the lids, Move the brush in patting motion than swiping as it will result in less fallout and more color with less effort
Pack the color till you achieve the desired intensity.
Line lower lash line with a bright aqua blue eye liner, you can pick any liner be it green, teal or blue depending on your preferences as it works with all the shades.
Time to apply Kohl on waterline and tight line upper lash line as well, choose the darkest of your kohl for this step
This is an optional step just to blend in the coral shade into the crease working on any visible harsh line dividing lids and crease. Use a clean blending brush or pick a matte taupe/beige eye shadow for the same
I like highlighting my brow bone but you can very well skip this step as well. I used the white gold eye shadow of the shimmer brick.
We are almost done, just double check if you are happy with the intensity. Add on if you want more of it.
Open up your eyes with two coats of mascara.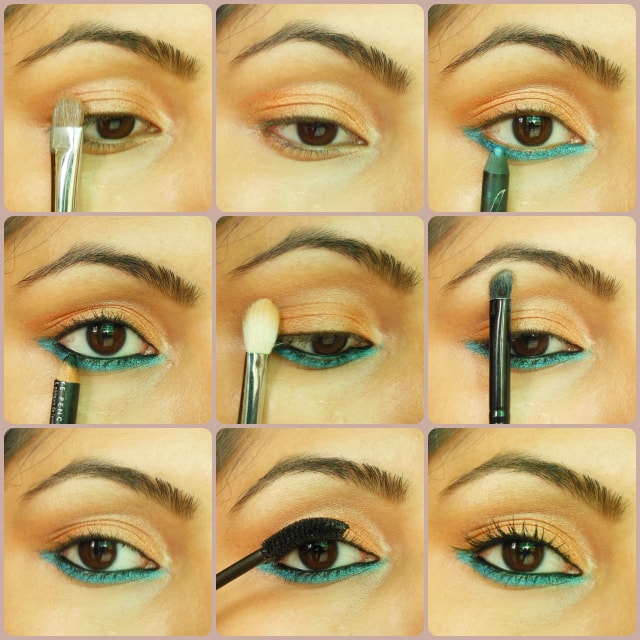 At times, I add black eye liner on upper lash line with a little wing.. you know I just cant live without them 😉
Hope your liked this Easy-Peasy Tutorial! 🙂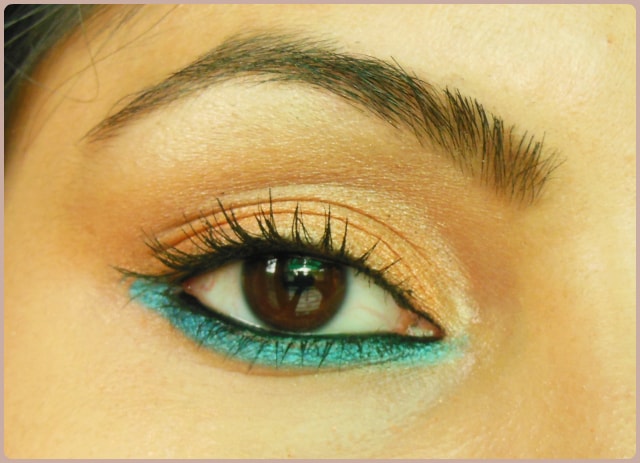 Do you like to wear bright shimmery shades on lids? Which is your favorite go to eye makeup look?