Eye Makeup Tutorial: Ombre Purple Eyes
Hello Everyone,
I told you that I don't feel comfortable using purple on my lids and that is the reason why this is the only purple look that I have created till date. The look also dates back to 2014 and I was starting with Eye makeup, so please excuse for not so good quality pictures, the eye shadow application and the browzz.. 🙁
I have used Maybelline Purple Eye Shadow Quad here which has lovely tones of purple and lilac shades but didn't have a rich pigmented purple so I used INGLOT Eye Shadow for that.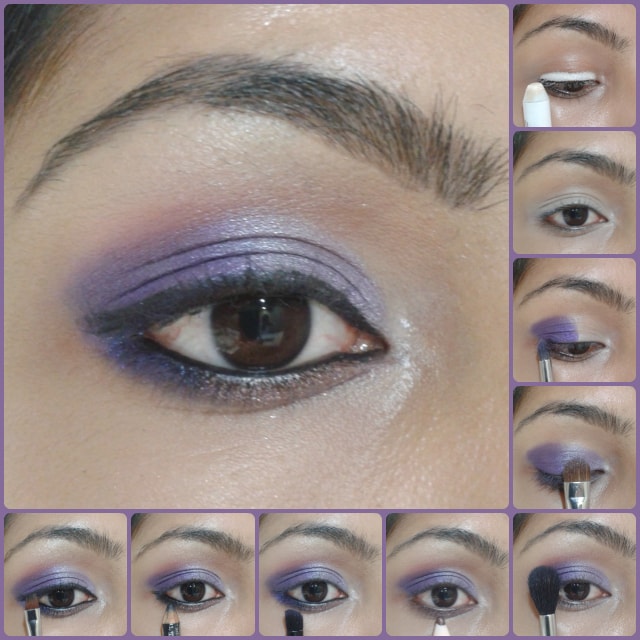 Step by Step Tutorial to Achieve this Look:
Start with apply a concealer to hide dark circles and under eye pigmentation and get a smooth base for the look to be started. I also did my eye brows beforehand and hence they are not a part of this tutorial.
Apply a white base to enhance the color because purple won't come good with a white base. You can go for a black base if looking for intense eye look.
Blend it with fingers and even out on the lids.
Using pearly medium-purple eye shadow 

with a  

pointed pencil brush

 define the Outer-V corner and apply eye shadow over outer 1/3

rd

of the eye area.

With a flat shading brush , pick up a light purple eye shadow and pat it gently on the center lid area. Pack the color till you achieve desired intensity
Pick a matte taupe brown shade and blend it in the socket area between the lids and the brow bone using a fluffy blending brush. This will create a depth in the crease area and blend any harsh edges.
For this step you can either use a dark metallic brown eye liner or apply a copper brown eye shadow with slanted liner brush and deposit the color till you achieve the desired pigmentation
Tight line your waterline and apply the kohl a little bit on the outer 1/3rd of the eye area.
Using an angled eye shadow brush, apply the same medium purple eye shadow and blend it lightly on outer 1/3rd area.
Apply a peachy highlighter to brow bone area and line the upper lash line with any of your black liner, Curl your lashes and coat them with your favorite Mascara.
Here is a close up look at the steps.
I paired it with a soft pink lipstick and this is how it looked on me 🙂
Don't Miss to Checkout:
Hope your liked this Easy-Peasy Tutorial!  Share your thoughts and feedback in comments below
Loads of love.. :-* :-*
PS: If you get inspired and recreate the look, don't forget to share it. Tag me on instagram, facebook, twitter (@Poonam_BMM). I would love to see it on your eyes.