Eye Makeup Tutorial: Intense Cut Crease Champagne Eye Look
Hello Dolls,
I have been struggling to get at least one good cut crease eye makeup look and I am so happy that this one turned out far better than any of my previous one. I have been trying so hard to get this crisp cut crease look since a year now but it never seemed to work for me. I always end up blending the color way too much in the crease but not this time.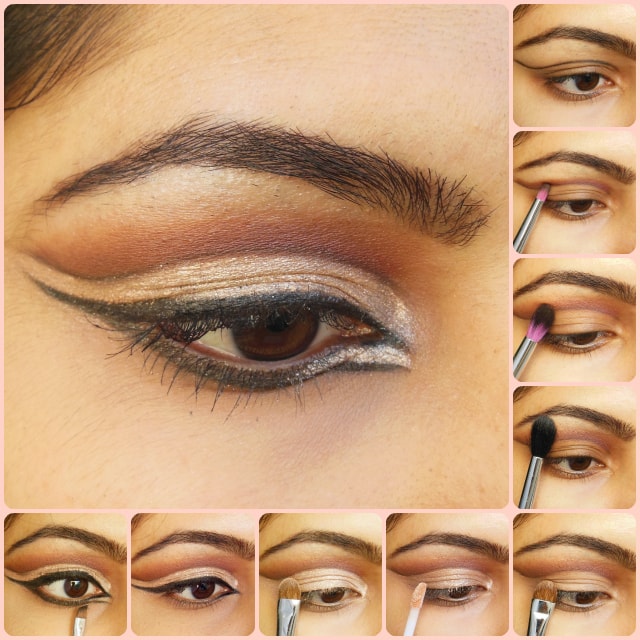 I know this is quite a bold look and not many of you would prefer it but as an eye makeup freak I feel it is a must to try this amazing way of defining eyes and with my small hooded eyes I loved how it made my eyes look bigger and less hooded.
If you love doing bold eye looks read on to find out how I created this look or browse through the other wearable makeup look I have been doing lately 🙂
Steps to Achieve the Look:
Conceal the eyes to cover any pigmentation on the lids and get a smooth and even base for eye shadow application. Define or trace the crease with a small liner brush using a black/brown eye liner. Trust me this is the most crucial step in cut crease look and it took me a while to do it correctly. A small tip – if you have hooded eyes keep your eye open and look in front while tracing your crease so you will know how it will look with eyes open.
With a pointed pencil brush pick a dark warm brown eye shadow and blend the liner a little bit just to get a diffused look. Keep the color on the upper crease area only.
Blend the crease even more by picking a light brown eye shadow on a fluffy blending brush and going over the upper crease in small wind wiping motions.
Clean up the brown bone area and give it some definition by applying a soft white highlighter with a tapered blending brush
To give the cut crease more precise and crisp look go over the lid with some concealer on flat shading brush and clean up the lid area.
As we are to use a light champagne colored eye shadow I used a liquid eye shadow in champagne shade, Luxie Beauty liquid Eye Shadow as a colored primer.
Pat some shimmery champagne eye shadow all over the lids with a flat blending brush and extending the same to the outer V area
Draw a thick winged liner with a black eye liner and extended it at inner corners for bigger eye effect.
Using an angled liner brush I gave a new inner corner to my eyes and liner my lower lash liner with a black liner
Apply the same champagne eye shadow on the inner corner and pack it well. Finally, Curl lashes and coat them with your favorite Mascara and apply false lashes for more glamorous look.
Hope you enjoyed this tutorial!!
Share your thoughts and feedback in comments below
Loads of love.. :-* :-*
PS: If you get inspired and recreate the look, don't forget to share it. Tag me on instagram, facebook, twitter (@Poonam_BMM). I would love to see it on your eyes.