Eye Makeup Tutorial: Indian Festive Makeup 
Hello Dolls,
This is one of my favorite type of Eye makeup look which I prefer whenever I have to attend some engagement party, family function or even weddings. I don't even remember doing any other combination of colors on my lids in the longest of the time because I always end up doing this ( My staple Indian Festive Eye Makeup)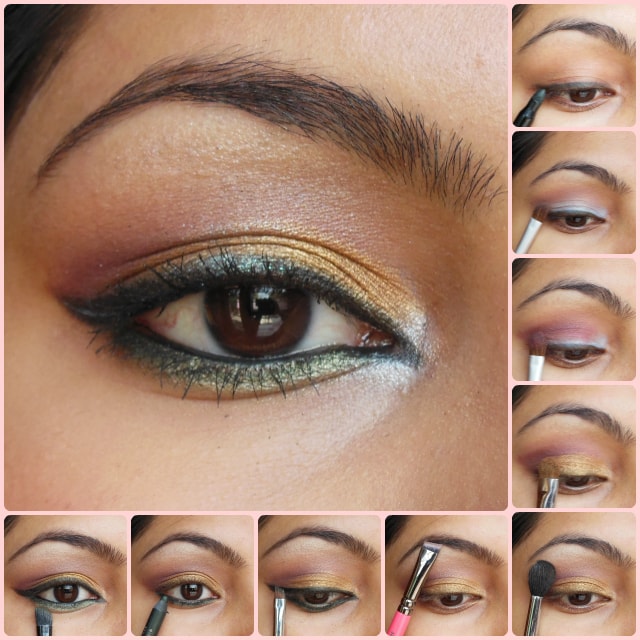 You can call it as my typical Indian Saree Makeup Look because I always wear this combination of colors on my lids, and no matter what saree I am going to drape on myself it somehow always goes with the outfit in the best way.
So, lets jump into this tutorial.
Steps to Achieve the Look:
Instead of patting the eye shadows directly on the lids I decided play with the base a little bit so I can darken and brighten up the colors as desired. Starting with a Black eye pencil, apply it closer to the upper lash line and then smudge it lightly with a smudger to intensify the lash line.
To brighten up the lid color I applied some of the white eye shadow base, NYX Milk Bean over the lid and the blended it out with finger.
Pick an eye shadow slightly darker than the actual skin tone and buff it in the crease area with a fluffy blending brush to work as a first shade of transition.
Intensify the crease details by layering it up with a slightly metallic dark pinkish mauve shade and give some definition to the outer-V as well.Make sure you don't bring the color all over the lids.
With a Flat Shading Brush pick a beautiful metallic golden eye shadow and pat it all over the lid. Keep packaging the color until the lids are saturated with it.
Blend the harsh edges with a Fluffy blending brush to keep the transition of colors smooth and apply some of the Brow Bone Highlight with a clean brush for a cleaner look
Now, define Eye brows with your favorite Eye brow product, Sleek Eye Brow Kit is what I used.
Apply a metallic green liner to the lower lash line, you can actually play with this color and go for blues as well.
Draw a regular winged eye liner on upper lash line and then extend it slightly at the inner corner for an Arabic Effect and faking bigger eyes.
Apply Black Kohl on waterline and with a small smudger brush blend it slightly with the green at the outer lower lash line for slight depth. Finally, Curl lashes and coat them with your favorite Mascara and apply false lashes for more glamorous look. ( I was in a rush so just the mascara)
Hope you enjoyed this tutorial!!
Share your thoughts and feedback in comments below
Loads of love.. :-* :-*
PS: If you get inspired and recreate the look, don't forget to share it. Tag me on instagram, facebook, twitter (@Poonam_BMM). I would love to see it on your eyes.