Eye Makeup Tutorial: Heart Winged Eye Liner
Hello Dolls,
I am obsessed with winged eye liner and you will surely never find me without one but I do get boreed of my winged liners so I lay wit them a little and draw whacky shapes to see if they still look good ;). I have tried recreating that crazy Pixiwoos Inspired Liner Look, double winged liner and even a fishtail Eye liner look, so don't forget to check them out.
Coming back to today's look, I created this winged liner with a tiny little heart in there. I wanted to make the heart stand out but it just got really tiny during the process so will definitely try to recreate it with better results 😛 ..and to see that live don't forget to Subscribe to my channel HERE <3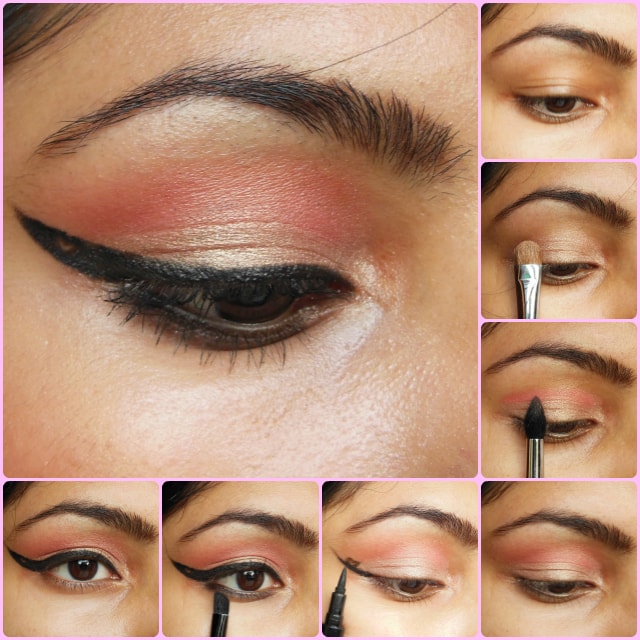 Steps to Achieve the Look:
Used some concealer to hide any darkness and did my brows
To give some color to my lids I started with a slight shimmery peachy gold shade and with a flat shading brush, SIGMA E55 pat it all over the lids just below the crease area.
With a tapered blending brush I applied a pinky coral eye shadow in the crease and blended it.
Highlight the brow bone with a satin shimmery peachy shade for a defined brow bone look.
Draw the lower part of Winged liner liner and with a felt tip black liner draw a little heart on the wing
Finish up the winged liner but try not to cover the heart though cover sides so it look like a part of the wing.
You can totally skip this step, but I added a little bit of smuged kohl on lower lash line.
Apply a good amount of mascara or add false eye lashes.
Hope you enjoyed this tutorial!!
Share your thoughts and feedback in comments below
Loads of love.. :-* :-*
PS: If you get inspired and recreate the look, don't forget to share it. Tag me on instagram, facebook, twitter (@Poonam_BMM). I would love to see it on your eyes.