Eye Makeup Tutorial – Greyish Black Smokey Eyes
Hello,
I had been itching to do Black Smokey Eyes since the day I saw this pic. Kareena Kapoor is looking seductively gorgeous in Sultry Black Smokey Eyes. Don't know why it took me so long but finally I made it and went for an intense Greyish Black Smokey Eye makeup today.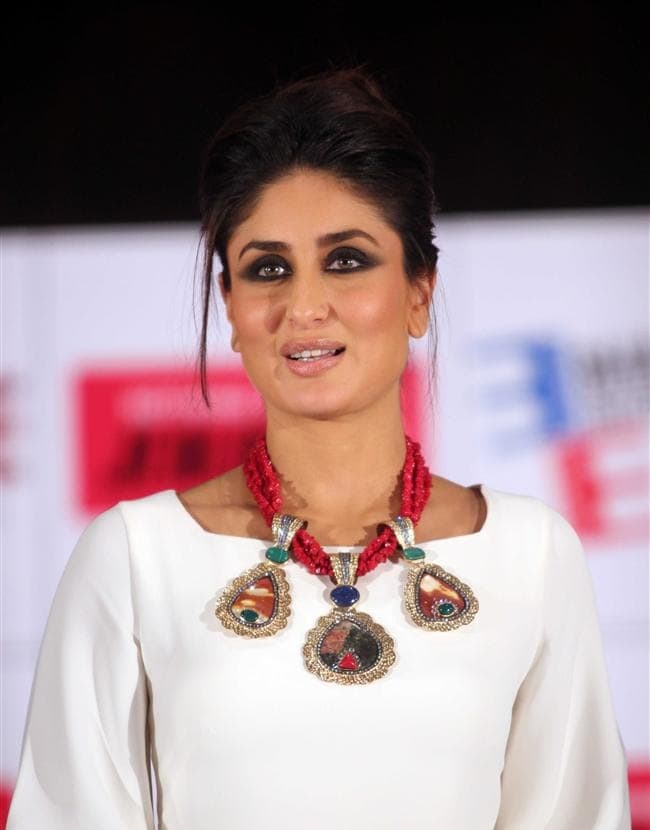 I thought of sharing the simple steps I followed to help you re-create the magic. The look isn't hard to create and doesn't need any outstanding talent. Hope you like the look. Let me know your thoughts through comments!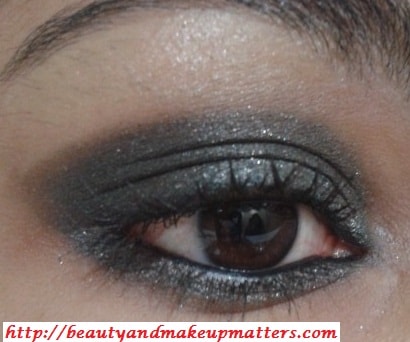 Products Used: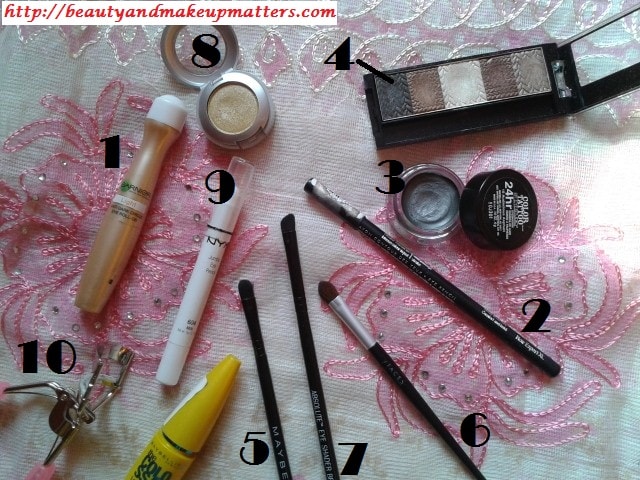 Maybelline Eye shadow brush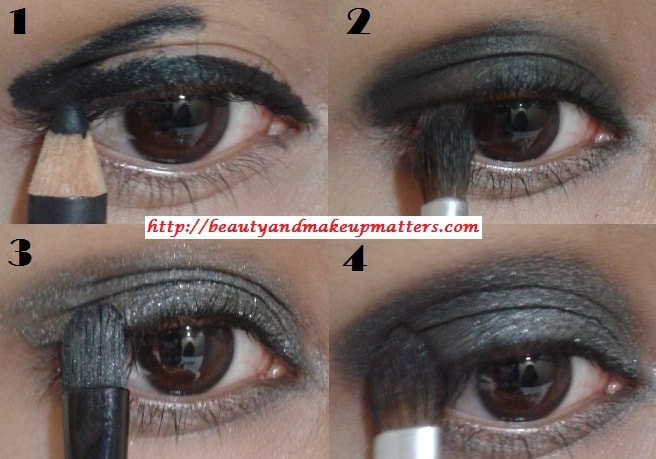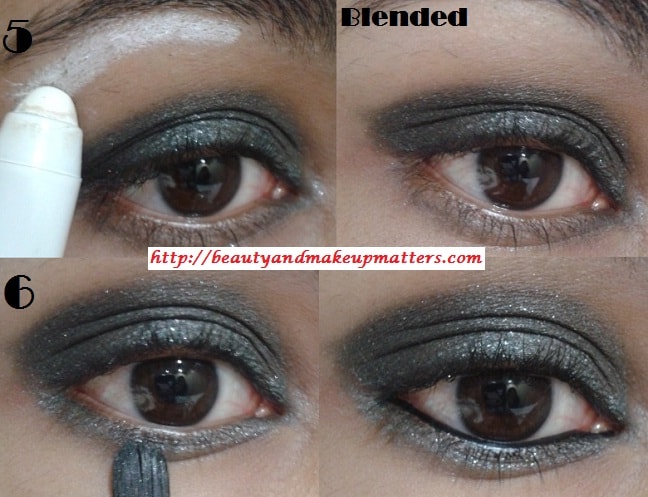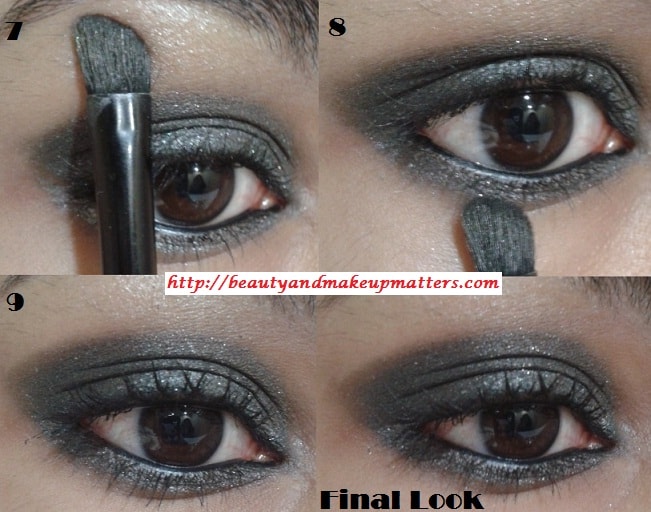 Steps:
Prepare your eyes and conceal any imperfection and dark circles using a concealer. I used Garnier Tinted Eye Roll On. Take a matte black eye pencil Bourjois Kohl & Contour Eye pencil in Noir Expert and follow the upper lash line and extend the curve to make a small V at the Outer-Crease eye area. The pencil shouldn't be smudge-proof as we are going to smudge it softly in the next step.
Smudge the Black liner using a soft fluffy smudging/blending brush  Faces Eye shadow brush. To avoid messy look make sure to limit your stroke below the crease and inside the outer-V corner of Eyes.
Now, using a flat shader brush Maybelline Eye shadow brush pick up the shimmery Black/Gray eye shadow I used Maybelline Color Tattoo Eye shadow – Audacious Asphalt and pat it all over the lids.
Turn for the black eye shadow now, I used Shimmery Black from Revlon Custom Eyes Naturally Glamorous palette. Using the same Faces Eye shadow Blending brush Blend the eye shadow on the outer-V corner as well as over the crease to intensify the look. The step wouldn't require much blending and within 2-3 strokes and re-applications you can easily achieve this look. Don't worry about mistakes and going out of the area, just wipe up the excess with a wet towel/tissue diligently.
Line your lower lash line with Maybelline Color Tattoo Eye shadow – Audacious Asphalt using Maybelline Eye shadow brush.
It came out very light so I topped it up with the Revlon black Powder Eye shadow using Lakme Shader brush. Fill your water with Kohl
I love defining my brow bone so use NYX Jumbo Eye Pencil in Milk Bean and blended it with finger tips and applied Colorbar Single Eye shadow in Gorgeous Gold as highlighter using the Lakme Absolute Shader Brush.
I purposefully skipped on the Upper lash Line but totally forgot to highlight the inner corners.
Finish it off with your favorite Mascara, I used Maybelline Collosal Water-Proof Mascara
Don't Miss to Checkout:
I paired it with my favorite MLBB shade the Revlon Colorburst Lipstick in Rosy Nude. The shade balanced smokey eyes really well.  Again, I wasn't carrying any blusher, so that's it but you can pair with light peachy pink blusher. Here, how it looked on me.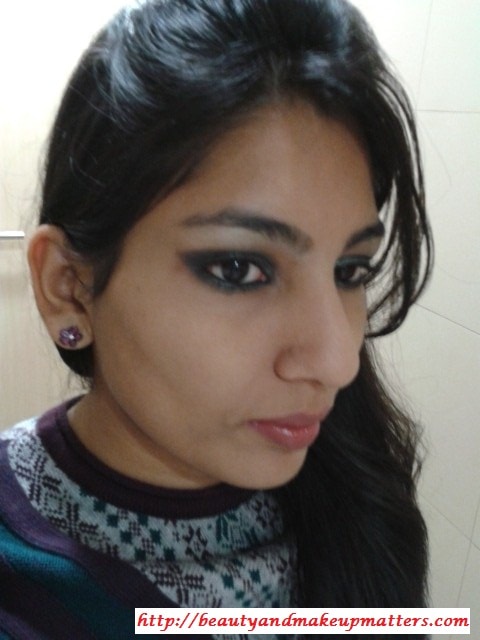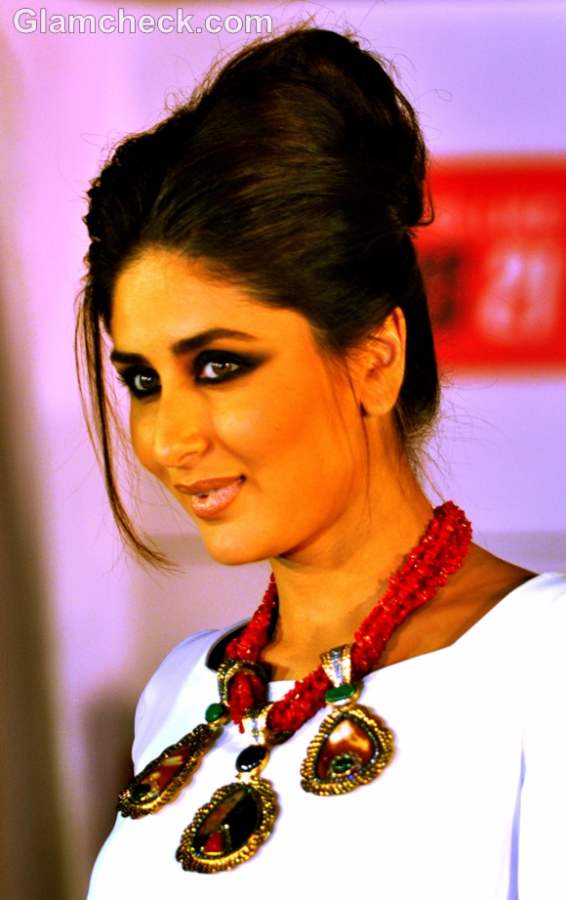 How did you like this Black Smokey eye look? Which is your favorite eye makeup look Smokey or simple?