Eye Makeup Tutorial – Golden Pink Eyes
Hello Everyone,
Today i will be sharing a Step by Step tutorial on the eye makeup I created for the upcoming festive season. I tried this bright golden eye makeup to let my eyes dazzle up the look with an interesting pinky twist. 😉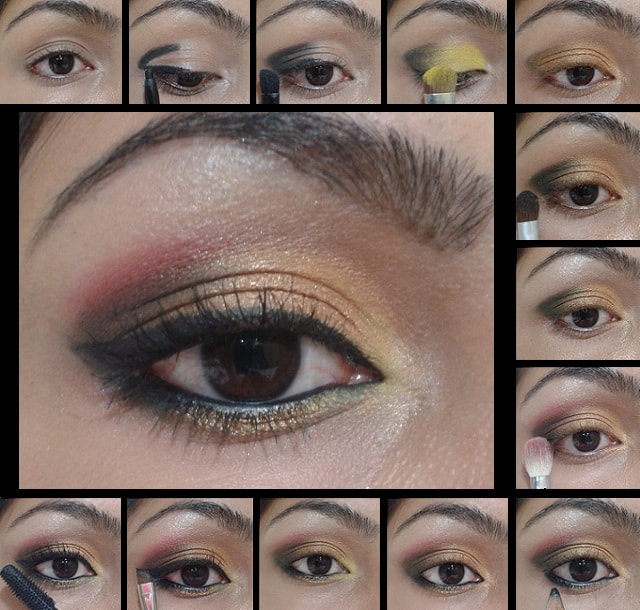 Steps to Achieve this look:
Conceal and prime you eyes
Apply a creamy black liner of kohl on outer-V
Blend it lightly with a smudging tip brush or a fluffy angled brush
Pat a Lemon Yellow (Reddish pink) on the centre of your lid and slightly to the inner corners.
Top it with a Bright Gold eye shadow and extend it till the outer corners (Don't worry we are gonna blend in everything)
Pick a bit of black eye shadow with a fluffy brush and blend it on outer-V corner to intensify to smokiness. Take it along the crease line to blend any harsh lines
Apply a beige highlighter to brow bone area.
Pick a same reddish-pink with a fluffy blending brush and blend it at the top of black (Keep the color very  subtle else it will ruin the look)
Kohl waterline and take a bit below on outer 1/3 of lower lash line
Blend the black using the same brush we used in Step – 3 and apply the same gold eye shadow on the inner half of lower lash line.
Apply a yellow eye shadow or any yellow based highlighter to inner corners.
Line upper lash line with a matte black eye liner and wing it a bit
Finish off with your favourite mascara
The Final Look..
For Lips, I used 2-3 red based lip colors to achieve the shade I was looking for a pinkish-coral-Red (if that makes sense!!). Though it isn't the exactly what I have been looking for but quite close.
You can also check Tips for Brown Eye Makeup to slay the look.
On cheeks, I highlighted the cheek-bone with my favourite NYX Illuminator and with light hands used NYX Dusty Rose as  blush.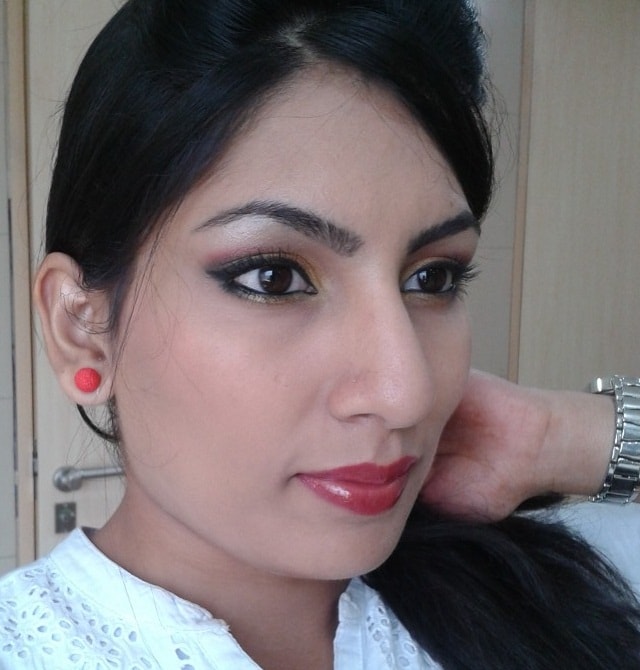 Products Used:
Eyes:
Lips
Face
Hope you liked the look! Do share your thoughts though comments!