Eye Makeup Tutorial: Glittery Black Smokey Eyes
Hello Dolls,
Don't we all love smokey eyes.. Yesss we do and when it is about Black smokey eyes.. I die for them :). I love black smokey eyes to the core but I haven't tried them in a while so when I finally made up my mind to do a Black smokey eye, I wanted to make it bolder and better.
And what other than Glitters will do that for you.. so I added glitters on top and yazzzz.. that was exactly what I had in my mind.. a glittery black smokey eye!!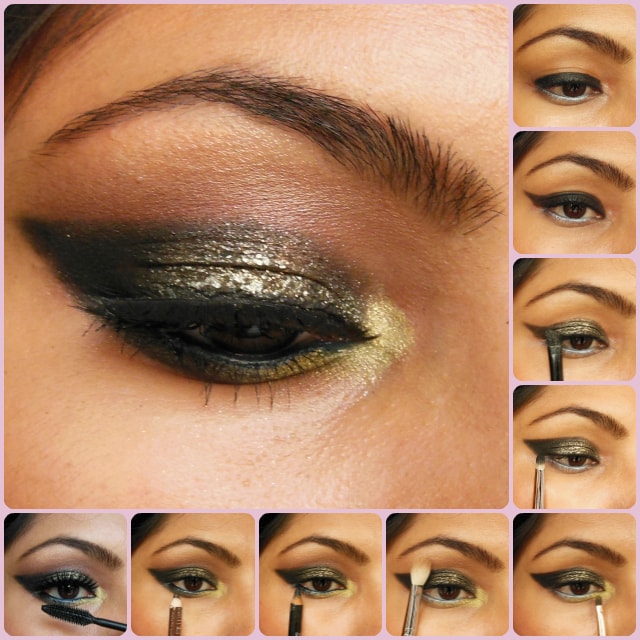 Lets jump into the tutorial and see how I achieved this look.
Steps to Achieve the Look:
Line your upper lash line thickly with a black eye pencil which will work as a black base for this eye makeup look. You can even start with getting a light skin tone color on the crease to have a soft transition shade there
Set the black liner with black eye shadow while smudging it slightly on the lid area but keeping the crease clean. Try to create a V at the outer corners for that extended winged effect.
Apply a glittery primer on the lids and pat on a sparkly bronzy/brown glitters on the lids. I used MAC Copper Sparkle here.
With a pointed pencil brush, pack some more black eye shadow in the outer corners and defining the winged effect at outer corner.
Highlight the inner corner with a Yellow eye shadow for a more dramatic effect instead of Gold because I feel it gives more pop to the eyes. Extend the Yellow to inner 1/3 rd of the lower lash line
Conquer the blending the now starting with a pale brown shade to give a diffused look to the crease and then add a hue of pink with the same blending brush because I feel pink doesn't let the look go muddy or look cray.
Apply Black Kohl on waterline and tight line the upper waterline as well. Smudge it slightly towards lower lash line to give more depth to the look.
Blend the color with a bronzey brown shimmery eye pencil on the lower lash line. Add some glitter in the middle of lower lash line for more pop.
With a fluffy blending brush, highlight the brow bone with this satin shimmery highlighter. Curl lashes and coat them with your favorite Mascara. Apply false lashes for more glamorous look
Pigments Used: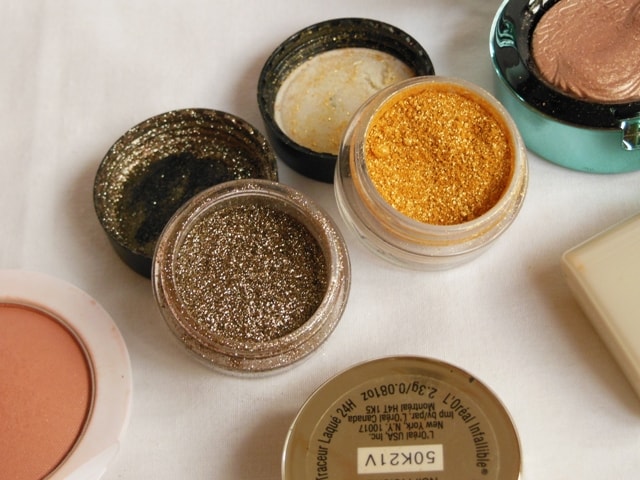 You can easily replace Yellow in the inner corners with a shimmery peachy gold shade for more a subtle highlight, in case you are not comfortable using yellow there.
Hope you enjoyed this tutorial!!
Share your thoughts and feedback in comments below
Loads of love.. :-* :-*
PS: If you get inspired and recreate the look, don't forget to share it. Tag me on instagram, facebook, twitter (@Poonam_BMM). I would love to see it on your eyes.