Eye Makeup Tutorial: Gerua Song Inspired Eyes 
Hello Dolls,
I am super excited to share this makeup tutorial with you today because it has been years that I haven't done a celebrity inspired makeup look and today I am kicking off with this gorgeous soft black smokey eye look inspired from Kajol in "Rang De Tu Mohe Gerua" song.
I love full on glam black smokey eyes but this one is rather subtle which makes the overall look pretty wearable and anyone can pull this off with ease.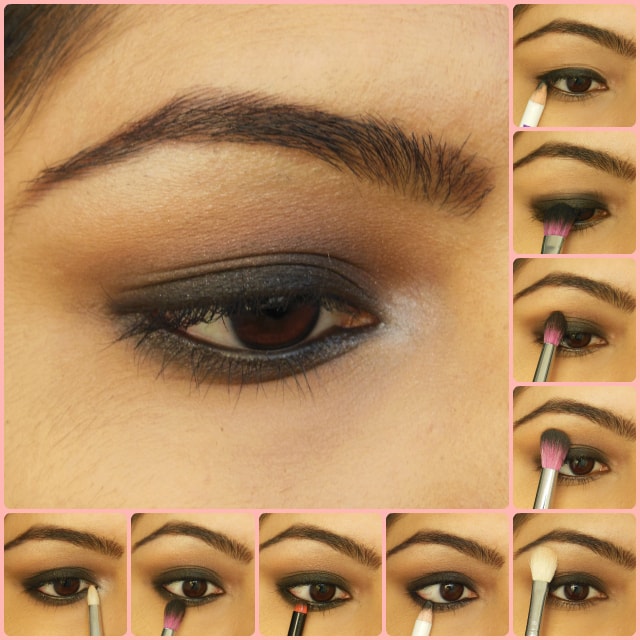 Steps to Achieve the Look:
Start with thickly lining the upper lash line with some of the black eye liner/pencil. You don't need to be precise with this step as we are gonna blend everything.
Pick some black eye shadow on the fluffy Flat shading brush and blend the liner over the lids keeping it just below the crease area.
With a pointed blending brush pick a dark brown eye shadow and place it just in the crease to give a nice transition to the black on lids and diffusing those harsh edges. Don't take the color too high but just along the crease.
With a fluffy blending brush pick some neutral brown eye shadow, Makeup Geek Frappe and diffused the crease color a little bit more in small wiping motions.
To clean up the brow bone area, with a tapered blending brush pick a soft shimmery white eye shadow, Makeup Geek Ice Queen and blend it all over the brow bone for that uplifted and defined look.
Line waterline and lower lash line with black Kohl pencil for more intensity an smokey look
With a small smudger brush apply a black eye shadow on the whole lower lash line and smudge the liner softly while setting it with the eye shadow.
With a small blending brush blend the lower lash line with a light brown eye shadow to diffuse any harsh edges.
Open up the eyes by adding the same highlighter shade on the inner eye corners using a pointed pencil brush. Finish off with 2-3 coats of your favorite Mascara, apply false lashes for more glamorous look
This is the finished look..
Hope you enjoyed this tutorial!!
Share your thoughts and feedback in comments below
Loads of love.. :-* :-*
PS: If you get inspired and recreate the look, don't forget to share it. Tag me on instagram, facebook, twitter (@Poonam_BMM). I would love to see it on your eyes.