Eye Makeup Tutorial: Dark Green Smokey Eyes
Hello Dolls,
It has been long that I have did any green eye makeup and  I was really craving for some soft smokey eye look so I decided to pick the darkest green from my eye shadow collection, Makeup Geek Envy Eye Shadow and do something around it. I could have added more depth in the crease with a black eye shadow but I didn't want any other color to take over so just used the green one. It is one of the super easy smokey eye look that you can achieve in the colored domain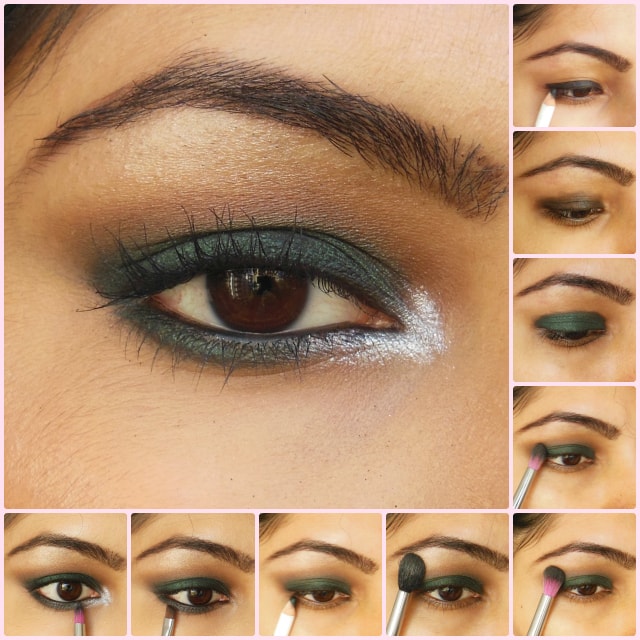 Let's jump into the tutorial and see how I achieved this look.
Steps to Achieve the Look:
Line your upper lash line thickly with a black eye pencil which will work as a black base for this eye makeup look
Blend it slightly with a smudger brush concentrating it closer to lash line.
With a Flat Shading Brush pack the dark forest green eye shadow, Makeup Geek Envy all over the lids but keeping the crease clean.
Apply a dark warm brown eye shadow with a fluffy blending brush and blend the color in the crease an get rid of the harsh edges.
Diffuse the color even more with a light warm brown eye shadow with a fluffier blending brush to create a slight gradient in the crease.
Highlight the brow bone with a pearly white eye shadow, Makeup Geek Ice Queen. It will clean up the eyes and make eyes look more defined and lifted.
I am skipping the eye liner for this look and used the same black liner to line upper lash line and smudged it lightly. You can also go for a lack eye shadow and pack it close to lash line with a Flat Liner brush.
Apply Black Kohl on waterline and tight line the upper waterline as well. Smudge it slightly towards lower lash line to give more depth to the look.
Pack the same Forest green eye shadow with an angled liner brush on the lower lash line till inner 1/3rd of eyes.
To open up the eyes Highlight the inner corner with a shimmery peachy white eye shadow and Extend it to inner 1/3 rd of the lower lash line
Curl lashes and coat them with your favorite Mascara. Apply false lashes for more glamorous look but I didn't have any of these with me so I just layered them with a liquid liner.
The pictures aren't doing justice to this look and I swear it looked pretty and vibrant in person.. more because of the slight green shimmers in the eye shadow.
Hope you enjoyed this tutorial!!
Share your thoughts and feedback in comments below
Loads of love.. :-* :-*
PS: If you get inspired and recreate the look, don't forget to share it. Tag me on instagram, facebook, twitter (@Poonam_BMM). I would love to see it on your eyes.