Eye Makeup Tutorial- Cut Crease Brown Eyes
Hello Everyone,
Off late I have been totally digging these Cut Crease style eye makeup. The bold and bright looks superb with this but before trying that I wanted to play safe and gain some expertize by working with simple look like this one.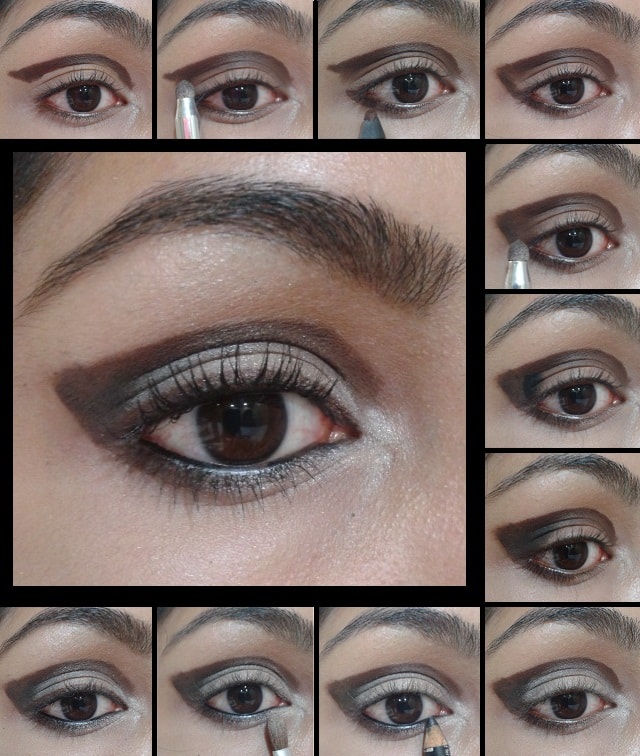 I knew I was going to make mistakes but so manyyy.. **Ouucchh**..
Steps that I followed to achieve the look-
 First of all it needs lots of practice to do the first step i.e lining your crease with a liner/pencil. This is the most basic step and 70% of the results depends on this. I am still learning to achieve the line perfectly. I drew a thick line using a creamy brown eye pencil but you can go for a thin line as well. It should be drawn over and above your crease, just under the hollow of your eyebrow bone (Swipe your finger under your brown and you will feel the bone, this is the place you need to start drawing the line and the follow the contour of the bone. Draw it just before your bone starts moving down and give it slight lift
Using the Smudging tip I smudged the line lightly from inside just over the crease.
Using the same pencil line the outer 1/3 of your lower lash line. However, I used a smudge proof Faces Eye pencil for better staying of the color as CoverGirl Eye pencil smudges and fades easily
Now, we have to join both the line so just take it up in small small stroke. and join at the end of the upper line
Again, with smudging tip, smudge it lightly at the Outer-V corner
To intensify the outer-V corners I added some black there with Bourjois Kohl & Contour Eye Pencil in Noir Expert
Blend it with the brown but make sure not to take the color too much on the lids.
Pick a light peachy brown color and pat it all over your lids, under the crease and just before the outer-V Corner. This is the biggest mistake as I picked up the not-so-pigmented eye shadow from Revlon Custom Eye Shadow Palette.
Add Kohl to your waterline
Apply the same peachy brown eye shadow to inner corners and inner 1/3 rd of lower lash line
Line your upper lash line with a brown liner, just keep it really thin.
Finish off with your favorite Masacara. 🙂
This looks is inspired by Cynthia from IndianVanityCase. She did a similar look in Black but with far better results, i am still struggling with the colors and tricks to get it right. Require a lot more practice and precision to get it right but will try to do it better next time.**Pinky promise**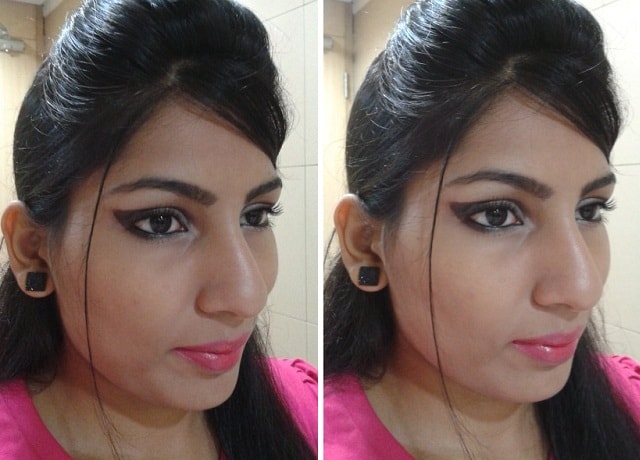 Products Used-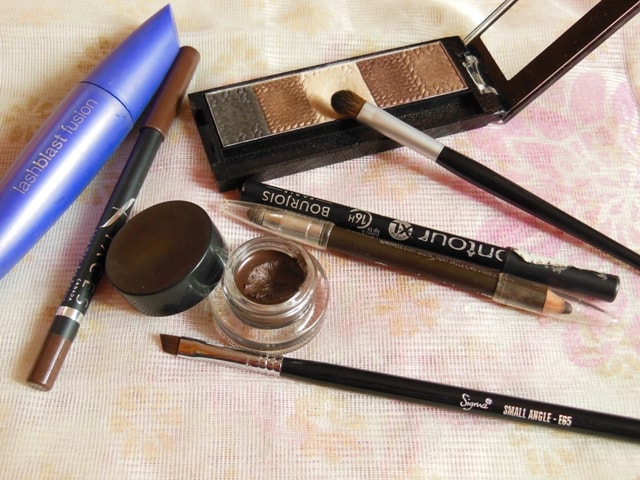 Again my favorite combo on lips, with an addition of lip gloss in the center.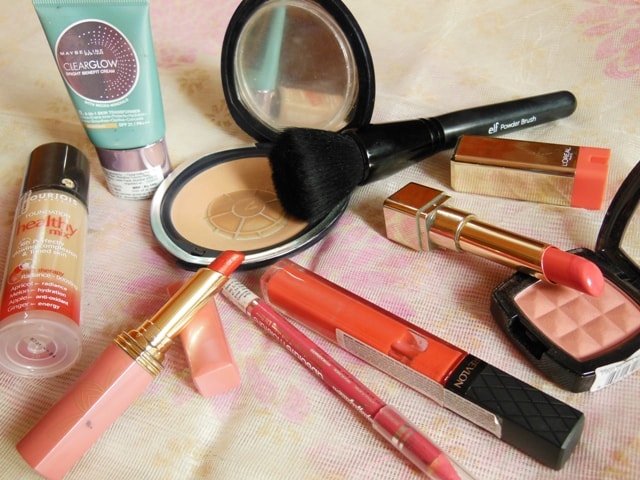 Do you like this look? Have you tried your hands at Cut-Crease Eye Makeup?
PS- Suggestions are more than welcome on improving this look or some tips to do it better.