Eye Makeup Tutorial – Curved Cat Liner
Hello Dolls,
Today I am sharing another creative or you can bold eye liner makeup tutorial with you. I get bored of the usual liner application or the eye shadow combination pretty soon and itch to do something different every now and then.. and when I have to seek inspiration on what to do next "Instagram or Pinterest" comes to my rescue.
There are so many amazing Makeup Artists over there who creates mesmerizing make looks that few words of appreciation are just not enough… So I am paying some respect and showing love to them by recreating their makeup look.
This Curved cat eye liner makeup look is also inspired from a makeup artist from Instagram @StylebyCat. Her page is full of pretty eye liner designs.. <3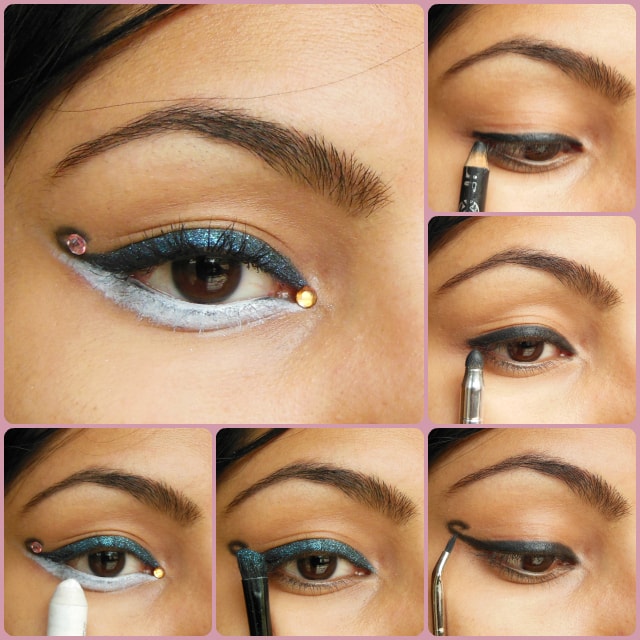 Steps to Achieve the Look:
Using your favorite gel liner or a black eye pencil line upper lash line and make sure you leave no spaces between lashes and the lid area
Smudge it slightly using a smudger to thicken up the line and not to diffuse the intensity
With a fine liner brush, start creating a wing but curve it inwards at the tip to make a small C.
Pack on some of the bright shimmery Blue eye shadow so that it sparkles. I used MAC Blue Brown Pigment as a base and them topped it with MAC Reflect Teal Pigment for that bright aqua color.
Line lower lashline with a white liner/pencil. I suggest to sharpen the pencil before application for a precise and cleaner application… because I made this mistake of using a blunt pencil and hence the end result isn't as clean as I expected.
Stick on some stones on the inner corner and outer curve to make this look even more bombastic!! And finish off with a mascara or false lashes..
I didn't had a nudish liner but if you have one use that instead of white and this look is instantly turned to a more wearable party look than this bold version
Hope you enjoyed this tutorial!!
Share your thoughts and feedback in comments below
Loads of love.. :-* :-*
PS: If you get inspired and recreate the look, don't forget to share it. Tag me on instagram, facebook, twitter (@Poonam_BMM). I would love to see it on your eyes.