Eye Makeup Tutorial: Cool Toned Smokey Brown Eyes
Hello Dolls,
I am sure you can make from the pictures that it is not a recent eye makeup tutorial. I shot it almost 2 years back when I was just fiddling with how to click eye makeup pictures and didn't knew that flashes can ruin any makeup look. I could have very well not uloaded this look here but you know what I have chose it from 100's of pictures and I actually loved the way I did my eye liner here. Also, it can be good reminder to me about how my makeup game has changed and what all correction I can make to this look.. 😀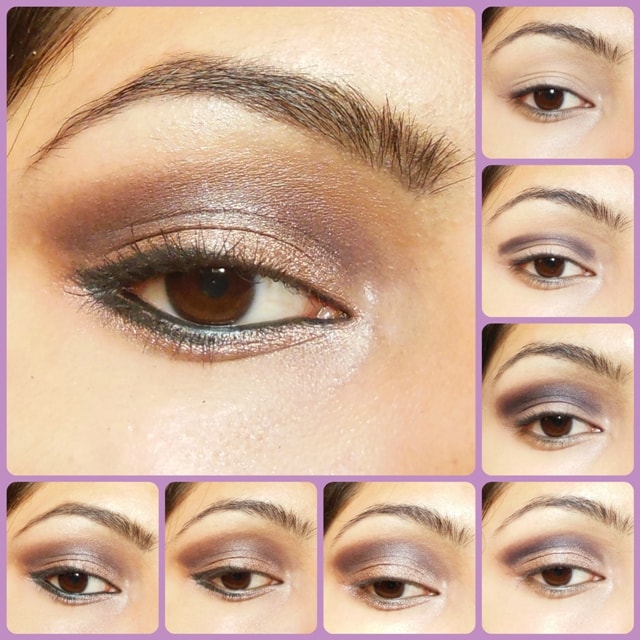 Let's jump into the tutorial and see how I achieved this look.(and what all can be corrected here)
Steps to Achieve the Look:
As we are doing a cut crease sort of a look start with concealing and priming lid and then setting it with a skin toned powder eye shadow.
Line the crease area with a black eye shadow following the contours of the lid using a pencil brush and blend it just slightly. I could have been more precise here and could have restricted my brush strokes above the crease only.
With a small blending brush pick a cool toned brown and start blending it above the crease. I definitely went overboard here and picked and loaded too much so make sure you pick little color and blend. Keep blending till you get the desired definition there in the crease.
Clean the brow bone area by apply a peach/champagne highlighter on the brow bone area.
Pack a bright shimmery peachy-golden eye shadow on the lids with a Flat shading brush. I guess if I had cleaned the under crease area with a concealer brush it would have come out cleaner and crisp.
My favorite part from the look.."Eye Liner". Use your favorite black eye liner and draw the upper lash line but we are not going all the way to the inner corners but finish ing just in the middle of the eyes and similarly line lower lash line. I guess this technique gave me Almond shaped eyes <3
Curl lashes and coat them with your favorite Mascara.
Hope you enjoyed this tutorial!!
Share your thoughts and feedback in comments below
Loads of love.. :-* :-*
PS: If you get inspired and recreate the look, don't forget to share it. Tag me on instagram, facebook, twitter (@Poonam_BMM). I would love to see it on your eyes.