Eye Makeup Tutorial: Blue Me Away
Hello Dolls,
I have been itching to an all Blue Eye look because I have been obsessing over Royal blues like anything. I guess Blue.. especially Royal Blue is my favorite color now!
I just wanted to keep Blue as the main shade so I didn't made it look anything like smokey or like..rather added some bright orangey tones on lower lash liner for that bright and open eye look. I loved how the eye makeup turned out and hope you like it too..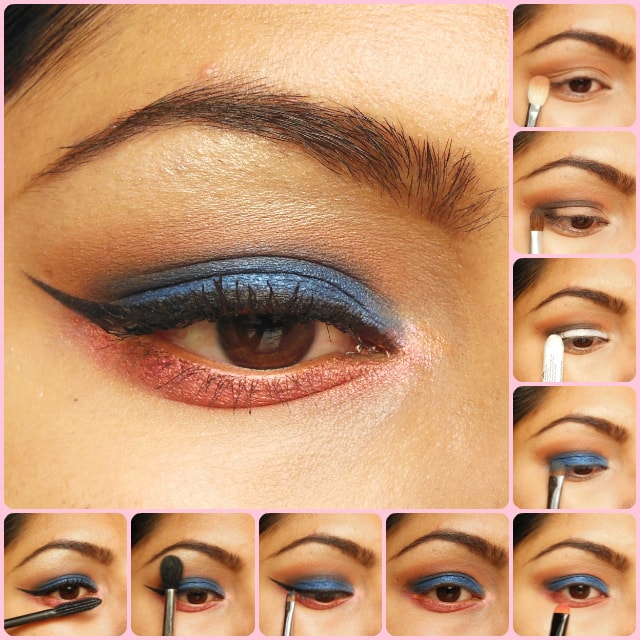 Steps to Achieve the Look:
Start with getting a light skin tone color on the crease to have a soft transition shade there so that blue doesn't take over the eyes. Using a small blending brush I picked Makeup Geek Frappe to do the job.
Pick a matte black eye shadow on a small pointed crease brush and deepen the crease and outer V corners and blending it slightly with the transition shade but keep the lid are clear where we will apply the blue.
I wanted the blue to pop so instead of black I used White as a base and NYX Jumbo Pencil in Milk Bean did the job for me. I applied it all over the lids are and blended it lightly with fingers.
Pat the Royal Blue Eye Shadow from Sleek Rio Rio Eye Shadow Palette all over the lid with Flat Shading Brush. Pack the color until you get the desired intensity.
Blend the color in the crease with the transition shade using a clear brush or with a skin tone eye shadow and reapply the blue if it seems to loose the intensity.
With a detailing brush apply a bright-shimmery orangey coral eye shadow. I packed Makeup Geek Cosmopolitan eye shadow with Makeup Geek Mango Tango.
Time to cut the bitch with a sharp winged eye liner, so using a black gel liner on an angled brush line upper lash line and create and extended wing liner
With a fluffy blending brush, highlight the brow bone with this satin shimmery highlighter. I used Makeup Geek Icy Queen here
Curl lashes and coat them with your favorite Mascara. Apply false lashes for more glamorous look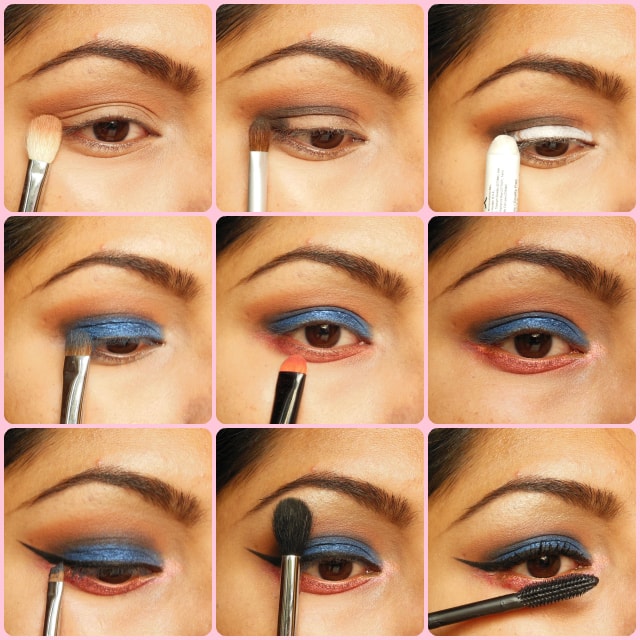 Now, I feel I could have added some shimmery highlight on the inner corner as well.. but mmmm I missed it :(.
I didn't had a nudish liner so kept the lower lash line bare but if you have one use that and your eye will instantly look bigger and better.
Hope you enjoyed this tutorial!!
Share your thoughts and feedback in comments below
Loads of love.. :-* :-*
PS: If you get inspired and recreate the look, don't forget to share it. Tag me on instagram, facebook, twitter (@Poonam_BMM). I would love to see it on your eyes.