Eye Makeup Tutorial: Blue Marina
Hello Everyone,
I would call this my brightest makeup look, though now I think that I went a little over board with colors but when I created this I was dying to use some dark blue eye shadow on my lids and when I got my hands on my first ever Sleek Eye Shadow palette, I couldn't resist it!
I added more glam to the look with double winged eye liner but sadly the liner was almost dried out and hence spoilt the application. Please excuse the not so good eye liner application. This is what I hate the most when your eye makeup is on point – liner or Mascara will ruin it :P.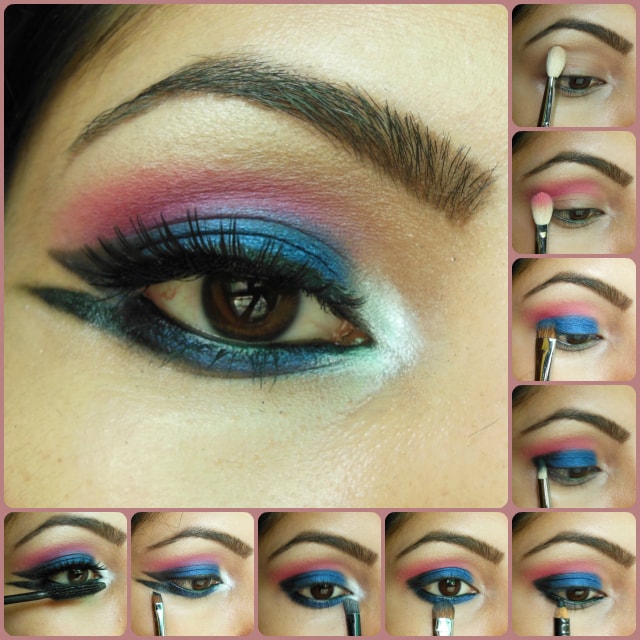 Anyways, I am happy that pictures turn out well this time – so here are more details of the look.
Step by Step Tutorial to Achieve this Look:
Start with apply a concealer to hide dark circles and under eye pigmentation and get a smooth base for the look to be started. I also did my eye brows beforehand and hence they are not a part of this tutorial.
This is usually the last step but I started with this here to see if it works any better – applying a peachy highlighter to define brow bone area
Apply a bright pink eye shadow over the crease area and blend it really well using a fluffy blending brush. This step will work as adding a pop of Pink color in the crease. You can go for any of the Taupe browns instead but for this I color blocked my eyes with Pink!
Apply a dark metallic royal blue shade just under the crease and all over the lid area using a flat shading brush , just make sure to leave the inner corner of the eyes as we will be applying highlighter there.
To add some depth to the Outer-V, apply a matte black eye shadow with a pointed pencil brush and just place it to define the V in eye corner.
Using the same flat shading brush , pick the same metallic blue eye shadow and apply it on lower lashline close to the lashes.
Using an angled eye shadow brush, apply a bright silvery highlighter on the inner eye corners.
With the same fluffy blending brush or a clean one blend in the crease color to get rid of any harsh lines. Make sure not to over blend as we still want the colors to look distinct.
Tight line your waterline and line the upper lash line with any of your black liner and extend the liner for a winged look. Repeat the same on lower lash line for Dual liner look
Curl your lashes, add some falsies for a dramatic look and coat them with your favorite Mascara.
Here is a close up look at the steps..
Products Used:
Brushes Used: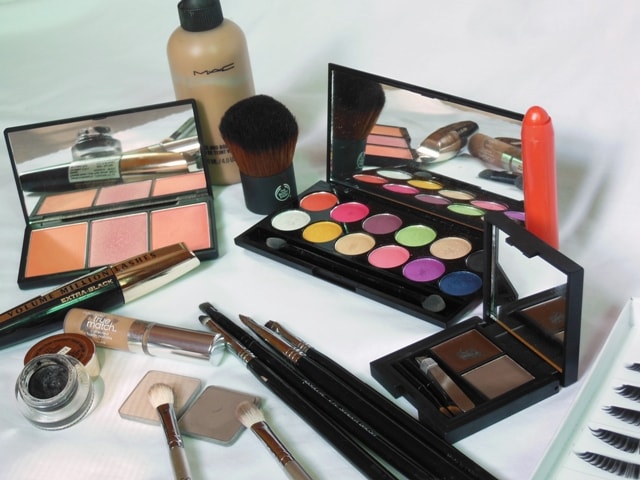 I paired it with a soft Orangey-peachy lipstick – Revlon Colorburst Audacious but you can also opt for a subtle peachy –nude lip color to tone down the face. Check more pictures of this look on Blue Marina Makeup Look post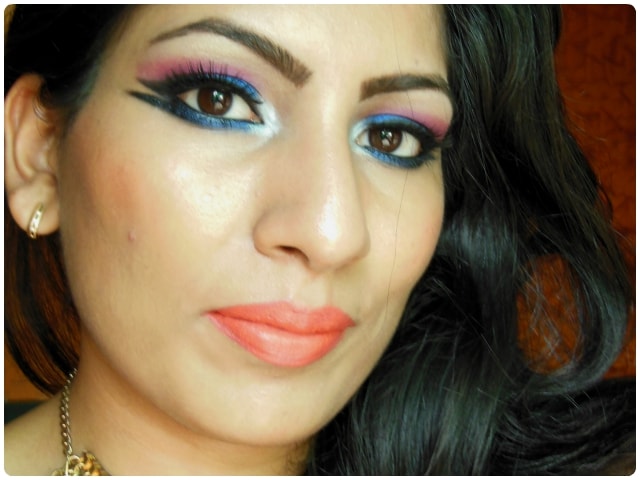 Hope your liked this Glam Eye Makeup Tutorial!  Share your thoughts and feedback in comments below
Loads of love.. :-* :-*
PS: If you get inspired and recreate the look, don't forget to share it. Tag me on instagram, facebook, twitter (@Poonam_BMM). I would love to see it on your eyes.