EX1 Cosmetics – Makeup for Olive Skin Tones!!!
Hello Everyone,
Ex1 Cosmetics.. I am sure you must not have heard of it earlier but stay tuned to know more about this brand and how well it performs. Ex1 Cosmetics makes products specifically for warm olive skintones.. Yes you read it right!! Something tailor made for warmer indian complexions which is rare to find especially in drugstores as most of the makeup bases have neutral/peachy undertones which looks bit ashy and quite unnatural on Indian skin tones. It has good range of foundations, concealers, compacts, mineral foundation and even blushers and I am super excited to get a chance to try these. Lets see if it works as well as it claims. I will be testing and reviewing EX1 Cosmetics Invisiwear Liquid Foundation, Compact and Delete Concealer.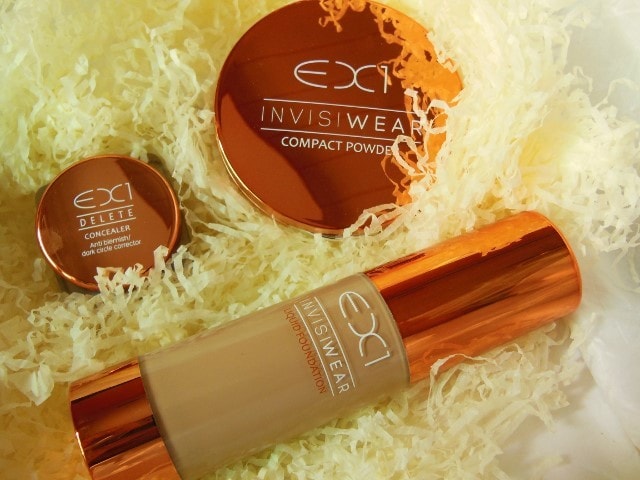 Brand Intro: EX1 Cosmetics is a multi-award winning line of cosmetics founded by British Asian Farah Naz. She turned a personal frustration at her limited choice of high street cosmetics into a single-minded passion to create the make up range of her dreams. Farah's philosophy was simple: to design the highest quality collection of products for olive-skinned women, using only the best in cosmetic technology.
EX1 Cosmetics Invisiwear Liquid Foundation
Product Claims: A lightweight and luminous liquid base, formulated with light diffusers which unify skin tone and cover imperfections effortlessly. Specially designed 'true colour' pigments work perfectly with your skins' natural tones in a velvety smooth, ultra-blendable formula. Cleverly designed light diffusing particles detract attention away from lines, wrinkles and blemishes. The Result? The perfect skin-on-skin effect, flaws concealed with make-up that looks barely there, even in natural daylight.
Clinically and Dermatologically tested
100% oil and fragrance free
Non pore clogging
Price: £10.50 (Available in 5 shades)
Shelf Life: 3 years from the Mfg date.
Packaging: EX1 cosmetics have a gorgeous copper metallic packaging which is different from the usual golden ones and I already feel that it will not like the usual drugstore stuff. I like the foundation comes with a pump dispenser which makes it really handy to use and travel with but the pump doesn't work that well as it is bit stiff and dispenses a lot of product even when you just want a drop of it ( pump issues you know!!).
My experience with EX1 Cosmetics Invisiwear Liquid Foundation:-
Formula: The formula is on the thicker side for a liquid foundation and is super creamy, I feel like I will be doing a heavy cream foundation application but then suddenly something changes..it blends in so well and feels so light on skin that I completely forget about the layer of foundation I have on.
Pigmentation: EX1 Cosmetics Invisiwear Liquid Foundation is super pigmented and with just pump of the foundation I will be able to do my whole face and even the neck area twice and still some of it left on my hands. I dot it all over my face and then buff it in using my Real Techniques Buffing brush for heavy coverage or Sedona Lace Duo fibre brush for more of a natural look.
Coverage: The coverage part is also amazing as it covers most of the imperfections in just one layer. It provides medium coverage but can applied more heavily with a denser brush for medium-heavy coverage or used a fluffy stippling (duo fibre types) for a light-medium coverage which looks pretty natural on skin. It is not a heavy foundation like most of those thick creamy ones from MAC but still covers so well.. spectacular!!
I don't find it working it well with building up for a heavier coverage when layered, so let's just leave it at medium coverage only
Finish: The foundation sets to a soft matte finish which I quite like as it doesn't have that flat matte finish which looks weird on my dry skin. The staying power is pretty awesome on my dry skin as I didn't see it melting or caking up even in summers on me but if you have oily skin you might prefer to use a primer underneath. It will stay for a good 6-7 hours in hot weather. I tested it without primer and setting powder and it was there from noon till night with just a tad bit of fading but no caking or moving around at all!!
Don't Miss to Checkout:
EX1 Cosmetics Invisiwear Liquid Foundation is a good option for dry skin type and as it has oil free formulation anf matte finish it will work well for other skin types as we. This is the first time I see some foundation working well for one and all. I got it in shade P300 which is a bit warmer for me and I guess P200 would have been an exact match but I still like this a lot because my skin looks so naturally flawless with it! 🙂
EX1 Cosmetics Delete Anti Blemish/Dark Circle Corrector Concealer
Product Claims: EX1 DELETE CONCEALER: ANTI BLEMISH/DARK CIRCLE CORRECTOR – Your ultimate skin-trick for banishing blemishes and concealing imperfections. Antioxidants defend against ageing free radicals while Vitamin E helps soothe and heal blemishes, all in a lightweight super-blendable formula. Press the delete button on flaws for a perfectly photo-shopped effect.
Clinically and Dermatologically tested
100% oil and fragrance free
Non-pore clogging
Available in 3 shades: D100, D200, D300
Price: £6.50 (Available in 3 shades)
Packaging: Ex1 Cosmetics Delete concealer is packed in a squarish clear pot with a copper screw cap which is kind-a okay for me as there are high possibility of drying it out apast from hygiene issues but considering the texture of it there wouldn't have been any other option… Or wait!! Can we have put it up in a stick..mmm May be!
My Experience with EX1 Cosmetics Delete Anti Blemish/Dark Circle Corrector Concealer :
Formula: EX1 Cosmetics Delete Concealer is thick creamy concealer which you might think will cake up but you have to swatch it and you will know the truth about it! It is nothing that you have tried before. The formula warms up on skin and blends in seamlessly on application. It has super light texture which doesn't feel heavy or greasy or application and it diffuses in same sort of lightness as the foundation.
Coverage: Delete Concealer gives a beautiful coverage and hides most of the blemishes and dark circles in just one swipe. I use it with my Sigma3DHD Precision Brush and it works excellently with it and doesn't look cakey or heavy like other thick creamy concealers you may have experienced. I used it on the under eye area and was surprised to see that it doesn't crease or move for hours inspite of the fact that I even go without setting this concealer. It does an excellent job, never looks patchy on skin. Super light and diffuses in skin like one's own.. I am sure no one can detect it on your face!
Don't Miss to Checkout:
EX1 Cosmetics Invisiwear Compact Powder:
Product Claims: EX1 INVISIWEAR COMPACT POWDER
Feather light and ultra finely milled, EX1's pressed powder is the ultimate skin finisher. Swirled over the skin it delivers just a hint of colour and offers lasting shine control, for a perfectly groomed look every time.
Clinically and Dermatologically tested
100% oil and fragrance free
Non pore clogging
Available in 3 shades – P100, P200, P300
Price: £8.99 (Available in 3 shades)
Packaging: EX1 Cosmetics Invisiwear Compact Powder is my favorite in terms of packaging with an all over metallic copper case and a big round mirror on the inside. It also has a super stylish push open system which I love playing with. It feels quite heavy in hands but ahhh.. it is prone to finger prints.. 😛
My Experience with EX1 Cosmetics Invisiwear Compact Powder:
Formula: EX1 Cosmetics Invisiwear Compact Powder has silky smooth texture which is the silkiest of all I have tried yet almost like a cream but here is the catch I tried using this pressed powder with my regular powder brushes and it takes hell lots of effort to blend into the skin.
Coverage: It can be built up to almost a sheer-medium coverage which covers all the redness and mild blemishes but the blending is a tough job with this. I got it in the shade P300 which I feel is a bit orangey and darker for me so it does look patchy on face if I go easy with blending. I guess I will be using it to add some warmth to my face (if needed at all!!) or may be to blend out a cream contour.
Finish: The powder has a semi matte finish which kinda looks okay on my dry skin and not too powdery. Also it stays for 3-4 hours on me so I guess Oily beauties have to touch up even before that.
Don't Miss to Checkout:
Recommendation: Ex1 Cosmetics has truly wowed me over by it awesome products at super affordable prices (except the compact). UI am obsessed with the foundation.. I mean I have never liked a matte finish foundation so much as I do this one. It is not super matte that emphasize dry patches but a satin matte which gives that smoother and flawless looking skin and not to miss out the yellow undertones in it which works like magic!! I guess just just one layer of foundation will cover the most of you while the rest can be taken care by concealer. Ex1 CosmeticsConcealer is one of the most amazing concealers I have ever tried. It has creamy texture, invisible finish and superb coverage. Just moisturize your skin well and the concealer will blend beautifully covering whatever is left by foundation. I don't need a setting powder as they have a matte finish and I have dry skin but you can carry a compact for touch ups if you are going to stay longer than 6 hours out in the heat. The formula has SPF so you might like to avoid flashes but otherwise Ex1 CosmeticsInvisiwear foundation and  concealer together gives a good medium coverage without feeling heavy on skin. I am super impressed with the formula Perfect match, Flawless finish, I would love to try the Mineral Foundation from the range too! Though I would suggest skip on the compact from the range.. it just doesn't blend well 😛
PS: If you have tried MAC full coverage foundations/concealers like Studio fix than you know the melting issue but I feel you get the same coverage and none of the issues like melting and caking with Ex1 cosmetics. They have super reasonable prices for the quality.
Rating:-
4.8/5 ( Foundation and Concealer) ,
2/5 ( Compact)
Have you tried EX1 Cosmetic products? Which is your favorite Drugstore foundation / concealer?
PS: Product sent by brand for consideration