Everyuth Naturals Walnut Scrub Review
Today I am going to review my first ever scrub "Everyuth Naturals Walnut Scrub". This is most easily available scrub and the only scrub that I knew existed until few years back. I think most of us must have used this scrub at least once.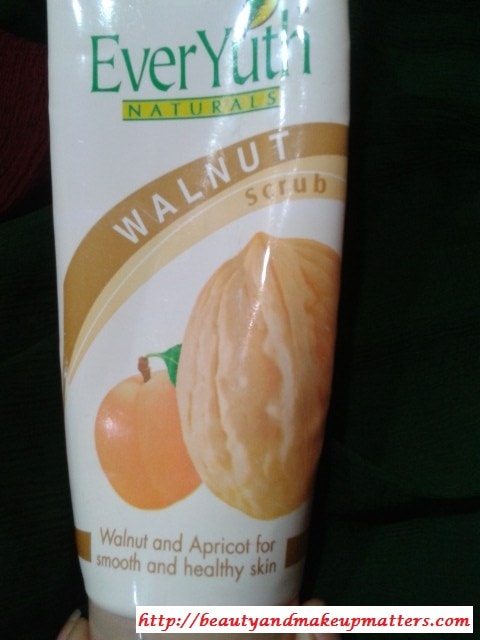 Product Claims: Everyuth Naturals Walnut Scrub has natural walnut particles that unclog pores and gently scrub away skin impurities, dead skin cells, blackheads and whiteheads, leaving your skin fresh, healthy and smooth
Direction for Use:-Wet face. Apply scrub and massage skin with brisk circular movements for about 2 minutes. Avoid any contact with eye area. Rinse and pat dry. For best results, scrub your face atleast twice a week.
Ingredients:- Water, Glyceryl Monostearate, Walnut Shell Powder, Liquid Paraffin, Cetostearyl Alcohol, Cetyl alcohol, IsoPropyl Alcohol, Sorbitol, Starch, Lanolin, Apricot Kernel Oil, Sodium Lauryl Sulphate, Titanium Dioxide, Fragrance, Triethanolamine, Triclosan, Carbomer, Methyl Paraben, Vitamin E Acetate, Propyl Paraben, Ascorbic Acid, Color Sunset Yellow C.I.No. 15985, Vitamin A Palmitate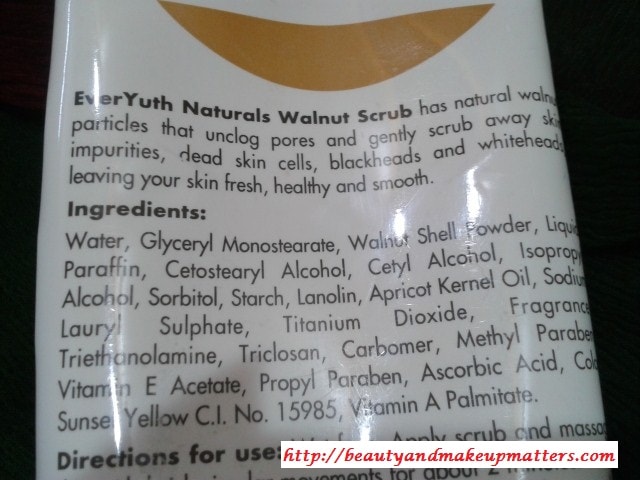 Price:- Rs.150 for 200+20gms
Shelf Life:- 3 years from the Mfg date.
Packaging:- The scrub comes in an hygienic tube type packaging. It is an opaque white colored squeeze tube with a brown flip- flop cap which carries a large pick of apricot on it. The scrub is available in various shapes and sizes and always has an offer running on it. I have bought it 3-4 times and each time it comes with an offer of 10% / 25% free with this pack.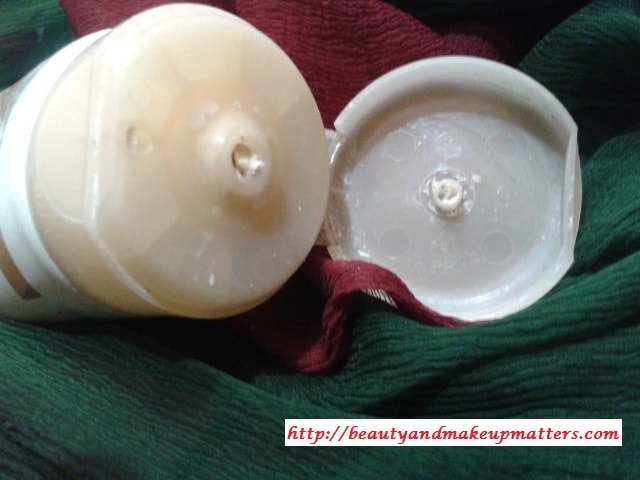 My experience with Everyuth Naturals Walnut Scrub:-
Everyuth Naturals Walnut Scrub is creamy and brown in color with a typical apricot fragrance. It has brown colored walnut particles that act as scrub granules. The granules are densely packed and only a coin sized amount is sufficient for full face and neck. The granules are a little scratchy but not too harsh on skin but I would suggest sensitive skin people to try a patch test before using it.
It gets rinsed-off pretty easily with plain water. It cleanses my face effectively removing all the dirt and oil. It also removes blackheads to a certain extent. It leaves behind a clean and clear skin. The skin feels soft and smooth instantly but starts getting bit dry and stretchy few minute after patting it dry. But the dryness can be easily taken care by a normal moisturizer.
I have a finicky about my skin since my school days and have been using this scrub since then. Being pocket friendly, it was always the first choice for me till my college days.
But now, when I can afford to buy other scrubs like Lotus WhiteGlow, Biotique Papaya which I feel are better than this one and does much more to the skin than just scrubbing. This scrub was lost somewhere between them but for the love and affection towards my first facial scrub I wanted to give it due respect. So, I have started using this as a body scrub and I must say that it is doing a satisfactory job there as well.
Don't Miss to Checkout:
Swatches:-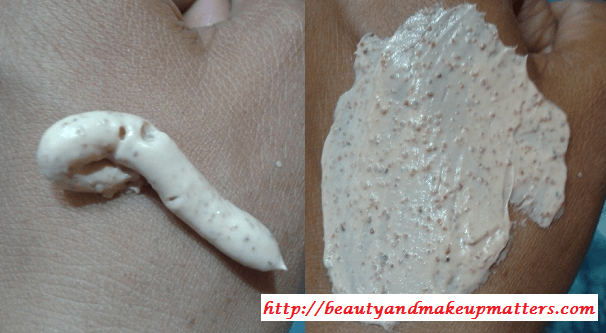 Pros of Everyuth Naturals Walnut Scrub:-
Nice creamy texture which is easy to work with
Densely packed scrubbing particles which do the exfoliation job pretty nicely but be gentle on your skin while using this.
Cleanses away impurities from the skin.
Leaves behind soft and smooth skin
Can be used as a body scrub too.
Rinses off easily
Mild apricot fragrance.
Highly affordable.
Cons of Everyuth Naturals Walnut Scrub:-
Some may feel the granules a bit harsh and rough for facial skin. So, they can avoid this or use it as a body scrub.
Won't be able to remove the stubborn blackheads (like the ones from the nose).
I feel granules are a bit larger in size for a facial scrub which can increase the pore size with regular usage. Correct me if I am wrong!
Recommendation:- Overall, Everyuth Naturals Walnut Scrub is a decent scrub which exfoliates skin well without irritating or breaking it out. It is an affordable scrub which is easily available everywhere. Do not expect it to do wonders on your skin but at the price it does a pretty good job.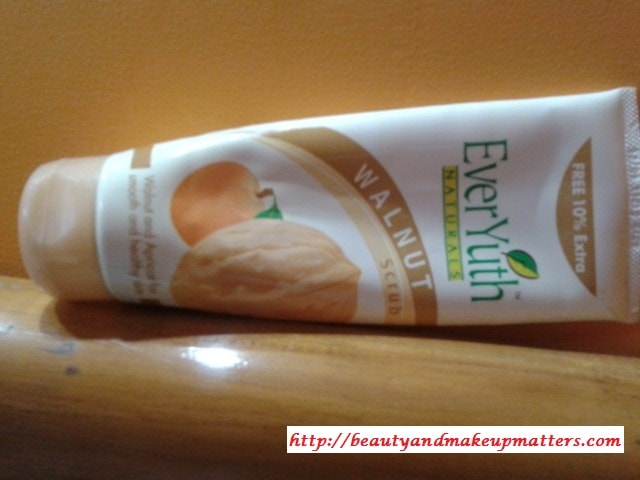 Rating:- 3/5
Have you tried Everyuth Naturals Walnut Scrub? Which was your first-ever scrub?