Everyuth Naturals Fairness Peel off Mask Review
Hello Girls,
Today I am going to review a recently launched Peel off mask from Everyuth Naturals Fairness Peel off Mask which I won in Vipra's "Forever Magnifico" Fb contest.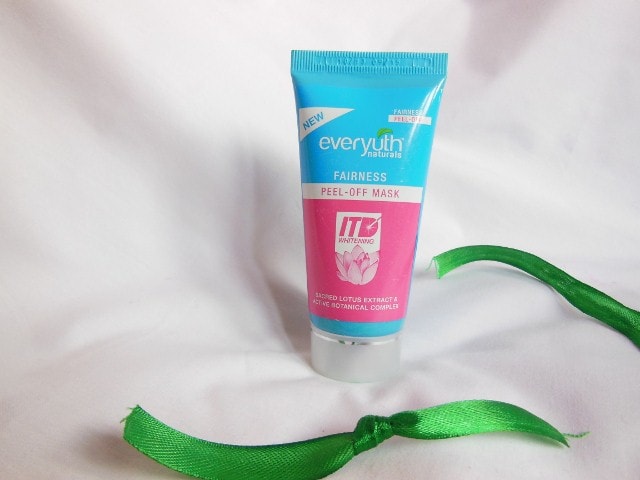 Product Claims: New Everyuth Naturals Fairness Peel Off mask has unique whitening with intelligent target delivery and is enriched with sacred Lotus extracts, active botanical complex. ITD whitening goes deep within the skin and targets melanocytes. Sacred Lotus extracts stimulates blood circulation. Ecocert helps in skin renewal and rejuvenation, while active botanical complex helps in skin lighting now get pearl like effect"
Direction for Use:-
Wash your face and pat your skin dry. Apply a thick even layer with the help of your fingers, avoiding delicate areas like mouth and eyes.
Do not apply a thin layer as it will be difficult to get rid of it. Let it dry completely, it will take 15-20 minutes. Peel off from forehead to downwards.
Wash off if required.
Ingredients:-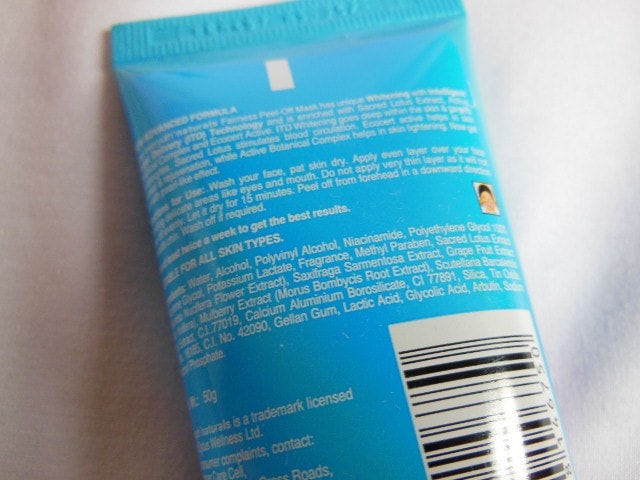 Price: Rs 75 for 50 gm
Packaging: The peel off mask comes in beautiful blue colored squeeze tube type packaging with white colored plastic screw cap.The packaging is convenient to use and travel friendly too.
My Experience with Everyuth Naturals Fairness Peel off Mask:
Everyuth fairness Peel off Mask is a clear gel like liquid infused with glitter particles in blue, silver and pink . The liquid has slightly runny consistency which makes it easier to spread the pack evenly over the face. The mask has a mild fruity floral fragrance which I find pleasant to my senses. I pick a large dollop of the mask and apply a thick layer of it, excluding the brow hair. You might end up loosing a few if you peel off on brow hair, so wash face with water if it accidentally got applied over them.
It went on smoothly and didn't dripped to my clothes either, it sticks nicely to the face. I applied a thick layer of the liquid so that on drying it will be easy to pull off or it will break at every point. The sparkles in the formula made my face glow with a dazzling shine. 😉 . It took almost 20-25 minutes to dry completely, might take a little longer in summers. When the mask dried completely peeled it off in upward direction and it comes off easily.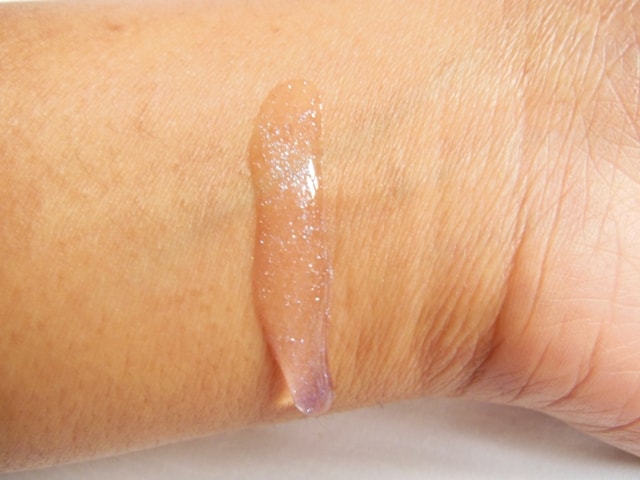 The peeled layer took all the impurities and excess oil from the top most layer of the skin leaving it feeling fresher and appearing smoother & softer. The refreshing glow and brightening effect it imparted lasted for 5-6 hours on me. I have a dry skin and it fared pretty well, didn't made it overtly dried but it wasn't hydrating either so I have to follow with my regular moisturizer post peeling. I think Oily/Combi skinned girls will like it even more when they don't want to indulge in extensive skin cleansing process and wants to see immediate results. I don't use these peel off masks regularly but once or twice a month, to enjoy the peeling process.
I have used the orange peel off mask too which did a good job too.
Pros of Everyuth Naturals Fairness Peel off Mask:
Transparent gel liqiud with smooth sparkles
Easy to work with consistency
Spreads on Nicely
Mild fragrance
Peels off smoothly
Skin feels soft and smooth
Brightens up the complexion but the effect isn't long lasting
Doesn't irritate my skin
Great for oily skin
Easy on pocket
Lovely packaging
Cons of Everyuth Naturals Fairness Peel off Mask
Contains Alcohol
Not moisturizing to my skin
Peeling off might not be liked by everyone, especially sensitive skins
Fairness claims.. 😛 Why don't the brands just live with brightening term.
Recommendation: Everyuth fairness Peel off Mask is a clear liquid with gel like texture and multicolored sparkles which adds on to the beauty of the mask and it looks pretty nice on application. The masks isn't as effective as scrub for that squeaky clean feel and the skin tightening effect we get with face packs but it is an easy quick solution for instantly brightened skin. The results are short lived but at a price tag of Rs. 75, i think it worth a try. If you have enjoyed peeling off Fevicol form your fingers in childhood, you must try this ;). Recommeded!
Have you tried Everyuth fairness Peel off Mask? Do you like Peel off masks?