Everyuth Naturals Clear Beauty Tulsi Turmeric Face Wash Review
Hello Everyone,
Today I am going to review a newly launched herbal face wash from Everyuth, Everyuth Naturals Clear Beauty Tulsi Turmeric Face Wash.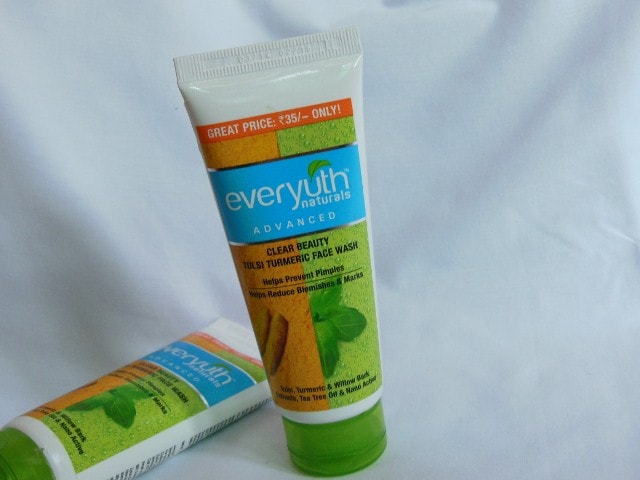 Product Claims: New Everyuth Naturals Clear Beauty Tulsi Turmeric Face Wash not only helps prevent pimples but also reduce marks, blemishes and dark spots too. It is enriched with the natural goodness of Tulsi, Turmeric, Brahmi, Willow Bark Extracts and Tea Tree Oil which help fight pimples and blemishes. The revolutionary Nano Active helps regulate sebum production and revitalizes skin cells. Pamper your skin with everyuth naturals face wash to keep it clear, glowing, pimple free and blemish free.
Direction for Use:- The bottle is white with green plastic cap. The body is opaque. The cap flips open and get secured well. All the details are written on the body of the bottle.
Ingredients:-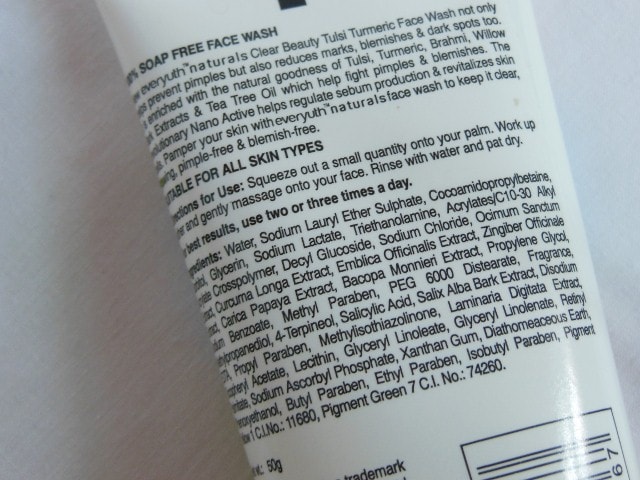 Price:- Rs.35 for 50gms
Shelf Life:- 2 years from the Mfg date.
Packaging:- The face wash comes in a squeeze tube type packaging with a flip green colored cap which shuts tightly with the base. The opaque white colored tube carries all the information about the face wash.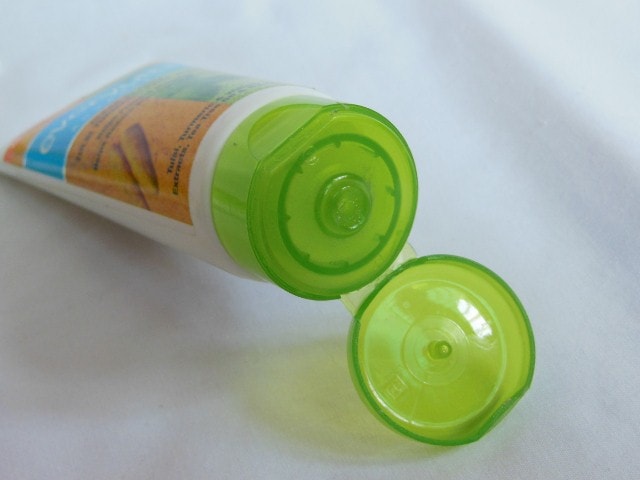 My experience with Everyuth Naturals Tulsi Turmeric Face Wash :-
Everyuth Tulsi and Turmeric Face wash has a gel like consistency which is neither too thick nor runny and is easy to work with. It is almost clear when swatched but I could detect some green tint in the gel. It has a mix of mint and lemon grass fragrance which is quite liked by senses and is light enough to not bother sensitive noses.
The formula is claimed to be soap-free but I could detect SLES in the ingredients list. :O Anyhoo.. It doesn't gives a good lather and for that matter I have to use almost double the amount compared to a regular face wash but on the good side I am happy that the formula is mild enough to not irritate my skin.
It contains Salisylic acid and Tea tree oil which I think will work best for oily/combi skin but I think it will work for normal skin type as well, as it cleanses skin without drying it out. Even on my dry skin, it doesn't feel stretchy or leave my skin devoid of any moisture, though I need to follow with my regular moisturizer.
I don't have frequent acne issue so can't comment on acne control claims but I am sure it will soothe skin and help calm down the acnes as well
Pros of Everyuth Naturals Tulsi Turmeric Face Wash:-
Gently cleanses skin
Mild Herbal fragrance
Doesn't strip moisture off skin
No breakouts
Available in travel Friendly Packaging
Soap Free face Wash
Suits all skin types but it's best for oily/combi skin
Affordably Priced
Cons of Everyuth Naturals Tulsi Turmeric Face Wash:-
Doesn't lather much
Contains all sorts of parabens
Recommendation:- Everyuth Naturals Tulsi Turmeric Face Wash has a mild herbal formula which cleanses skin gently. It has pleasant herbal fragrance which will be liked by everyone. The formula doesn't lather much but considering its ingredients list with Tea tree oil and salicylic acid it will make a good affordable choice for Oily/combi skin. Dry/normal skin would better stick to more hydrating face washes.
Rating:- 3/5
Have you tried Everyuth Naturals Tulsi Turmeric Face Wash? Which is your favorite face wash?
PS: Sample provided by Brand for Consideration