Everyday Neutral/ Smokey Eyes with Makeup Revolution Iconic Pro 2 Palette
Hello Everyone,
I have been dying to get my hands on some Makeup Revolution Eye Shadow Palettes because you know how much I love doing eye makeup and Makeup Revolution Palettes are loved by all so I also wanted to try them on..  and finally it happened. My first Makeup revolution Palette is here, its Makeup Revolution Iconic Pro2 Palette.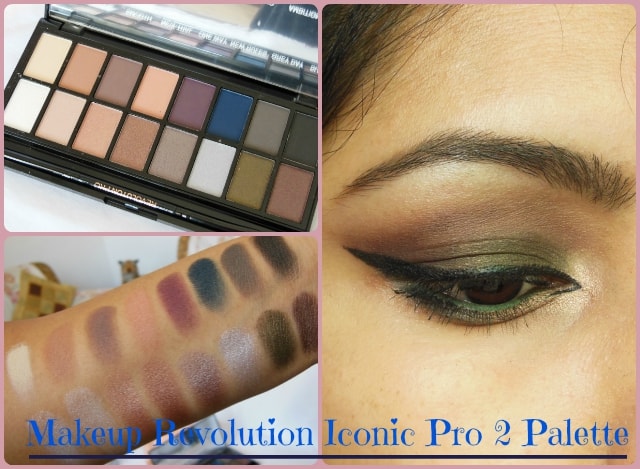 Product Claims: Be ICONIC, be a MAKEUP REVOLUTION PRO. 2 New Eyeshadow Palette Collections.
NEW Palette…NEW Formula…NOW Contains our PRO 1989 Double-ended Eyeshadow Brush !
Our NEW SUPER-ELITE Formulation of eyeshadows. Bringing you more IMPACT with easy to blend, soft and butter-like application, allowing you to create super-elite performance eye looks.
Teamed for the first time with our Makeup Revolution PRO 1989 Double-ended Eyeshadow Brush.
Contains: 16 'Super-Elite' Eyeshadows in a range of Matte & Shimmer Shades and our PRO 1989 Double-ended Eyeshadow Brush.
Brush has 1 end Flat, 1 end Round. Made from finest synthetic hair.
Price:- Rs.1790
Shelf Life: 3 years from the Mfg date.
Packaging: Makeup Revolution Iconic Pro 2 Palette comes in a bright golden card box packaging with the actual eye shadows housed in a black case. I was a little surprised to see the mismatching case as it has a matte lid and glossy base..weirdd :-/ !! but I was super happy to find out a full side mirror on the inner side of lid and a purposeful eye shadow brush in the palette.
My experience with Makeup Revolution Iconic Pro 2 Palette:-
Makeup Revolution Iconic Pro 2 Palette is a lovely palette with 20 shades including matte, pearly and slightly shimmery shades. It makes a great everyday neutral palette as it has a good amount of neutral shades but at the time the bunch of darker shades on the other end demonstrate the smokey side of it. So, you can glam up your eyes by adding that darkness in the crease and rock the party without having to your soft neutral makeup that you were donning whole day.
I like that the shades are not just randomly placed that I feel is the case with most of Sleek Palettes but quite organized with matte on top and pearly on bottom and lighter ones clubbed together with darker ones at the other corner. Formula wise, I love the satiny smooth and pigmented formula of the matte shades and to my surprise not even one of them has a hard texture.. just wish the black one was more pigmented. While few of the pearly shimmery shade on the bottom row failed to deliver, most of them need to be packed really well for a decent color on the lids. On the whole, most of the shadows works best with a primer or base underneath. There is fall out during application so you have to secure your under eye area before starting with eye makeup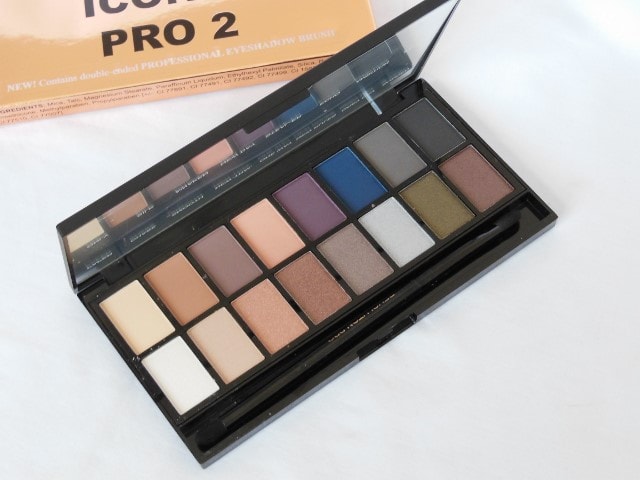 Brush: It comes with a dual ended eye shadow brush which I absolutely loved because those sponge tips don't work for me. One side is a flat eye shadow application which picks up color pretty well. Other side is a small rounded head which will be great for placing color precisely in the crease area.
Don't Miss to Checkout: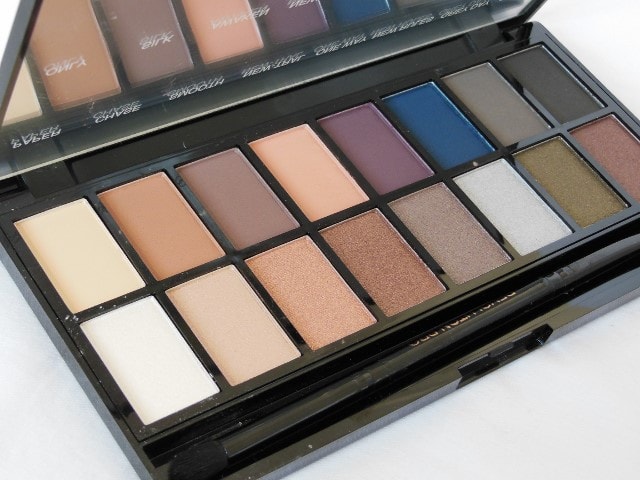 1st Row: It contains s all of the Matte shades and to my surprise all of them are gorgeously pigmented and have a satiny smooth texture which is rare to find in Drugstore palettes.
Paper: A pale muddy yellow shade which blends into almost nothing on lids, would be great for blending in any harsh edges without putting any color in the crease.
Chase: A light brown shade quite close the Makeup Geek frappe. Again a great shade for blending the crease details.
Smooth: A cool toned taupe grayish brown shade, very similar to INGLOT Matte #360. Perfect for adding definition to black smokey eyes and blending in the lower lashline
New-Tral: A soft peachy shade with orange undertones.I couldn't think of anything else but using for blending orange and copper eye shadows.
One Way: Now, the rest are gonna be dark shades that will be perfect for smokey eye looks. This is a rich plum shade with red undertones.mOne of my favorite matte shade in the palette
New Rules: A dark teal blue shade but slightly stiff texture compared to others. Blending it seamlessly is a little bit of effort but like how pretty it looks on eyes.
Grey Day: A medium gray shade with super soft pigmented formula. It can be great to be used as a base for grey or black glittery eyes. I will also prefer it woth black smokey eyes.
Sudden: Smokey neutral palette would be incomplete without a black eye shadow so here it is! A medium black shade which isn't as dark as I would have expected. The texture is soft like others but I like my black to be jet black so this shade doesn't all into my favorites at all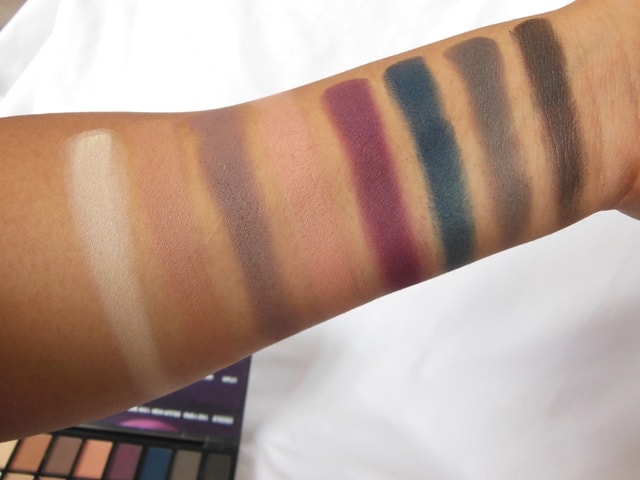 Row 2: It has all the shimmery pearly shades but not all of them have the same formula. The darker shades are softer have a rich color payoff while the middle ones have a slight duo chrome finish with a buildable texture and the lightest shades on the left corner were utter failures as they refused show on lids and have a stiff texture
Only: Starting with the most disappointing shade of the palette. It is a frosty silver shade which barely gives any color on swatching and also has stiffer texture and the formula just refuses to blend.
Silk: Another disappointment.. A frosty peachy champagne shade but it swatches quite silver and the color payoff is an issue again.
Awaken: A gorgeous soft peachy golden shade shade with a subtle sheen. It takes time to show up on lids but works better with a primer/base underneath
New Day: It looks taupe bronze in the pan but comes up as soft pinkish bronze with a golden sheen and subtle shimmers, quite a unique shade. Again needs to be built up a lott for good color payoff.
Steal-er: A metallic gray in the pan which comes up as a taupe bronze on application. I feel there is slight duo chrome finish to it.. which I love!! Needs to be built up though.. 😛
Echo: A silverish gray in frosted finish with smooth texture and good colorpayoff. It blends out to just silver shimmer but when packed it gives a slight gunmetalish look to the eyes if worn with a black base.
Ambition: A dark olive green shade with tiny golden shimmers imparting a lovely golden sheen to it. It is my favorite shade of the palette and my first mehendi green shade as well.. my EOTD will surely have this!
Faith: A dark brownish plum with slight golden shimmers adding shine to the finish. Formula is super pigmented and looks beautiful on application. Make a good fall color for eyes..another favorite from the palette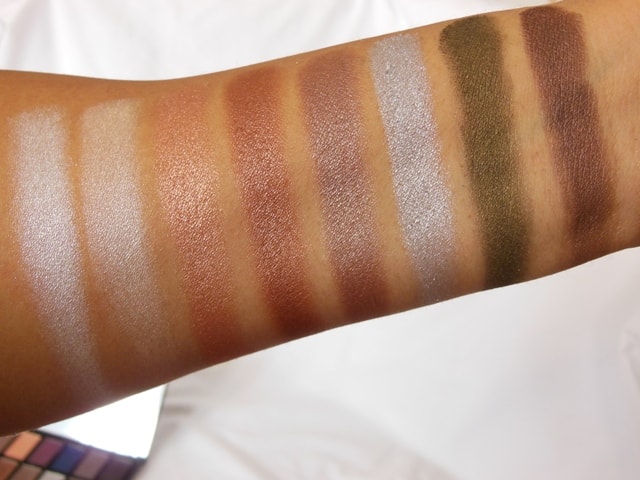 Recommendation: Makeup Revolution Iconic Pro 2 Palette is a beautiful palette with a good mix of matte and shimmery shades in both neutral and deeper colors. The palette also comes with a double ended brush which makes it even better. The shadows are satiny smooth with a good color pay off .. except a few! They blends easily and lasts whole day on lids with a primer with a bit of fading. I was absolutely amazed by the quality of it.. Though a bit pricey in India but can be grabbed under offers on Jabong.com! Totally worth it. You can go from soft neutrals to smokey glam looks with this palette. As we so less options of good drugstores eye shadow palettes, this makes a great pick if you are starting out with makeup and looking for quality eye shadow palettes without burning a whole in your pockets. Recommended!
Rating:- 4/5 ( For the incredible matte formula) but overall 3.5/5 because the shimmery ones werent as good and it needs a primer to show well on lids!
Have you tried Makeup Revolution Iconic Pro 2 Palette? Which is your favorite drugstore eye shadow palette?
PS: Product sent by brand for consideration