Everteen Natural Intimate Wash Review
Hello Girlz, today I am going to review another Feminine wash which was recently sent to me for review purpose, the Everteen Natural Intimate Wash.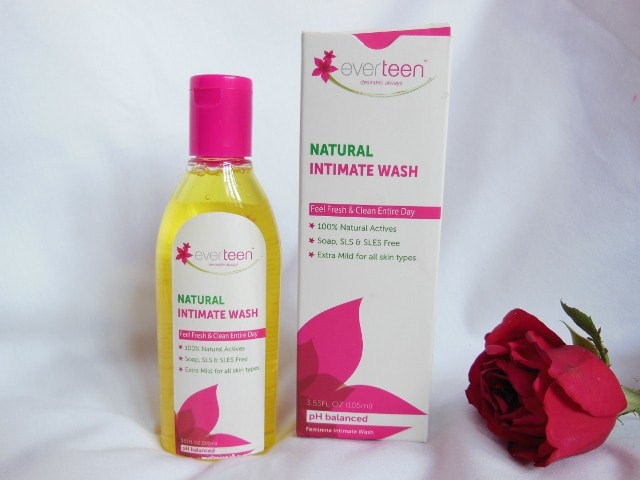 Product Claims: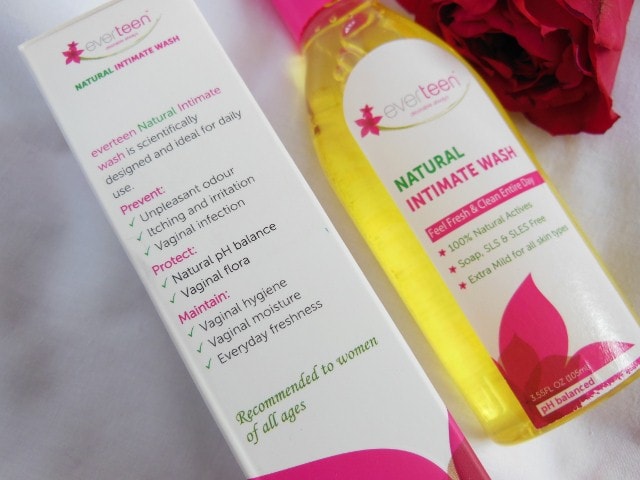 Price:- Rs.180 for 105 ml.
Shelf Life:-  24 months from the Mfg date.
Packaging:- The Everteen Intimate wash comes in a transparent plastic bottle packaging with a fuchsia pink colored flip top cap. The cap closes tightly and hence makes the packaging travel-friendly but I personally prefer using pump dispensers more over these flip-top packaging as they provide better control over the amount to be dispensed.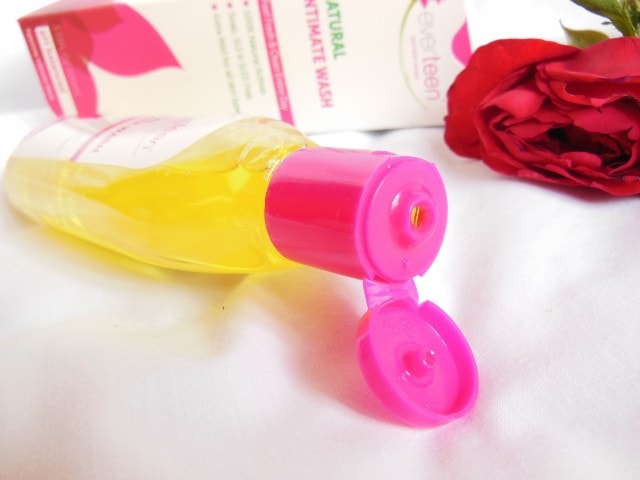 The packaging comes with a leaflet with the details regarding advantages of using a intimate wash and directions to apply and some tips to maintain vaginal hygiene.
My experience with Everteen Natural Intimate Wash:-
Everteen intimate wash is a yellow colored liquid with a slightly thick gel like consistency. I need a tiny drop of it but the packaging doesn't help and usually more than the required amount is squeezed out.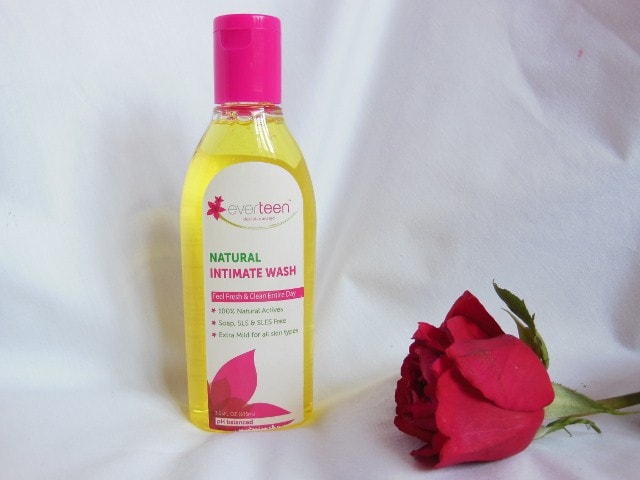 It has a lovely herbal fragrance which lingers on for few minutes and is pleasing to the senses. The formula is on the milder side but still it gives a good lather while tenderly washing away the impurities and the unwanted bacteria's. It leaves the area squeaky clean with herbal aroma giving a refreshing fresh feel.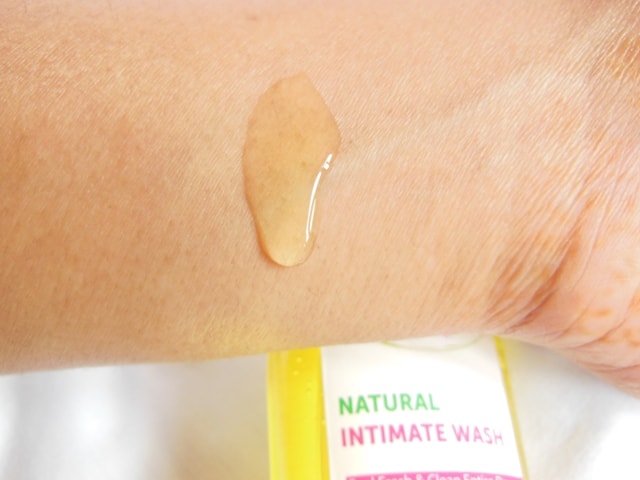 The formula is composed of natural ingredients like Aloe Vera and few other's with complicated name's 😛 with anti-bacterial properties and freshening effect but that's it. It doesn't mention complete list of ingredients which keeps me guessing what goes in it, how it maintains pH.
Pros of Everteen Natural Intimate Wash:
Mild formula
Slightly thick gel like texture
Causes no itching or burning sensations
Cleanses impurities gently
Gives a good lather
Decently priced
Hygieneic and convenient to use packaging
Soap, SLS and SLES Free
Available online on shopping.rediff.com
Cons of Everteen Natural Intimate Wash:
Only active ingredients are mentioned
Pump dispenser would have been better.
Recommendation:- Everteen Natural Intimate Wash is a mild formulation which contains natural ingredients like Aloe Vera which gently cleanses, soothe the skin and also keep it bacteria-free. The wash does its job effectively and its lovely herbal fragrance makes the whole experience very pleasant. The complete ingredients list is one point that I would have really appreciated . So, overall it is decent intimate wash and can be safely used. Recommended!
PS:-  It is advised to keeps that area clean and get rid of the uneasiness , so use the intimate wash on daily basis but if you have sensitive skin or suffer from vaginal infections, I would recommend to consult your gynaec before using this or changing your cleansing routine.
Rating:- 4/5
Have you tried Everteen Natural Intimate Wash? Do you use Intimate wash regularly?
Disclaimer: Products sent for review, but review is honest!