Everteen Natural Cotton Sanitary Napkins Review
One of my favourite brands for intimate care products, Everteen has come up with their Natural Cotton Sanitary Napkins. I have tried a lot of products from Everteen and they have always managed to impress me with their performance. I absolutely love the new Everteen Bikni Line Removal Cream which is so mild and gentle on the skin. And Everteen Intimate Hygiene wipes which can be a life saver. Everteen Natural Cotton Sanitary Napkins is the latest addition to their range of products. Let's checkout if you should try these Everteen Natural Cotton Sanitary Napkins.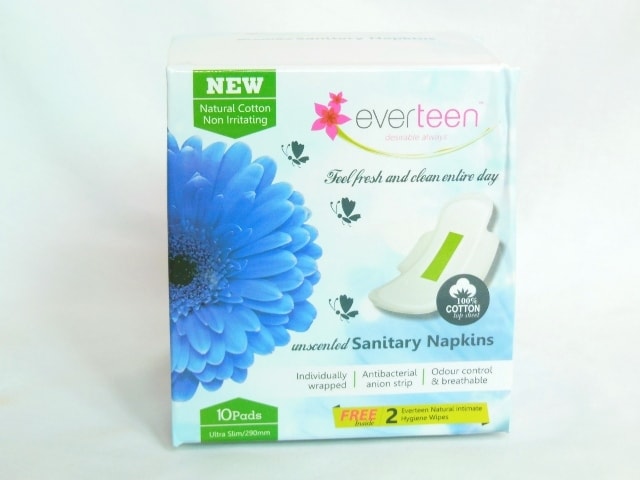 Product Description: Introducing the all new Everteen natural cotton sanitary napkins which are designed with 8 layers of serious protection to maximize absorbency, comfort & dryness during your menstrual days. Surface of everteen napkins is made of 100% natural cotton which is comfortable and non-irritating unlike other sanitary napkins which are made of rayon.
100% natural cotton surface for instant dry and soft feel
8 layer protection & extra absorbent
With wings for a secure fit and super soft sides for comfort
Unscented ultra-thin sanitary pads for medium to heavy flow (free of artificial scents and fragrances)
Antibacterial negative ion chip helps prevent bacterial multiplication & eliminates odour
Ultrathin and extra absorbent
Breathable layers help keep moisture away
Food grade nontoxic adhesive helps keep pad in place
Price: Rs 249 for 10 (Buy on Purplle)
Packaging: Everteen Natural Cotton Sanitary Napkins comes in a nice cardboard box packaging as opposed to the regular plastic wrappings from other brands which make it much easy to store. I love that the pack comes with 2 Everteen Intimate Hygiene wipes for free.. !!
My Experience with Everteen Natural Cotton Sanitary Napkins:
I have been a hard core fan of Whisper Sanitary Napkins and no other napkin came even close to them. Though the new Stayfree ones are good but not as good as Whisper ones when it comes to absorption. So, lets see if these Everteen Natural Cotton Sanitary Napkins works any better than Whisper Ultra ones.
Everteen Natural Cotton Sanitary Napkins Vs. Whisper Ultra:
Packaging: Everteen pads packaging is quite similar to the Whisper Ultra or any other wings Sanitary napkins I have used. So, its easy to use and dispose.
Size: Everteen Natural Cotton Sanitary Napkins are very thin and size wise they are comparable to Whisper Ultra wings in L. So, size wise they are long enough to be used on high-flow days. But I wish they come up with Xl, or XXL versions too which will be better to used on night time and when I have a busy day out!
Wings: Like the Whisper Ultra Napkins, these Everteen Sanitary Napkins also have wings but they were slightly smaller which made them better on the panty and didn't move whole day.
Top Layer: Everteen ones have a pure cotton top layer which feels soft and super comfy and doesn't irritate the delicate skin. I usually get rashes on 2 or 3 day with whisper or other regular sanitary napkins but this kept my skin rash free.
Scent: Also, I like that these sanitary pads are unscented. So,they doesn't stink after 3-4 hours of usage which is usually the case with Whisper Ultra ones. I totally detest the scented sanitary pads from Whisper as they start producing uncomfortable stinky scent after few hours of usage.
Antibacterial Protection: Everteen napkins also come with antibacterial anion stripes that neutralizes odor and relieve menstrual discomfort. Not sure if we have any such thing in Whisper Ultra.
Absorption: Everteen napkins absorb slightly less than the Whisper Ultra ones. So they needs to be changed more frequently than the latter on high flow day. I usually change 2-3 times on a high flow day with Whisper. But with Everteen I have to change at least 3 times, which isn't much of a difference. Hence it doesn't affect me but if you change less than be ready to change more.
Price: Coming to the prices, Everteen Napkins are indeed slightly pricey than the Whisper Ultra ones. Though, they can be bought on discount from Purplle at (Rs 187 for 10). Also, they are made with all natural and skin safe products which justify its price tag. Personally, I wouldn't mind paying a bit extra for more comfort and hygiene.
Overall, I am really impressed with Everteen Natural Cotton Sanitary Napkins. They did a fabulous job in keep the area clean and fresh for long. Usually, cotton napkins are thicker and don't last long but these Everteen Ones surpassed my expectations.
Recommendation:Everteen Natural Cotton Sanitary Napkins have worked really well for me. The 100% natural cotton surface feels soft and keeps rashes at bay. The ultra thin packaging made them easy to use and the smaller wings gave a proper fit. I also love that these are unscented so no uninvited allergies or stinky smell. The napkins feel good on skin even after 2-3 days of usage, no rashes or skin irritation. They absorb slightly less than Whisper ultra ones but otherwise far better than them. I just wish they come up with larger sizes to give us more flexibility on high-flow days. If you have sensitive skin and none of these regular Sanitary napkins work for you, try these. Highly recommended!
Rating: 4.5/5
Don't Miss to Checkout:
Have you tried Everteen Natural Cotton Sanitary Napkins? Which is your favourite brand for Sanitary Napkins?
PS: Product sent by brand for consideration but hones and unbiased Opinion!