Everteen Bikini Line Hair Removal Cream Review
Finally our prayers are heard and Everteen came up with an exclusive Bikini Hair Removal Cream. I guess this is the first Bikni Line Hair removal cream in India or at least in my knowledge, Everteen Bikini Line Hair Removal Cream. I swear I never had the guts to use the regular hair removal creams on to that area which is so sensitive. Though, I have heard others experience and they were nothing less than a horror. Let's see how different this Everteen creme hair remover bikini line is from the regular hair removal creams.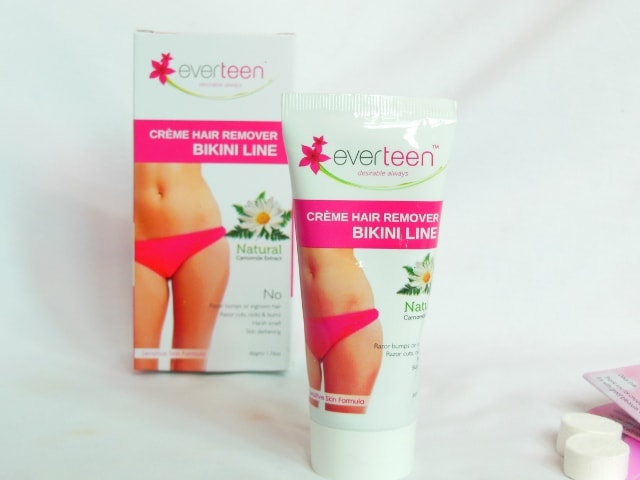 Product Claims:  Everteen creme hair remover bikini line effectively removes hair around tender bikini lines leaving skin soft & smooth.
Fortified with natural camomile extracts, you can be rest assured that there will be:
No Razor Bumps Or Ingrown Hair   
No Razor Cuts, Nicks & Burns          
No Skin Darkening     
No Harsh Smell
Why Everteen Bikini Hair Removal Cream
India's First Specially designed hair remover creme for your bikini line
No Shaving Pain and scaring battle: Most of the women who used shaving for bikini line hair experienced suffering due to itchy and stubbly feeling with rashes & irritation. The other problem with shaving is that hair grows back very quickly and you may have to deal with the risk of ingrown hairs, razor burns, nicks and cuts.
No Ordinary Hair Removal Cream:Neither should you use an ordinary hair removal cream which is meant for legs or arms as it can irritate your sensitive skin with its strong chemical compositions. A normal hair removal cream is meant for removing body hair around legs, arms and it contains ingredients which can be disastrous for the delicate skin of bikini area. normal hair removal cream can affect the color of your skin
Price: Rs 149 for 50 gms ( Buy Here)
Packaging: Everteen Bikini Line Hair Removal Cream comes in a small squeeze tube type packaging with a screw cap. The cream is packed in a card box which carries all the details and instruction regarding the usage. It is accompanied by a Spatula, 2 towel tablets, a wet wipe and instruction leaflet. I really liked the whole package which is easy and convenient to use.
My Experience with Everteen Bikini Line Hair Removal Cream:
Everteen Bikini Line Hair Removal Cream is a white colored cream with a medium thin texture which makes easy to apply and spread. I apply the product directly with the tube and then use the spatula's curved side to spread it evenly. As instructed, I apply a thick layer of the cream.
Smell: To my surprise, this Hair Removal Cream doesn't have that strong pungent smell that is common in all Hair removal cream. It was such a relief to my nose which gets burnt by that smell. The cream isn't completely fragrance free and if smelled closely I can detect the same pungent smell but it's very faint and doesn't do harm to my nose.
Effectiveness: I let the cream sit on the skin for around 10-15 minutes after which I picked it up with the spatula. And I can clearly see how effectively it removed the hair. Finally, I wiped off the area with the towel which cleaned up the rest. Though I have to follow up with an intimate wash for a complete clean up.
The cream claims to contain natural camomile extracts which has anti-inflammatory properties. I used this cream on the Bikni Line area and yes it didn't cause any irritation or burning sensation at all. I just felt a tiny bit of sensation for a minute or two in the whole process but nothing bothersome. I will still recommend to do a patch test before application especially if you sensitive skin
The cream removes hair really quick and I don't have to wait for long to see the results.
Disadvantages of Existing Hair Removal Methods:
SHAVING: Shaving might be the most common method but it is risky as it can cause bloody cuts & razor bumps. Shaving the most delicate area can create micro-traumas. Some also experienced abrasion followed by ingrown hair
WAXING STRIPS: Waxing has it own drawbacks if used on sensitive areas. Pain and skin redness along with loss of skin suppleness & elasticity are the major side effects. Skin infection and allergic reactions are also common with waxing sensitive areas
Hair Remover Cream: Normal hair removal cream is meant for removing body hair around arms & legs. Using it on delicate area can result in burning & skin darkening as it may contains chemicals which are harsh to the sensitive area of bikini line
EPILATORS: The biggest disadvantage of using epilator is ingrown hair. If epilating at sensitive areas, there are possibilities of slight swelling along with redness and inflammation. Another big disadvantage is the pain of using epilator on the sensitive area
Recommendation: Everteen Bikini Hair Removal Cream is India's First Creme Hair Remover Bikini Line. It is specially designed for sensitive skin areas like bikini line and underarms. It is formulated with 100% natural chamomile extract. The formula of this very mild and doesn't have any harsh smell. It effectively removes hair without any skin burning, itching or irritation. It is a much needed product for your cleaner & smoother Bikini Line from the Intimate Care Expert, Everteen. Recommended!
Don't Miss to Checkout:
Rating: 4.5/5
Have you tried Everteen Bikini Hair Removal Cream? Which hair removal method do you follow for Bikni Line hair removal?
PS: Product sent by brand for consideration