Ethicare Remedies Lipz Lip Moisturizer SPF 15 
Hello Everyone,
I have got these months back and have been trying and testing them since then. I don't have chapped or dry lips so I usually don't use lip balm that frequently, mostly before bedtimes and on the days when my lips feel dry over the day because of matte lipsticks or something like that. Let's see if these Lip moisturizers from Ethicare Remedies works for me, Ethicare Remedies Lipz Lip Moisturizer SPF 15.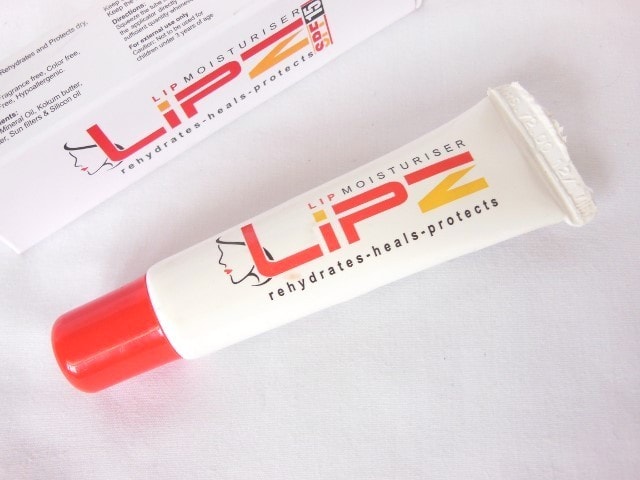 Product Claims: Lip moisturizer for chapped, cracked and dry lips.No waxy feel – Non-irritant base – Fragrance free
Directions for Use: Squeeze the tube from bottom and glide the applicator directly on lips.Apply in sufficient quantity whenever required.
Ingredients: Squalene, Mineral Oil, Kokum Butter, Shea Butter, Sun Filters and Silicon Oil.
Price: Rs 70 for 9gm
Shelf Life: 3 years from Mfg.date
Packaging: Lipz Lip Moisturizer SPF 15 comes in a white colored plastic squeeze tube packaging with a slanted tip to get the formula on the lips. Thisis definitely not my favorite packaging as I prefer stick which can be rolled up and down but it is still better than those unhygienic jar ones.
My Experience with Lipz Lip Moisturizer SPF 15:
Lipz Lip Moisturizer is a clear lip balm with almost Vaseline like texture, thin consistency and glides easily on lips. It doesn't feel waxy, sticky or heavy but I can feel that I have something on lips and I don't enjoy that feeling. Also I saw this makes a thin white layer on the inner side of the lip when left untouched, like some kind of residue from the lip balm which I am not comfortable.
It instantly moisturizes lips and keeps then nourished for next 4-5 hours and also works wonderfully on healing and repairing the dry skin on lips pretty fast.  It has a nice warm cocoa fragrance which is quite likeable. The formula is fragrance free, color free, preservative free and hypoallergic and contains the goodness of shea butter,kokum butter which is great for such an affordable lip balm and the addition of SPF 15 is a good thing as the lip will now be protected from Sunrays and hence less damage.
But the things that didn't worked for me:
Mineral Oil as the 2nd ingredient in the List .. Whyy!!??  – I wish I had just the awesome butters and natural stuff here
White residue it leaves on lips when left for few hours on lips.. naahh!!
My lips feel dry when I apply it on them when they (lips) are in normal state.. I know quite weird but I have experienced similar thing with Vaseline lip balms as well and that is the reason I am not a sucker for such lip balms. Though Maybelline Baby Lips  never did this to me 😛
Recommendation: Lipz Lip Moisturizer with SPF 15 has light weight texture and nourishing formula with healing properties to repair dry and chapped lips within a day. It is enriched with goodness of Shea and Kokum butter with added benefits of SPF 15 to protect lips from sun damage and all of this at an affordable price but it contains Mineral Oil as main ingredients and leaves a white residue on lips. Also, if you have normal lips I would not suggest using this lip balm as it can make them dry ( weird but true for me!). Not a must have a goof option for those days when my lips really need some help 🙂
Rating: 3/5
Have you tried Lipz Lip Moisturizer with SPF 15? Which is your current go to lip balm?
PS: Product sent by Brand for consideration