Ethicare Epiclin Cleansing Lotion Review
Hello Everyone,
Today, I am reviewing another skincare product from Ethicare Remedies, it is their cleansing lotion for sensitive skin. Read on whether this Ethicare Epiclin Cleansing Lotion is good at doing the job and was able to impress me.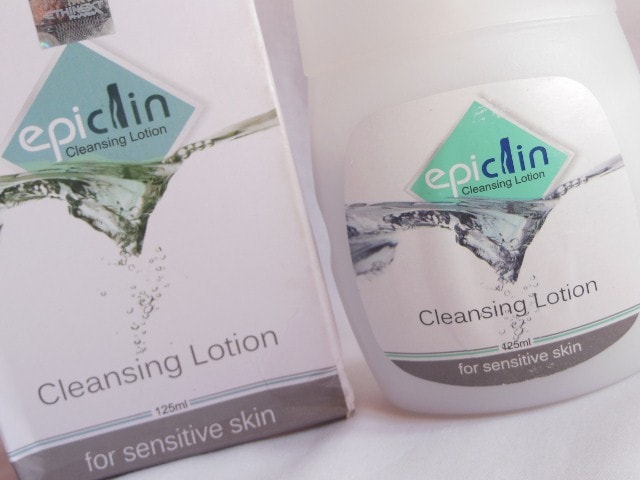 Product Claims:
Epidermis cleanser
Non foamy, No soap, Fragrance free, Color free,
Gentle cleanser fo dry sensitive skin
Ingredients:-
Cetyl alchohol – 2.65%
Steryl alchohol – 0.26%
Price:- Rs.139 for 125ml
Shelf Life:- 3 years from the Mfg date.
Packaging:- Ethicare Epiclin Cleansing Lotion comes in a frosted translucent white bottle packaging with a flip top. The packaging is similar to Ethicare Hydromax emollient lotion. The small opening allows better control on the quantity dispensed without causing any wastage.
My experience with Ethicare Epiclin Cleansing Lotion –
Ethicare Epiclin Cleansing Lotion is a pearly white color translucent liquid in a thin, runny consistency which spreads easily.
I tried using it two ways and here is what I experienced:
Makeup Cleanser: I poured some of the lotion on an already wet cotton swab and gently swiped it all over my face. It took off facial makeup like foundation, eye shadows, blush pretty well but I have to work a bit more with long lasting products like eye liners and staining lipsticks. It wasn't as effective as oil based makeup removed in removing long lasting makeup.
Foaming facial Cleanser: I poured a small amount of the lotion in hands and gently massaged it all over my face. It took off all the oil and dirt from the skin but it didn't give a rich lather like soap based cleansers. It rinses completely with out leaving any residue behind. I have dry skin and it didn't actually strip moisture off skin but my skin felt stretchy and I have to apply a moisturizer to quench its thirst.
I don't have problematic skin so cant really comment on the effectiveness of this Soap-free cleanser but if you are having breakout or some sort of allergy, this can make a great pick as it has a soap free formula. Also, it is claimed to be safe for use on babies so I guess it will be mild on gentle on adult skin s well.
Don't Miss to Checkout:
Pros of Ethicare Epiclin Cleansing Lotion:-
Soap Free cleanser
Cleanses skin gently
Rinses quickly
Fragrance free formula
Best suited for acne-prone/sensitive skin
Contains Olive Oil
Easy on Pocket
Hygienic and convenient to use packaging
Safe for use on children
Cons of Ethicare Epiclin Cleansing Lotion:-
Slight Irritation if gets into the eyes
Doesn't work as makeup remover
Contains SLES and Parabens
Recommendation:- Ethicare Epiclin Cleansing Lotion is a soap-free cleanser with the goodness of olive-oil and glycerin. It gently cleanses away the impurities from the skin but causes slight itching if gets into eyes. The formula is safe for use on sensitive skin and children so it works best as a soothing cleanser without irritating the skin any more. On my dry skin it faired okay but if you are facing breakouts then this might help in reducing it as it free from chemicals and also comes as super affordable price!
Rating:- 3/5
Have you tried Ethicare Epiclin Cleansing Lotion? Which is your favorite cleanser these days?
PS: Product provided by brand for consideration