Epilator Vs Waxing: Best Hair Removal Method For Women
Hey Gorgeous,
Let's talk about the most important thing in summers for Women "Hair Removal" and see which one is better Epilator Vs Waxing.
I will definitely put it before Sunscreens and even Chilled water because nobody likes to flaunt hairy legs and arms :P. Its like a monthly issue which needs to be addressed with utmost priority especially by those who have good hair growth and dark hairs. Blessed are those who have minimal hair and doesn't need to bother at all.
There are various options for hair removal e.g. Waxing, Shaving and like 90% of us, I was also going for waxing to get rid of unwated hair. I have never been a razor fan because of the obvious reasons and have opted for it only if there is an emergency when I can't make it to the parlour.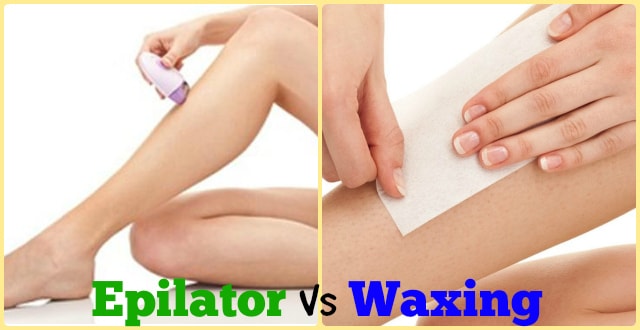 But there is one more method for hair removal, Epilating which is done using Epilators. This is the best option if your skin is sensitive to waxing and you don't want to for razor.
What is Epilating?
Epilating is a Hair removal Technique which is done using an electronic device or an hair removal machine called Epilator. Epilator has small tweezing heads on the top which pulls out hair from the roots just like waxing but it is much more cleaner and hygienic to do. No chip chip no jhik jhik. And also you can do it in any season or time of the day unlike waxing which is a little difficult in monsoons due to moisture.
How To Do Epilation: I have been using Braun Silk Epil 5 Epilator for 3 years now, and I must tell you that I never Felt like going back to waxing. It has made hair removal so much easier and less time consuming even if done all by myself. So, I will share the Tip and Tricks to do the Epilation in the best way.
How to Use Epilator:
Always exfoliate your body before using Epilators as exfoliation open up the pores and help in easy hair removal.
Epilation should always be done on Dry skin as it gives better grip to the tweezers and no slipping.
Hold the Epilator in between 60-90 degress to the skin and move it slowly so the tweezers on rotating epilator head pulls out all the hair while the roller massage the skin to lessen the pain afterwards
Repeat the process 2-3 Times on the same area to get rid of all the hair. Trust me it doesn't take as long as it sounds
Clean the Epilator Head in between if there are lots of hair as that reduces the efficiency of the tweezers
Roll the Epilator is the opposite direction of hair growth for effective hair removal
Mke sure the skin remains tight when you are epilating as it is more painful when done on loose skin and also won't be able to remove hair from the roots.
Epilator Vs Waxing: Pros of Epilators
Needs Investment but Less Expenses: Epilation just requires an Epilator which is a kind of investment as they range Rs 3000 – Rs 5000 there are some expensive ones too. While Waxing just costs few 100's every visit but if you calculate the amount you spend over the year.. you can buy an epilator easily from it and use it for years .. So over the years Epilation becomes cheaper than Waxing.
Convenient and Hygienic: I love Epilation over waxing because its so much easier to do, just roll the epilator over the skin at the convenience of your home. You can do the waxing too but for that you need strips, Wax, wax heater, a knife to apply and most importantly art to pull the strips all by yourself.
Can be Used on sensitive areas: I use epilator for under arms hair removal as well and I accept that's the most painful area. Though, exfoliating before hand helps a lot but due to thickness and density of hair, it takes me time to get it done every time. If you have a low pain threshold I will not suggest going for it but if you want to ..you can definitely give it a try for the same. I will not recommend Epilating Bikni area at all!
Epilator Vs Waxing: Cons of Epilators
Won't Remove Tanning: This is one thing that I miss with epilators. Epilators cant remove dead skin cells like waxing does. So if you are tanned and have a hair growth too, go for waxing.
Short Hair Removal: Epilators are very effective in hair removal but if hairs are shorter than a particular length then they might not get picked by tweezers while in waxing each and everything gets lifted from the skin because of the wax.
Noisy: Epilators are noiser than waxing and the motor sounds may not be liked by all. It takes some time to get used to it or you can listen to some good music during the process to ignore its sound.
Myths about Epilators / Epilation:
Just like you I also had fears regarding Epilation, that it will be so painful and I have more ingrown hair but after 4 years of experience here is what I have to say.
Epilation Is Painful: Myth!! It is myth that Epilation is painful or can I say more painful than waxing. When hair are pulled from the roots you ought to feel the pain whether its waxing or epilating. Initially, it takes some time to get used to the epilator sound the hair removal pain but after 3-4 times,it will be easier and feels less painful.
Ingrown Hair: Myth!! If you think you will get issue of ingrown hair due to epilating then you are wrong. I have been doing it for years now and faced no such problem. I will suggest just exfoliate your skin before and after epilating in shower and then on a weekly basis to never have in grown hair issue with any hair removal process.
Hair Grows Thicker:  Myth!! Hair are pulled from the roots with epilating and hence it is quite similar to waxing. It does makes hair grow thicker or heavier but slightly finer with regular use
It Accelerates Hair Growth: Myth!! Epilation doesn't increase hair growth rather I feel over time it has helped me reducing the hair growth to a good extent.
Gives Red Bumps: I wont say it's a Myth and if you have super sensitive skin you might get bumps after Epilating. I will suggest applying a toner or Moisturiser or Aloe Vera to the sensitive area as it will soothe skin quickly.
Hope this clears all the doubts you had about Epilators. Let me know if you would like to ask anything else or share your epilator experience. For me with Epilator Vs Waxing Epilator is the winner for me
Have you tried Epilators and whats your take on Epilator Vs Waxing ? Which is your preferred Hair Removal Method?