Enliven Red Apple and Raspberry Shampoo Review
After having a wonderful experience with the Enliven Red Apple and Raspberry conditioner, I wanted to try out their shampoo's too and got this Enliven Red Apple and Raspberry Shampoo with high hopes.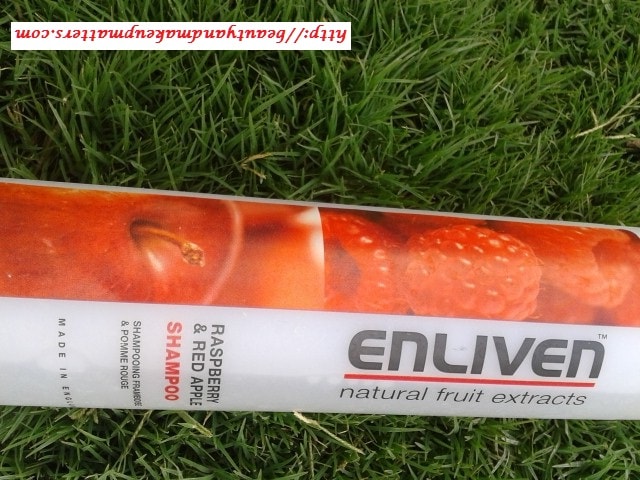 Product Claims:- Enliven Shampoo has been specially formulated with natural extract of raspberry and Red Apple to leave you feeling renewed and refreshed. For best results, use in combination with Enliven Conditioner.
Directions for Use:- Lather, rinse, repeat if required
Ingredients:- Aqua, Sodium Laureth Sulphate, Sodium Chloride, , Cocamide DEA, Cocamidopropyl Betaine, Glycerin, Parfun, Panthenol, Disodium EDTA, PEG/PPG-20/6 Dimethicone, Sodium Sulphate, Rubus Idaeus Extract, Pyrus Malus Extract, Benzyl Alcohol, Benzylchloroisothiazolinone, Methylisothiazolinone, AMgnesium Chloride, Magnesium Nitrate, Citric Acid,Propylene Glycol, Triethylene Glycol, Triethylene Glycol, Methyl Paraben, Phenoxyethanol, Sorbitol
The range includes 4 fruity variants:
Enliven Raspberry & Red Apple
Enliven Kiwi & Fig
Enliven Coconut & Vanilla
Enliven Mango & Passionfruit
Price:- Rs160 for 400ml
Shelf Life:- Mfg date and Expiry date are printed in some code language  on the shampoo ( I dont know what that is).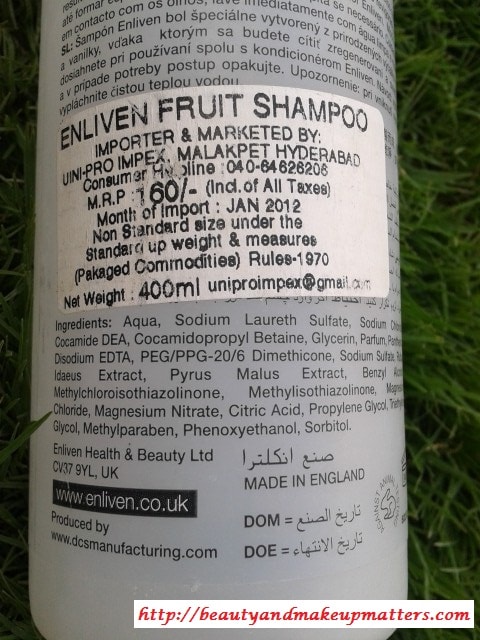 Packaging:- The shampoo comes in a long see through cylinderical shaped plastic bottle. The packaging is similar to the conditioner with a difference that it has a flip opening to dispense the shampoo.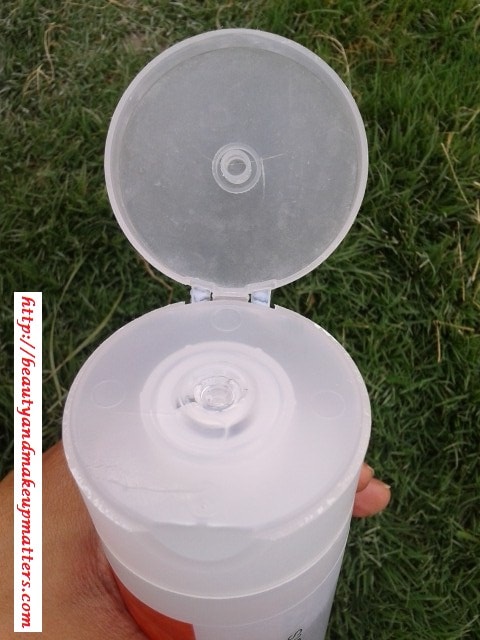 My experience with Enliven Red Apple and Raspberry Shampoo:-
Enliven Red Apple and Raspberry Shampoo has a gel like consistency which is neither thick nor runny. The shampoo has ditto fragrance as its conditioner, the rich fruity smells.. utterly delicious.
So far so good, now coming to worst part of the shampoo. When I applied it on my scalp it seems like glued my hair together, I tried using more of the shampoo thinking my hair would more dirty than usual but still the same. I didn't lather at all.
I had to struggle hard to get this removed from my scalp. It doesn't get rinsed off completely and does leave its traces behind. My scalp felt like suffocating. It doesn't give any clean feel after use. My hair felt so hard and dry like hay stack. I normally don't face any tangling issue but this shampoo made my hair tangle badly. It ripped off all the moisture from the hair and left then dull and dry.
I was shocked to see my hair in such a bad form but kept my calm and followed with Enliven conditioner which made them feel better to a certain extent. This is an awful shampoo ..( should I call it a shampoo) and a complete waste. It took me 2-3 weeks to get my hair back to their normal texture.
Don't Miss to Checkout:
Pros of Enliven Red Apple and Raspberry Shampoo:-
Smells delicious
Hygienic Packaging
Cons of Enliven Red Apple and Raspberry Shampoo:-
Doesn't lather at all
Sticks all the hair together like a glue and gives a messy feel
For the first time in my life it made my hair look like a birds nest.
Doesn't clean my hair at all.
Makes hair dull and dry.
Stripped all the moisture from hair and tangle them badly
Causes hair fall
Recommendation:-  Enliven Red Apple and Raspberry Shampoo is the Worst shampoo I have ever tried on my hair. God knows who the hell made this shampoo. Avoid at all costs!
Rating:- 0/5
Have you tried Enliven Red Apple and Raspberry Shampoo?