Enliven Conditioning Nail Polish Remover Review
Product Claims: Enliven Nail Polish Remover with added conditioner is specially formulated to care for your nails whilst removing your nail polish.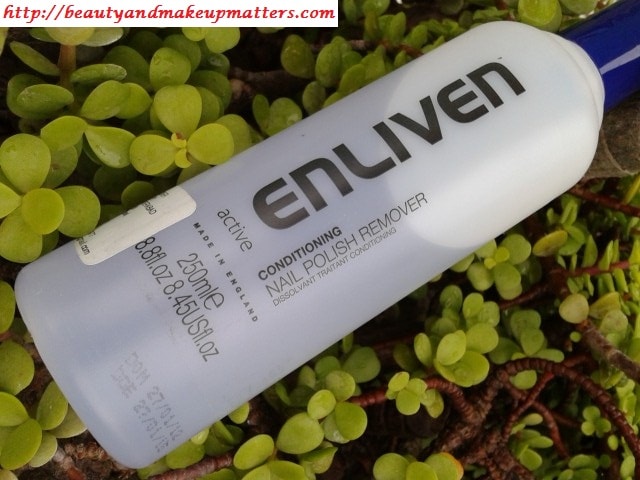 Direction for Use:-Moisten cotton wool with nail polish remover, wipe gently over the nail to remove polish
Ingredients:- Acetone, Aqua(water), Glycerin, PPG-40, PEG-60, Lanolin Oil, Methyl Paraben, DMDM Hydantoin, BHT, CI17200, CI 42090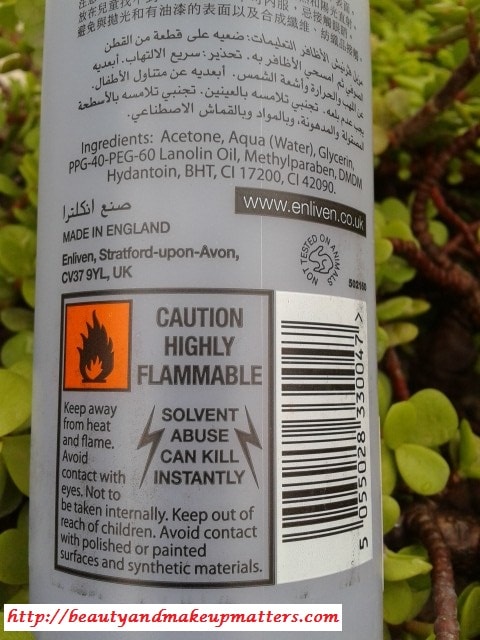 Price:- Rs.150 for 250 ml
Shelf Life:- 3 years from the Mfg date.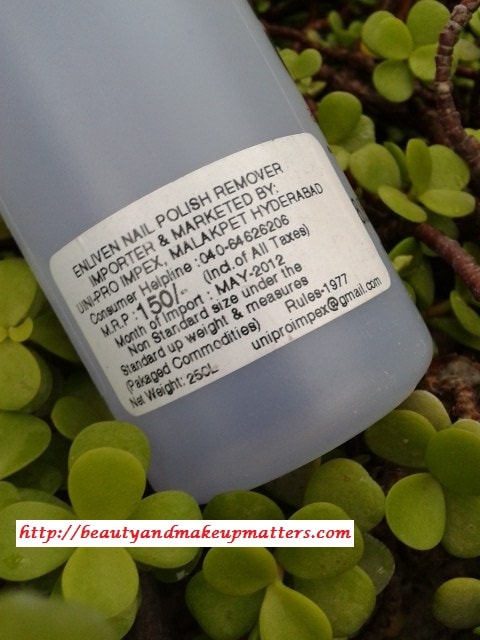 Packaging:-The remover comes in a long cylindrical translucent bottle. The bottle has a violet colored screw plastic cap.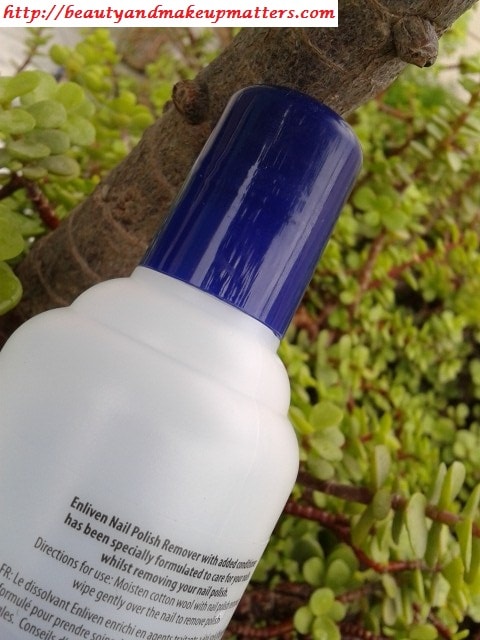 I was more than disappointed to see the open mouth of the bottle. I was expecting at least a stopper at the opening to control the amount of the remover liquid but to my dismay it doesn't have anything like that. If compared with Sally Hansen Nail Polish Remover the opening is slightly small but an open mouth bottle is always difficult to use.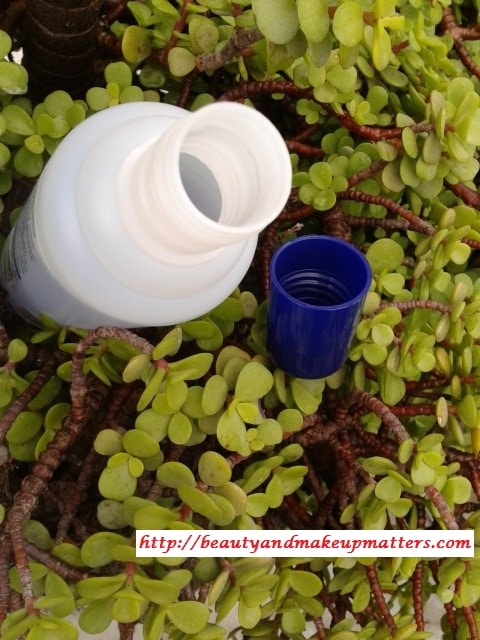 My experience with Enliven Conditioning Nail Polish Remover:-
The remover is light violet colored liquid with watery consistency. The alcoholic smell is not felt from a distance but pretty strong if you dig your nose into the bottle.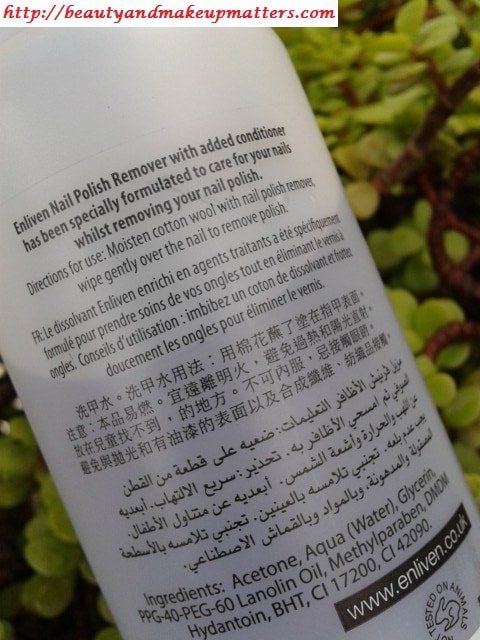 The remover works well at removing some of the nail enamels. I don't need to rub the cotton hard against the nails to get rid of the nail enamel, just lay it for few seconds and gently swipe it over the nail bed. The nail enamel comes off easily without leaving any color on the nails.
PS:- For some shimmery nail paints like Maybelline Coloroma Glitter Prata and Avon Simply Pretty Pretty Plum Nail Enamel it takes lot of time to remove but works well with Lotus Herbals Color Dew Nail Enamels and Maybelline Express Finish Nail Paints
I really like the smooth almost slippery feel on the nails post-removal. The feeling is somewhat similar to what I get if I apply a good moisturizer. A single cotton swab soaked in remover liquid is enough to remove the nail color from both the hands. I was happy to see no whitish cast on the nail beds post-remover.
Swatches:- Used Maybelline Express Finish Nail Enamel- Khakhi Green (Review Coming up..)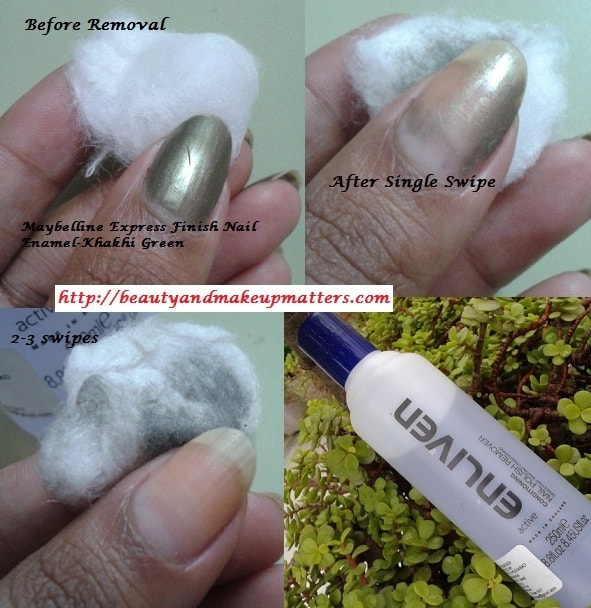 Overall, I find this remover good for the price The 250 ml bottle is huge and would really last me long.

Pros Enliven Conditioning Nail Polish Remover:-
Mentions complete ingredients list on the bottle
Contains Glycerin which will prevent the nails and cuticles from getting dry.
Does leave any whitish layer on the nail bed
Nail beds feels smoother and slippery after remover just like I have followed up with a moisturizer
Great value for money
Going to last me long
Not tested on animal
Cons of Enliven Conditioning Nail Polish Remover:-
Not available in stores
Stupid packaging leads to wastage of the product.
Contains Acetone as main ingredient
Recommendation:- Enliven Conditioning Nail Polish Remover removes nail polish with ease but due the large opening I get more than required liquid on the cotton which leads to wastage. A stopper at the mouth of the bottle would have been enough but for now I need to transfer the remover to another bottle with a nozzle or a stopper (probably to the empty Lakme Nail Polish Remover bottles) to control the amount of product. However, the large quantity we get at such a reasonable price is really good. Recommended!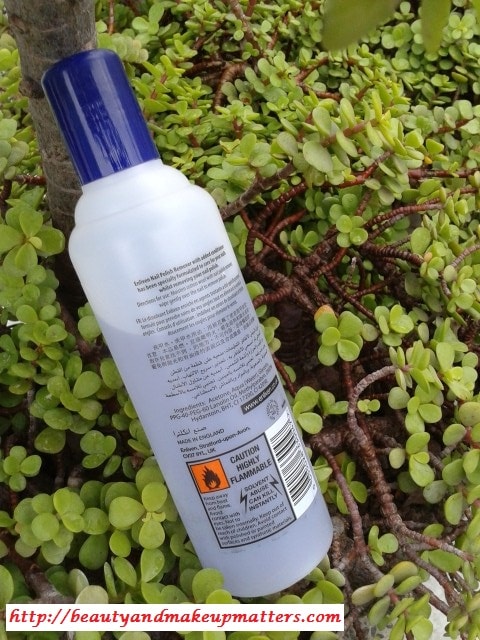 Rating:- 3.5/5
Have you tried Enliven Conditioning Nail Polish Remover? Do you follow with a moisturizer after removing nail polish?