Dupe of Artis Makeup Brushes: PAC Master Stroke Brush FSml Review
Today I will be sharing my love for this newest Tooth brush in town.. just kidding dear! It's not about the Tooth brush but a look alike.. Dupe of Artis Makeup Brushes: PAC Master Stroke Brush FSml the Toothbrush shaped makeup brush.
If you are a Makeup addict you would have already seen these crazy brushes over the internet. MAC has also come up with their own collection of brushes with "MAC Masterclass collection" which has only such toothbrush shaped makeup brushes. But the brand that actually made these hugely popular is "Artis Brushes".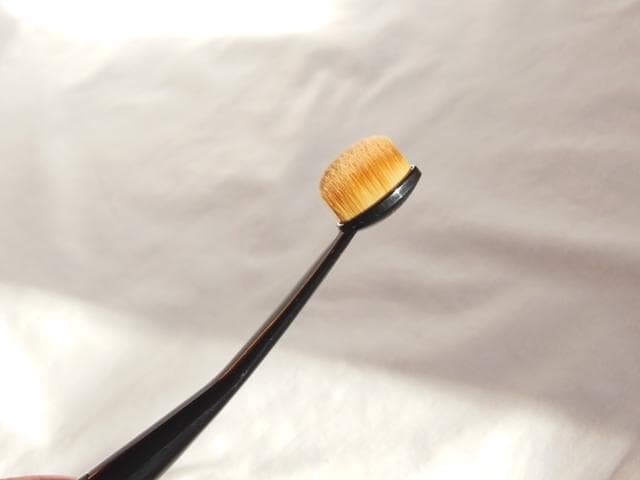 Artis Brushes are made of metal and use special patented bristles for the brushes but they are way too expensive. So, if you have lusting after those gorgeous brushes here is an affordable option in India " PAC Cosmetics" which have launched their own brushes in similar design. I got myself PAC Master Stroke Brush FSml to test.. so lets see if I am impressed.
Product Claims:
Ideal for primer foundation or powder, the rounded medium sized brush applies, blends and contours all over the face or cheeks for even flawless coverage.
Made of synthetic fibres.
Handle feature special Grip design and tilted brush tip for ultimate precision with a sleek black finish.
Very ideal to use it for contouring and concealer.
Price: Rs 650 (Buy on Amazon)
My experience with PAC Master Stroke Brush 06/ FSml:
Shape: PAC Master Stroke Brush 06/ FSml is a small contouring brush with a black plastic handle and dark brown colored synthetic bristles. The bristles are densely packed and are tapered towards the tip which helps in blending the product giving an airbrushed finish.
Purpose of PAC Brush FSml:
Contouring: I bought PAC Master Stroke Brush FSml particularly for nose contouring but the brush is slightly bigger than I have imagined. Intially, it felt a little oversized to be used on nose but I got the hand of it in 2-3 usages. Though, it does a good job at nose contouring I love to use it more to define my cheek bones and jawline. The brush works best with Powder products for me as it distributes and blends the products flawlessly. It can also be used with Cream/Liquid products but the blending needs a little patience.
Highlighting: PAC Brush FSml is a multi purpose brush and can be used in N number of ways but the other thing that I love to use this for is to apply Highlighter on face like cheekbones and cupids bow.
Concealing: The PAC Brush FSml shape also makes it suitable to blend the under eye concealer. As the bristles are quite dense it does the blending beautifully without soaking up too much of product and also gives precision when you have under eye makeup going on. This is the best thing this brush does.
Quality: The quality of the brush seems quite good as there has been no shedding of bristles even after multiple washes. The bristles have retained their shape very well.
Usage: It takes some time to get used to use this type of brush to apply makeup because of instead of stippling we have to swipe it around the area just like I am brushing my teeth which feels quite weird initially.
How To Use PAC Master Stroke Brush 06 /FSml:
Hold the brushes parallel to the face so that the handles of these brushes are close to face during makeup application, rather than being held away from the face as with regular makeup brushes.
Strangely, holding the brush so close to face gives better control of movement.
The Index finger rests on the back of the brush plate which gives a feeling of applying products with fingers only but with perfection.
The makeup application is much precise with these brushes as you are always in control of where the product is being blended
Recommendation: PAC Master Stroke Brush FSml is a uniquely shaped makeup brush (actually a Tooth Brush shaped makeup Brush) which can be used for different purposes like Concealing, contouring and highlighting. It's their versatile design that makes these such a multi-purpose brush. These PAC Tooth Brush shaped brushes can be termed as Dupe of Artis Makeup Brushes as they look alike. I am still on the edge, whether I love these as much as I do my regular brushes but I guess I need more time with these to fell in love with. There are many different styles and designs available in PAC cosmetics and I am planning to try the Face Brush and may be Eye liner brush next from this range. If you want to break the rules and have fun with makeup give these brushes a shot! Recommended!
Rating: 4/5
Don't Miss to Checkout:
Have you tried such Tooth brush shaped Makeup Brushes? Would you like to give them a shot?