Dupe Discovered: MAC Rebel Lipstick
Hello Pretties,
Today I am here with another somewhat close dupe of MAC lipstick in my favourite Drug-store brand "Maybelline", the perfect fall/winter shade MAC Satin Lipstick in Rebel.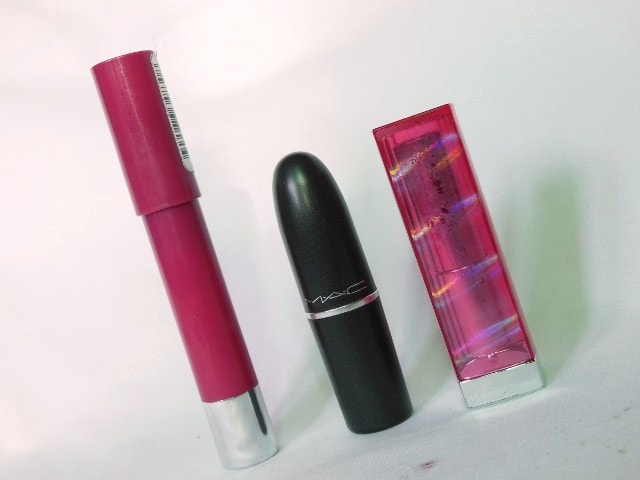 I was actually unaware that I am owning almost 3 similar shades out of which one is MAC.. 😉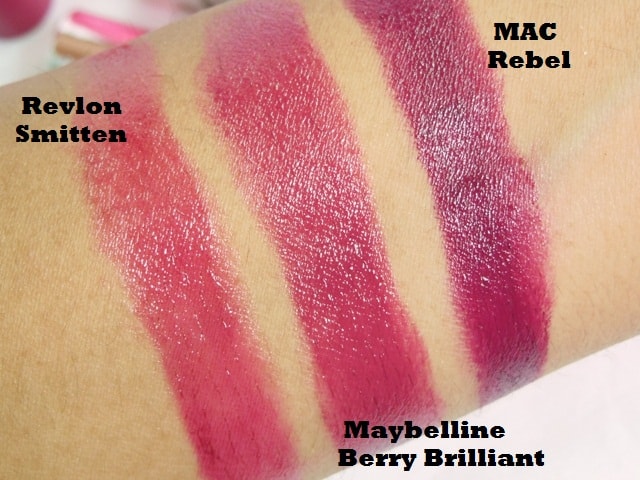 MAC Satin Lipstick in Rebel (Rs 1350 now .. 🙁 ) – Rebel is a gorgeous juicy plum shade on lips with lovely satin finish, the formula is intensely pigmented and has buildable coverage. In first swipe it goes light pinkish plum but intensifies to a rich dark plum shade with subsequent swipes.
Maybelline Jewels Lipstick in Berry Brilliant ( Rs 350) – Berry Brilliant looks less intense and pinker than Rebel in the bullet and comes slightly more fuschia than plum on lips compared to Rebel. Formula is almost similar to Rebel with just tad less shine and more creamy feel
Revlon Just bitten Kissable Lip balm Stain – Smitten ( Rs 650) Smitten : Another dark berry pink shade but it is a lip crayon with staining pigments. The color looks much pinker on application but intensifies to a rich plummy pink shade with more swipes and given a few more minutes on lips. It imparts a lovely watery shine to lips but within few hours the shine reduces to a considerable extent. The pigments stains lips quite heavily and it will be hard to remove even with using a oil-based makeup remover.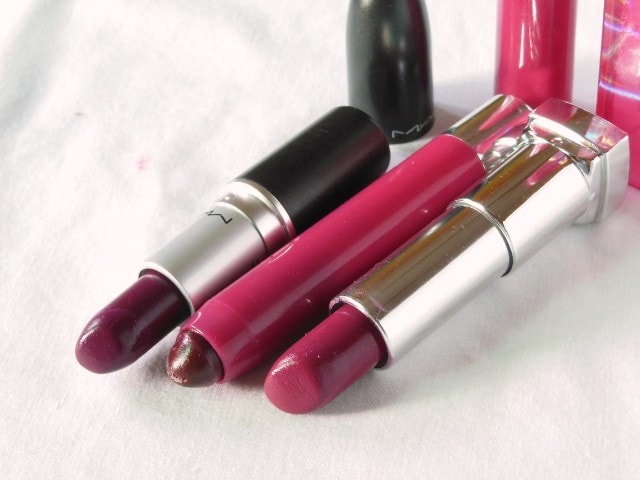 Revlon Smitten and Maybelline Berry Brilliant are looking much lighter and pinker in swatches but they appear much darker and intense on lips, may be due to pigmentation!
Out of all three, if you ask me my favourite it is definitely "MAC Rebel" because it is more staining and true to its color compared to Berry Brilliant and non-drying even for 7-8 hours unlike Revlon Smitten Kissable lip balm but if you bring the prices one has to pay I would say any of the Maybelline Berry Brilliant and Revlon Smitten will do, may be just a tad lighter than Rebel.
You Might Also Enjoy Reading:
Have you tried any of the lipsticks here? Do you like such berry plum shades?