Dupe Discovered: MAC Impassioned
Hello my lovelies! I am going through this "lipstick crazy" phase where I match everything to a lip color and imagine how this will look on lips. Few weeks back I was checking my FB wall and saw this ravishing pout picture on the L'Oreal Paris Page wall, I tried to ignore it first but scrolled back up and gave a 2nd stare to the pout and within a moment I was sure that I need to get this shade. I asked friends over BeautyandMakeupMatters facebook page to help me out finding the right shade, closest to the one in picture and suggestions poured in for the possible dupes and the one with maximum votes was "MAC Impassioned ".
MAC Impassioned is a stunning neon pink toned coral shade which belongs to Amplified Cream range of MAC and has a moisture rich lustrous finish,. It's an interesting shade that exude attention and compliments will surely pour in but as it is MAC one has to shell out Rs. 990 on this single lipstick. But here I came up with a solution to your problem, and got some alternatives short-listed that are easily available in India. 5 Dupes of MAC Impassioned:
INGLOT Freedom System Lipstick refill #10 – (Rs.350) : Has a semi matte finish and easy on pocket compared to MAC
Faces Ultime Pro Long Wear Matte Lipstick Read My Lips – (Rs. 599): The shade from newest launch from Faces, I am really excited to pick a few from this Ultime Pro-long wear collection
Sleek True Color Candy Cane – ($7.49) I have to admit that I love the chubby round packaging of SLEEK lipsticks. It has a creme glossy sheen and is little hydrating to lips and the good thing is that we get all of this at a price almost half of MAC.
Max Factor Colour Elixir Lipstick Bewitching Coral 827 – (Rs.750): It is not as pigmented as Impassioned and have sheer to buildable coverage. The balmy texture is utterly moisturizing, a bliss for dry chapped lips. It imparts a luscious creamy shine to lips and coverage can be built from sheer to an almost opaque finish
Bobbi Brown Neon Pink Lipstick (Rs 1350) – The shade is very similar to impassioned but the price… well it is Bobbi Brown! 😉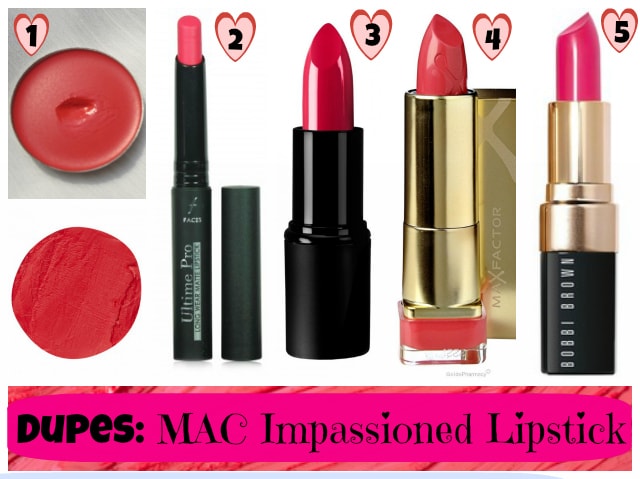 PS: I haven't tried these lipsticks but listing out based on the online swatches available
It is a bright hot pink shade and not a must have for everybody but if you love do it differently, sport statement lips this summers with Impassioned (or its dupes).
Have your tried MAC Impassioned? Which is the boldest lip color you have tried? Do you know any other dupe for this?