Dupe Discovered: INGLOT Freedom System Lipstick #53   
Hello Friends,
 This weekend, I have been out with all the "Bacchha party" (Brothers and Sisters) and had a blast in SHIMLA (For pictures, be friend with me on FB 😉 ). As you all know my love for bright, bold shades one of my favorite Neon Pink Lip color, INGLOT Freedom System Lipstick Refill #53 made my cousin fell for it in first glance. She is a little duskier than me, so she wasn't sure whether this shade will work for her.. so I gave her a demo… and without any doubt she loved it.
INGLOT Freedom System Lipstick #53 is a loud hot pink shade which can bring all the attention to your lips in a flash! It is not a must have but if you like bold lip colors than you shouldn't miss this bizarre pink shade.
I have always received compliment for this shade and made many girls swoon over my hot pink lips. Because of my love for makeup. I don't mind carrying a lipstick palette or use a lip brush for application but normally girls prefer their lipstick in bullet form and as expected she asked me to get this lipstick in a convenient to use (bullet) packaging rather than a palette.
Since then, I was on a hunt for finding a dupe for this beautiful neon pink shade it in any brand but in a proper lipstick shape.
Here are few shades that I find close to INGLOT Lipstick Refill #53.
MAC Girl About Town
Revlon Colorburst Fuchsia
Faces Go Chic Flamboyant Fuchsia
INGLOT Freedom System Lipstick #69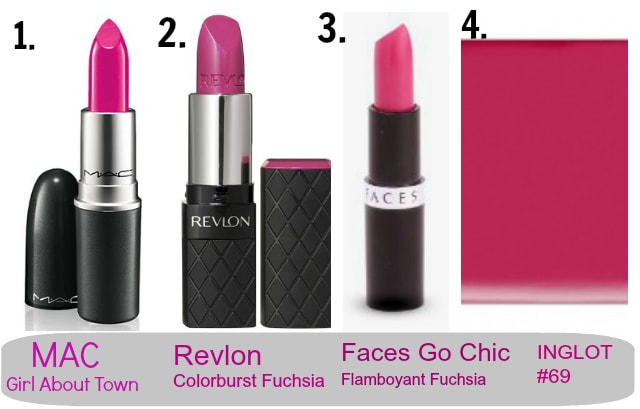 I haven't tried any of these lipsticks in person so not sure how close they are but looking at online swatches Revlon Fuchsia looks closest. If you own any of them please help me out!
Have you tried INGLOT Freedom System Lipstick #53? Do you know any other dupe for this? Don't forget to share in comments!