DUDE or DUD : theBalm Stainiac Lip and Cheek Stain
Hello Everyone,
Today I will be reviewing another lip product from My Fab Bag monthly bags and this is my first ever theBalm stuff which I got in 3rd Anniversary Fab Bag edition. I have tried Benefit Posietint Cheek and Lip Tint in the past and didn't quite liked it so lets see if theBalm version of lip and cheek stain works for me, theBalm Stainiac Lip and Cheek Stain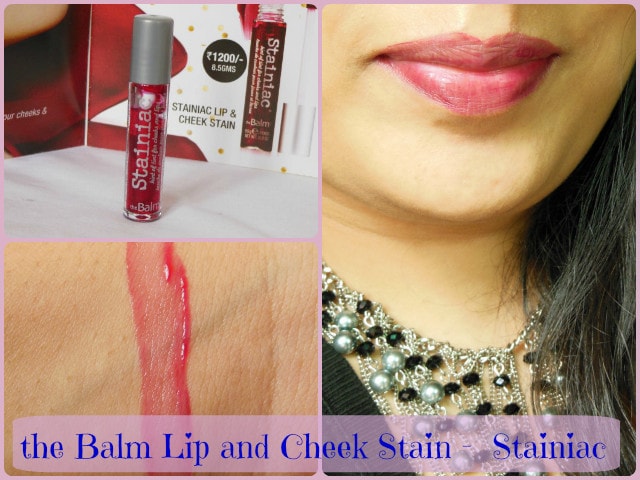 Product Claims: Stainiac "hint of tint" works with all skin tones. Dab just a touch on your Cheeks and Lips; layer to pop the color. Fear not those dreaded streaks most tints leave behind – Stainiac's aloe-infused gel-based formula is designed to give you more time before the stain sets.
Direction for Use: Dab this stain on your cheeks and blend with your fingers. Use the wand to apply to your lips. Layer to build color.
Price:- $17 on thebalm.com  but on Amazon.in its Rs.1800 :O
Packaging:- theBalm Stainiac Lip and Cheek Stain is something similar to Benefit cheeks tints but theBalm Stainiac comes in a lip gloss sort of packaging with a doe foot applicator. I feel the applicator is fine for using this as a lip stain but if I got to use it on cheek it is hell difficult to get a smooth application because no matter how quickly I blend it, it always give me that creepy patchy application.
My experience with theBalm Stainiac Lip and Cheek Stain:
Shade: theBalm Stainiac is a dark reddish pink tint with thin gel like consistency. It quickly melts on application and gives medium fuchsia pink stain. I am not sure if there are more shade in the collection.
Texture: The formula is sort of a watery gel which quickly melts on lips and sets to stain form. It definitely gets drying as it starts to settle on lips and I have to run for a moisturizing formula be it a lipstick or lipgloss. I doesn't get that super even application on lips as I have to dip my wand 8-10 times to get a decent color and by the time I apply another coat the first one is already dry which makes it look darker in some places.
Pigmentation: It is stain so I couldn't expect a super opaque color payoff from the product but still I feel it could have stained a bit more. It is deep red in the tube but comes up as sheer pink and in spite of multiple layers the color doesn't look as intense as in tube.
Staying: theBalm Stainiac being a stain it should have lasted at least 7-8 hours but it sadly it doesn't. On lips it lasts for 4-5 hours but I feel wears off even quickly on cheeks and starts fading within 3 hours of application which is quite disappointing. I haven't used it with primer which might enhance the staying but I have a dry skin so its not that my skin oils are causing it fade.. do I make sense!
Recommendation: theBalm Stainiac Lip and Cheek Stain comes up as a sheer medium pink tint but it gets drying on lips and I have to layer it with a balm or a creamy lipstick. I am quite disappointed with its performance as it doesn't last more than 5 hours on me. I haven't tried many stain formulation so not sure how it perfoms in comparison to others but for the packaging I feel the Benefit's one is still better. For the price point, I definitely expected a better product. It's a DUD for me!! 😛
Rating: 2.5 /5
Have you tried The Balm Stainiac Lip and Cheek Stain? Which is your favorite Lip or Cheek Stain?