Dove Indulgent Nourishment Body Lotion with Shea Butter Review
I was looking to get the Vaseline cocoa Body lotion but due its unavailability for longtime, I started searching for something else. Then one good day when I had gone to my mummy's place and smelled something divine. It was my sister wearing this lotion. I can't resist myself from asking her about the lotion and she proudly said its dove. I think this must be a new launch by Dove as I had tried its other variants earlier but those weren't quite impressive.I have already reviewed Dove Beauty Moisture Facewash which my dry skin loves.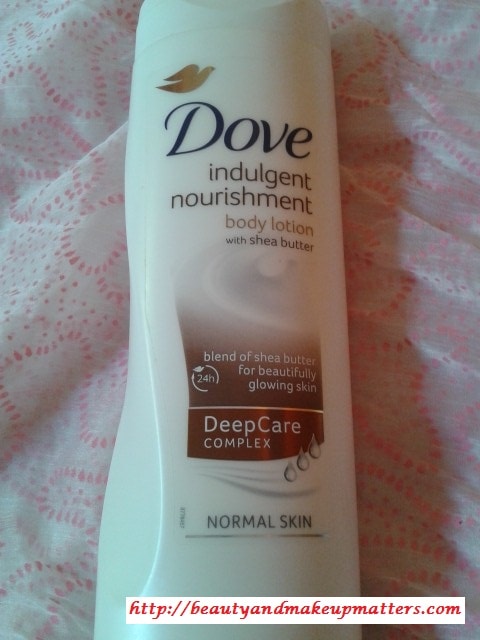 Product Claims:- Nourishing your skin has never felt so good. Dove Indulgent Nourishment Body Lotion is a rich blend of nourishing cream and shea butter extracts that melts into your skin enveloping all your senses and leaves you a beautiful glow. Turn your daily care routine to a daily treat.
The unique DeepCareComplex includes natural skin nutrients and rich essential oil to help gradually improve skin starting deep down.
Ingredients:- ride, Dimethicone, Glycol Stearate, PEG-100 Stearate, Cyclopentasiloxane, Petrolatum, Butyrospermum Parkii Butter, Isomerized Linoleic Acid, Helianthus Annuus Hybrid Oil, Sodium PCA, Lactic Acid, Potassium Lactate, Urea, Collagen Amino Acids, Glyceryl Stearate, Cetyl Alcohol, Stearaminde AMP, Triethanolamine, Acrylates/C10-30 Alkyl Acrylate CrossPolymer, Carbomer, Disodium EDTA, Parfum, Phenoxyethanol, Methyl Paraben, Propyl Paraben, CI 77891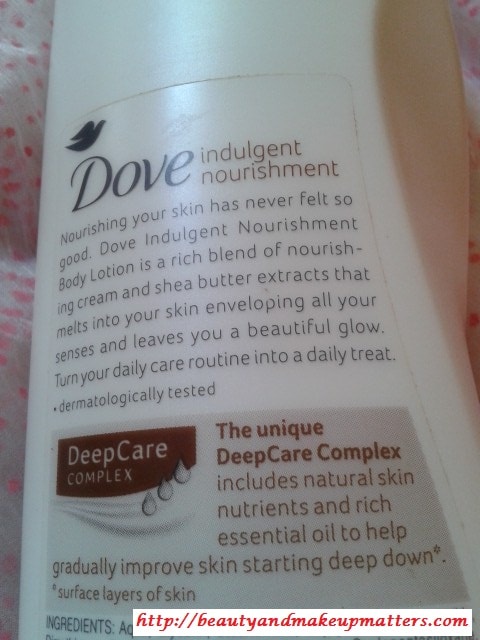 Price:- Rs.270 for 400ml
Shelf Life:-  24 months from the Mfg date.
Packaging:- The lotion comes in an opaque white plastic bottle with a flip-cap.  The bottle is huge and bulky. The packaging is sturdy but not travel friendly.
My experience with Dove Shea Butter Body Lotion:-
As soon as I open the bottle and pour Dove Shea Butter Body Lotion on my hand, it loads my sense organs with its rich cocoa kinds smell. It has a warm cocoa smell which I totally love. The smell lingers on for 4-5 hours in a faint aroma. The smell is very pleasing and I don't find it OTT. The lotion is white in color and has medium consistency which spreads easily all over the body.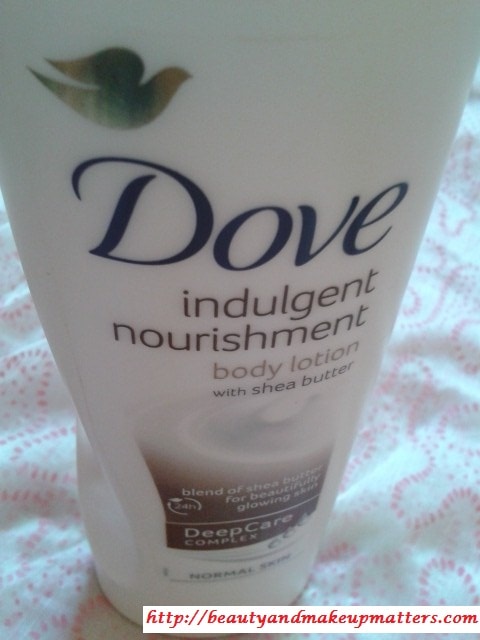 The lotion blends easily into the skin with a little massage. It makes a perfect lotion for my dry and parched skin. The best thing about this lotion it doesn't make my skin greasy and oily even in summers. Dry skinned can enjoy the luxury of creamy moisturizing lotion in summers as we. It keeps my skin well nourished and wont need a re-application until you take a bath.
Don't Miss to Checkout:
Pros of Dove Indulgent Nourishment Shea Butter Body Lotion:-
Has a delicious cocoa smell (Quite eatable :P:P)
Moisturizes skin well without making it greasy
Blends quickly into the skin making it soft and supple.
The bottle is huge and lasts long.
Sturdy and hygienic Packaging.
Reasonably priced
Cons of Dove Indulgent Nourishment Shea Butter Body Lotion:-
I couldn't find any other con except that it contains Paraben.
Recommendation:- Dove Indulgent Nourishment Shea Butter Body Lotion is a non-greasy moisturizing lotion which takes care of my dry skin very well in winters. It is going to be my HG lotion for winters because of its awesomish warm cocoa rich smell. The lotion is slightly heavy for summers  and I literally have to hide this bottle so as to avoid myself from drenching it on my body.
Rating:- 4/5
Have you tried Dove Indulgent Nourishment Shea Butter Body Lotion?