Dove Beauty Moisture Face wash Review
Hello friends,
After my not so good experiences with drugstore brand face washes like Ponds, Pears, Himalaya etc. which left my skin dry and stretchy, I try to prevent myself from buying face washes from these regular brands
But I couldn't resist myself when I saw this face wash "Dove Beauty Moisture Face wash for Normal to Dry skin" from Dove. I could hear my skin screaming "I want Dove… I want Dove.". I couldn't ignore and surrendered. 😛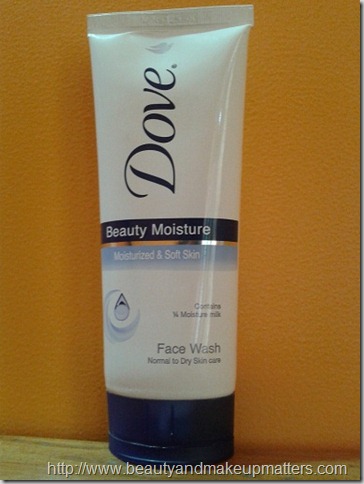 Product Claims:- Dove has a unique 'Deep Clean and Deep Moisture' action:
• '1/4th moisturizing' milk moisturizes your face, and its 'moisture lock funstion' retains moisture for longer.
• Rich Lather removes dirt and impurities effectively to give a deep clean feeling.
Because perfect cleansing is cleansing with care!
Directions for Use:- Splash face with water and apply face wash on face and neck. Rinse off. Pat dry. If face wash gets into your eyes, rinse well with water
Ingredients:-Water, Petrolatum, Potassium Cocoyl Glycinate, Glycerin, Potassium Cocoate, Sodium Lauroamphoacetate, Hydroxy Propyl Starch Phospahate, Acrylates Copolymer, Lauric Acid, Lauramidopropyl Betaine, Polybutene, BHT, Guar Hydroxy Propyltrimonium Chloride, Polyquaternium-6, Tetrasodium EDTA, Citric Acid, Methyl Paraben, Propyl Paraben, Methyl Chloroisothiazolinone, Methylisothiazolinone, Fragarnce
Price:- Rs.125 for 100gm
Shelf Life:- 24 months from the date of Mfg.
Packaging:- The face wash comes in an opaque plastic tube type packaging. The tube is white in color with a blue colored flip cap. The cap shuts with a satisfactory click sound. The packaging is sturdy and travel friendly.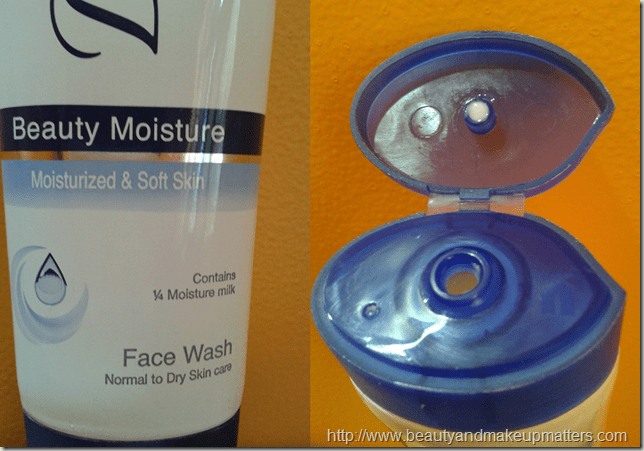 My experience with Dove Beauty Moisture Face wash:-
The face wash is white in color and has a creamy texture. The face wash is not runny but gas has a medium consistency. It also has mild fragrance which is quite refreshing. It spreads easily and only small amount of it is enough to get a good lather. It gives a rich creamy lather which I really like. The face wash is mild and feels gentle on skin. It gets rinsed off pretty quickly and easily without leaving any soapy or slippery feel unlike dove soaps. It effectively removes all the dirt/oil from the skin without giving any dry or stretchy feel. I don't have to run for a moisturizer after using this and my skin stays happy even if I skip the moisturization part sometimes. It gives my skin a clean and fresh feeling. If face wash gets into my eyes it does sting a bit but I think sting is bound to happen if any foreign particle gets into the eyes. It doesn't give me any break outs. It keeps my skin happy and healthy .
Being a mild face wash it is not much effective in removing makeup. However, if the lather is left on face for few more minutes and massaged gently, it will slowly dissolve the makeup but I prefer to remove my makeup with a cleanser first and then follow with this face wash.
Don't Miss to Checkout: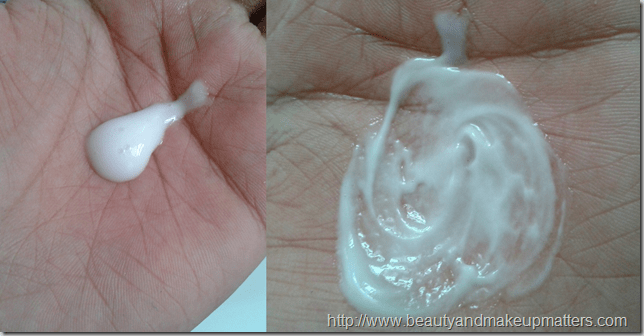 Pros of Dove Beauty Moisture Face wash:-
Gives a rich creamy lather.
Rinses off pretty easily
Refreshing mild fragrance
No Breakouts
Lasts long as only small amount is required for each wash.
Travel friendly packaging
Easily available
Decently priced
Cons of Dove Beauty Moisture Face wash:-
Not much effective in removing makeup.
Contains Parabens.
May not suit oily skin.
Recommendation:- I am in love with this Dove Beauty Moisture Face wash. It is one of the best face wash that I have used till date. It's mild and gentle and still gives a squeaky clean feeling. No stretchy /dry feel only soft and smooth skin. I will highly recommend this to people with dry to normal skin but it might not work for people with oily skin because of its moisturizing properties.
Have you tried Dove Beauty Moisture Face wash? Which is your favorite face wash?