Doubts Discussion – Best Drugstore Makeup for Oily Skin
Hello Everyone,
When I started with blogging, never in my dreams I would have imagined myself consulting and helping others for regarding makeup but after more than 2 years into this beautiful world, I am happy to have this opportunity.
Cant tell you how amazing it feels when someone look up to you and asks for your recommendations before making any makeup purchases but that adds a lot of responsibility on your shoulders as well to do your best and hoping that she will love the products as much as you think she should 😉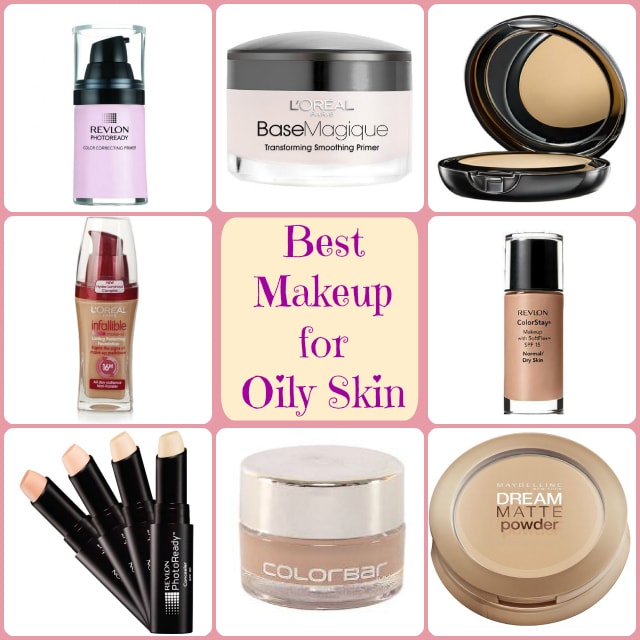 As Wedding Season is round the corner and many of my girlfriends and relatives have their big day coming up… I am getting requests to guide them to choose good makeup products for their Bridal Kit. I am amazed and feeling blessed to be surrounded by such wonderful people who show so much of trust and confidence in me!
I am poured in with requests like "What foundation will work on my Oily Skin" , "Which is the best concealer for under eyes", " Face powder which will work for my oily T Zone" "Should I invest in a Primer", basically everything that goes into your makeup base. As most of them will be buying makeup for the first time, everything should be easy to use and affordable too.
I have done a little research for this and come up with few recommendations that I feel are best for oily/combination skin
Best Makeup Products for Oily/Combination Skin:
Face Primer
Revlon Photoready Primer (Rs. 1300)
L'Oreal Paris Base Magique Transforming Smoothing Primer (Rs. 875)
Colorbar Perfect Match Primer ( Rs. 825)
Foundation:
Revlon Colourstay Foundation for Oily Skin (Rs. 860)
L'Oreal Paris Infallible Lasting Perfecting Foundation (Rs 1195)
Maybelline Dream Liquid Mousse Airbrush finish Foundation ( Rs 600)
Lakme Absolute White Intense Skin Cover SPF 25 Foundation (Rs 700)
L'Oreal Nude Liquid Foundation (Rs 800) –  for Daily Wear
Face Powder / Compact
Maybelline Dream Matte Powder Light (Rs. 475)
Lakme Absolute White Intense Cover Wet and Dry Compact (Rs. 595)
Colorbar Time Plus Compact Powder (Rs. 200)
Revlon PhotoReady Compact (Rs. 850)
Concealer:
Colorbar Full Coverage Conealer (Rs. 450)
Colorbar Instant Stick Concealer (Rs 425)
L'Oreal Paris Infallible concealer (Rs 900)
Revlon Photo Ready Concealer (Rs 700)
Revlon Colorstay Concealer (Rs 725)
Don't Miss to Checkout:
These are what all I could think of that are easily available in India and won't ruin your makeup shopping budget at all but it is always the best to get feedback from the users itself, so if you have an Oily/Combination skin, do share your favorite Makeup products list.
Have you tried any of these makeup products listed above? What is your HG Make base regime (Primer-foundation-concealer-compact)?