Does it Fit Dry Skin? – Maybelline Fit Me Matte and Poreless foundation
Hey Gorgeous,
Maybelline is on a roll with launching one product after the other and I can easily say that "Maybelline" is one of the most happening drugstore brand in India. Just few weeks back they launched their Candy Wow Lip Balms and the soon after lured us with their Lip Gradations. It's quite rare that we a get a chance to try the brand collections from US, but Maybelline is changing the game by bringing more and more products to India and the latest in the series is their Fit Me! Collection which includes Fit Me Foundations, Fit Me compact powder, Fit Me concealer and Fit Me blushes. Today, I will be sharing my experience with Maybelline Fit Me Matte and Poreless foundation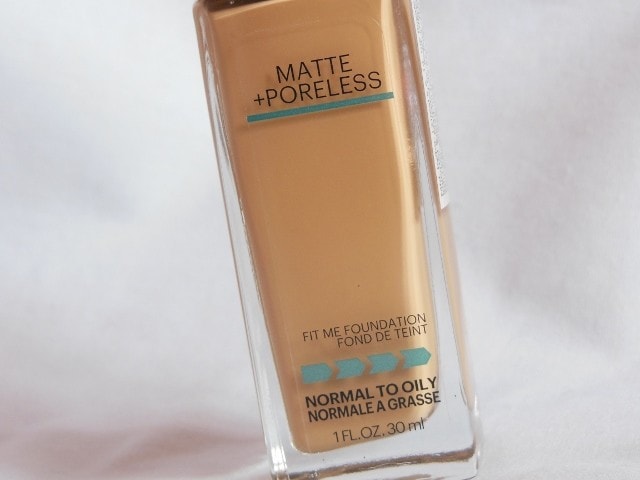 See it in action:
Product Claims: This ultra-lightweight foundation contains micro-powders that absorb oil for a matte and poreless-looking finish
Unique formula goes beyond matching just skintone and also matches the texture of normal to oily skin for the ultimate natural fit
Dermatologist and allergy tested, this mattifying foundation does not clog pores and is oil-free. Eliminate the look of pores and achieve natural looking skin with this lightweight, mattifying foundation.
Mattifies and Refines Pores
Matches Natural tone
Natural Seamless finish
Price: Rs.525 for 30ml
Shelf Life: 3 years from the Mfg date.
Packaging: Maybelline Fit Me Matte and Poreless foundation comes in a rectangular glass bottle with a black screw cap which is a major issue as it is definitely not easy to use. The missing pump dispenser makes it messy to pour the foundation and it is difficult to avoid wastage. The packaging feels nice and sturdy but a pump would have made it hygienic and convenient to use.
Available in 6 Shades:
115 Ivory
128 Warm Nude
230 Natural Buff
310 Sun Beige
322 Warm Honey
330 Toffee Caramel
My experience with Maybelline Fit Me Matte and Poreless Foundation:
Shade: Maybelline Fit Me Matte and Poreless Foundation is available in 6 shades compared to 24 shades in US which is a bummer and I will request brand to consider wider skin tones in India as well. I got it in the shade Natural Buff which is light yellow toned foundation. I feel it is slightly lighter for me but Sun Beige would have been a little darker but within few minutes of application it adapts to my actual skin color and hence doesn't look ashy or cakey.
Texture: Maybelline Foundation has quite thin and runny texture slightly thicker than the usual daily wear foundations but it feels very light on skin. It blends in smoothly on a lightly moisturized skin. The formula doesn't look cakey on skin even when layered and definitely makes my skin looks smoother by diminishing the appearance of pores
Coverage: The foundation provides light to medium coverage and is slightly buildable. It covers minor imperfections but won't be able to conceal marks or dark circles completely. But for day to day basis it does cover more than enough so I am happy with it
Application: I like to apply this foundation over Nivea After shave Balm and the blend it with a flat Kabuki brush for that airbrushed poreless finish. On me, the foundation lasted good 6-7 hours after which it started fading but it never made me look creepy. I don't have an oily skin so for me it was matte throughout. I also skipped powdering my face as the foundation as matte enough for me.
Staying Power: It lasted on me for good 6-7 hours before showing any signs of fading or moving. I did get a shiny T zone in 3-4 hours because of heavy moisturization  underneath but without that it would have clun to my dry patches whcich wouldn't be a good sight.
Recommendation: Maybelline Fit Me Matte + Poreless foundation is a light weight daily wear foundation in matte finish. Unlike, other matte foundation in this price range it looks pretty flawless on application and doesn't look cakey or turn flaky few hours post application. I love that in spite of being a light weight formula it gives a decent light-medium coverage, hiding minor scars, smoothing fine lines and blurring pores appearance. And even after layering, it doesn't feel like I am wearing something on my face. I was skeptical if it would work for my dry skin but "Nivea After Shave Balm " as primer helped me with that and now I enjoy this foundation to the top.  I just wish the range had more shades to cater to olive skintones as well but otherwise a great product. Best for oily skin but you can make it work for dry skin as well if you enjoy matte finishes, Recommended!
Rating: 4.5 /5
Have you tried Maybelline Fit Me Matte + Poreless foundation? Which is your favorite Drugstore Foundation?
PS: Product sent by Brand for Consideration