Do It Yourself – Eye Makeup Remover
I have tried quite a lot of Makeup Removers/Cleansers in the last year and sadly most of then sting my eyes badly. Though few of them were pretty good like Maybelline Eye Makeup Remover and Lakme Absolute Makeup Remover but I was looking for more of a creamy and moisturizing remover for my dry skin that should work equally good on my eyes without any buring sensation. After three unsuccessful attempts back to back, I gave up finally and decided to take the situation in my hands and started thinking for a Do it yourself makeup  recipe for the remover and this is what I came up with.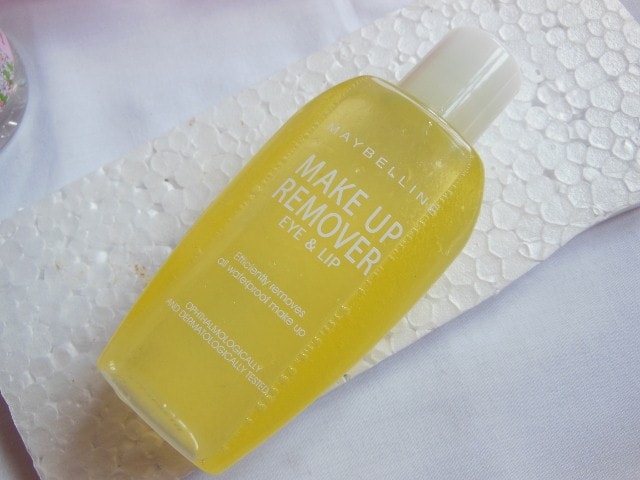 Products Required:
Glycerin
Almond Oil
Rose water
Empty Bottle ( I used Maybelline Makeup Remover bottle)
I believe these are the most easily available ingredients everywhere and you can change the quantity depending on your skin's requirements.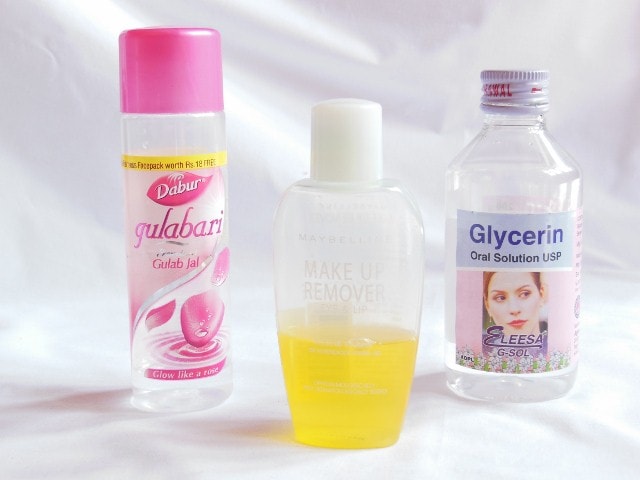 Benefits and Variations:
Almond Oil: It can replaced with Olive oil but I want able to find original Extra Virgin Olive Oil anywhere near me so used Almond oil instead that I got extracted from Almonds in a grinder near my place at nominal price (Rs.100 per kg). Almond oil is light on skin and doesn't feel slick or heavy even in summers. Also, it never stings my eyes and now I can say bye bye to the toughest of the eye make and even the waterproof masacara within one swipe!
Glycerin: It is the main ingredient in 99% of the moisturizers as it has soothing effect on dry skin and provides natural nourishment. It is not only good to the skin but also makes the formula of the remover quite smooth.
Rosewater: Almond Oil and glycerin would have made the consistency really thick so as to thin it up I added a good amount of (Rose Water)Gulab jal. You can use distilled water as well but for additional benefits I chose Rose water
Preparation Steps:
Spot an empty bottle from your stash to prepare the remover, I found this Maybelline Makeup Remover one.
Fill it half with Almond oil or any of the natural oil that you have with you
Fill the 30-35% with Gulab Jal or Distilled water
Add 15-20 % of Glycerin in the oil
Shake it up and you are done!


Directions for use:
Shake the bottle well.
Pour a generous amount on a cotton ball
Swipe across your eyes and face
TIP: For the tough waterproof mascara just leave the cotton dipped in remover for few seconds over the surface and let the oil dissolve it and then just swipe it acroos and woof its gone!
As I have dry skin having some sort of moisturizer or oil is a must have for me in my makeup remover. All of the mentioned ingredients here are beneficial for the skin's health and provides natural nourishment to it 
Conclusion: I wanted a makeup remover that is creamy enough to remove even the water proof makeup with ease but the consistency should be too thick or goopy plus it should not be stingy to eyes at all and the slick oil layer is a big no no as it can be the cause for breakout.

Most of the affordable makeup removers either contain Mineral oil, parabens or some hidden chemicals that are disliked by our skin but we never know so is the solution to all that. This chemical free formula cleans up all the mess take makeup off the eyes and face without stinging and too much greasiness. It is an effective makeup remover which is also gentle on skin and won't cost you a bomb. This is one of the best Eye makeup removers I have ever tried.

Now, my favorite remover is a mix away, whenever I will run out of it, will refill the botlle and  I am good to go!
PS: I am on a hunt for luxurious oils like Jojoba ones , do let me know if you know where to find them out!