Disadvantages of Green Tea
Green Tea is no doubt very useful and beneficial for our health as it helps in fighting signs of ageing, reducing weight & cholesterol, boosts immune system and reduces the chances of catching infections along with many others like preventing cancer and reducing the chances of getting diabetic. We have already discussed about the Health and Beauty benefits of green tea (Here and Here) but, at the same time, it contains caffeine which when consumed in large proportions can show its side-effects on the body. So, today I am listing few side effects of drinking Green Tea which can crop up when consumed in large volumes.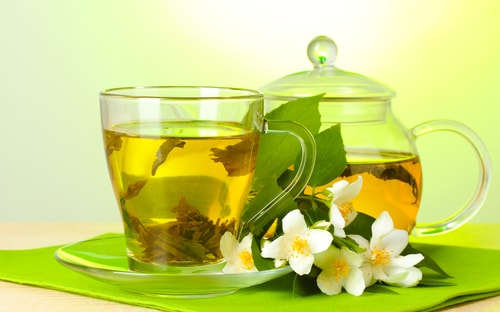 Pregnant womenare advised to avoid Green Tea as it contains EGCG which can interfere with the child's growth & can create complications.

Here is how it effects – The EGCG in the green tea is structurally almost the same as another compound called methotrexate. This compound, when combined with an enzyme called DHFR (dihydrofolate reductase) is known to help kill cancerous cells. The same enzyme also helps in converting the folate (which is a nutrient) into what the body needs in order to support normal functions. Because of the chemical similarity of the EGCG with the methotrexate, this will also combine with the DHFR and when this happens, the folate processing is affected.
SO, consult with your doctor before starting with Green Tea during pregnancy. The danger only comes when there is a daily consumption of multiple cups of green tea which it might cause low birth weight, premature birth and even fetal death.
Green tea contains caffeine, which may be unsuitable for you if you are suffering from any nervous disorders or hypertension or under medication because Caffeine may worsen these conditions or interact with medications meant to control them. So speak to your doctor prior to drinking green.
If you are Sensitive to Caffeine then problems like sleeping disorders, nausea, restlessness, frequent urination and loss of appetite may crop up. The problems related to the stomach are most common among the people taking the tea. Thus, it is advised either to take the tea in fewer amounts or completely eliminate drinking it.
Children in their growing year don't require consuming Green Tea. There are so many changes happening in the body, so young children are advised not to drink coffee or tea. Consumption of Green Tea isn't the right choice as their body may not be comfortable and it may interfere with their growth harmones.
Intake of Green tea in large amounts can pose danger to the kidney as well as the liver.
There are some disadvantages of green tea but these will only be witnessed when Green Tea is consumed in larger volumes. Green tea doesn't pose any health threats with average intake (2-3 cups daily) but, it's fair to warn you of the complications which may arise. Too much of everything is bad and the same holds true for Green tea.
So, drink this wonder herb in moderation and it will not pose any risk.