Different ways of Using Glitters using Faces Sparkle Dust Stackables
Hey Gorgeous,
Today I will be sharing different ways of Using Glitters and Pigments using Faces Stackables. I am showing 7 different ways of using them but the possibilities are endless. I love using Glitters/pigments but they can be a real mess to clean up. Though the results always bowl me over and hence it is worth the effort.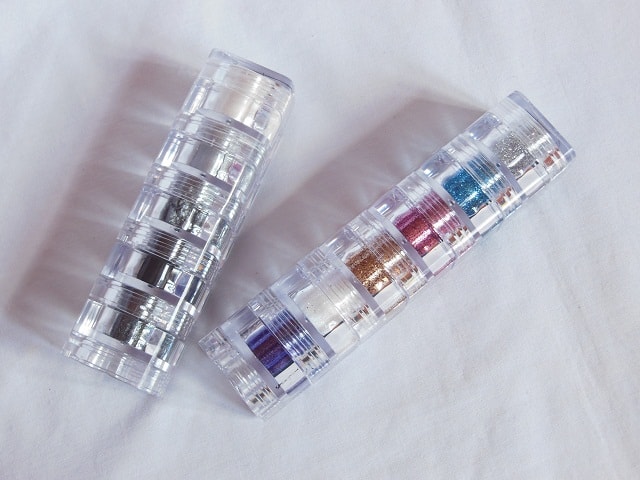 Also checkout this video where I showed various ways of using Loose Glitter/Pigments
Product Claims: This concentrated shimmer is especially handy when you want shimmery, sultry eyes or to create unforgettable drama. Available in stacks of inspired color themes to help you create the most unique and stunning look.
Faces Cosmetics had these stack of pigment eye shadows earlier as well but now they relaunched them with more colors and stacks to choose from. These are called Stackables becuase you can stack shades one upon the other.
Available in 4 different Stack of colors
Wild – Beautiful mix of greens and blues
 Zebra- Mix Grays, black and a stunning white pigment
Whish –  Bright reds and blues
Glitter – Combination of gorgeous shades with glittery texture
Price:
Faces Sparkle Dust Stackable Glitter – Rs 899
Faces Sparkle Dust Stackable Zebra/Whish/Wild – Rs 799
Packaging: I loved these Faces Sparkle Dust Stackable packaging which keeps all the colors together and takes less storage space but at the same time it is quite messy to use and carry just one shade as the whole stack has just one cap
Different ways of Using Glitters/Pigments
Faces Sparkle Dust Stackable pigments are superfine and can be easily used on eyes. Though i feel the glitters are slightly chunky and not the best option for eyes.
Eye Shadow: Use a mixing medium or damp brush  for pigments and glitter glue for glitters and apply them o lids with a flat shading brush.
Eye Liner:  Create your custom liner by mixing glitters with glitter glue and lining the eyes with favorite pigments/Glitter.
Nail Paint: Like Eye Liner you can use these Glitter/Pigment stacks to create custom nail paint shades or glittery nails with the help of clear nail polish.
Highlight: Use the finely milled white eye shadow as highlight. It works amazingly well as cheekbone, brow bone and inner Eye Corner Highlight .
Blush: Colored pigments works best as blush.
Lipstick:Colored pigments in the shades of pink and red can be used as a full on lipstick or as a hint of lip tint on lips when used over lip balm.
These are just the few options of using Faces Sparkle Dust Stackables, I am sure there are a lott more. I loved doing Glittery eyes and nails.
Have you tried these Faces Sparkle Dust Stackables ? Do you like playing with pigments?
PS: Product sent by brand for consideration