Diana Of London Absolute Moisture Lip Liner – Raspberry Sorbet Review, Swatches, LOTD
Today, I am going to share Diana of London Absolute Moisture Lip Liner in Raspberry Sorbet.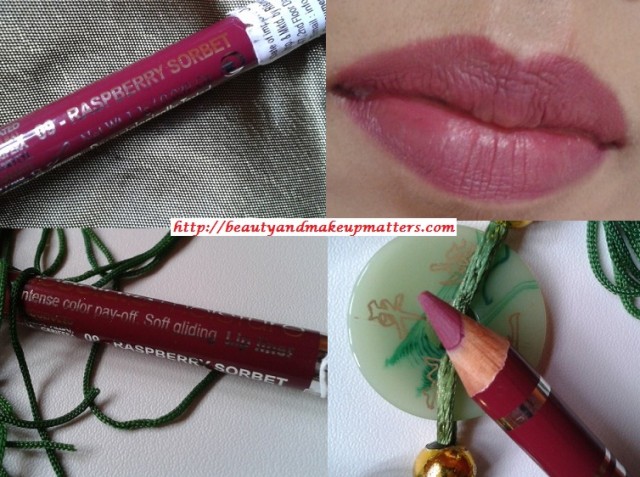 Product Claims: INTENSE COLOR PAY-OFF & SOFT GLIDING
Perfect wear lip liner ideal to softly contour around the lips.
Enriched with moisturizing shea butter.
 Excellent coverage provides smooth glide and fine shimmer
Available in 11 beautiful shades:-
Raspberry Sorbet
Rose Blush
Cardinal red
Pink Frost
Nude Cheery
Berry Bloom
Pink Kiss
Sweet Pea
Baccara Rose
Sweet Burgandy
Dusky Chocolate
Direction for Use:- Outline your lips, and then fill in lipstick with a brush. For a more matt effect, Fill in the whole lip area with the Absolute Moisture Lip liner, and then blend with a brush. Ideal for making thin lips look fuller, or for minimizing lips that are too full.
Ingredients:-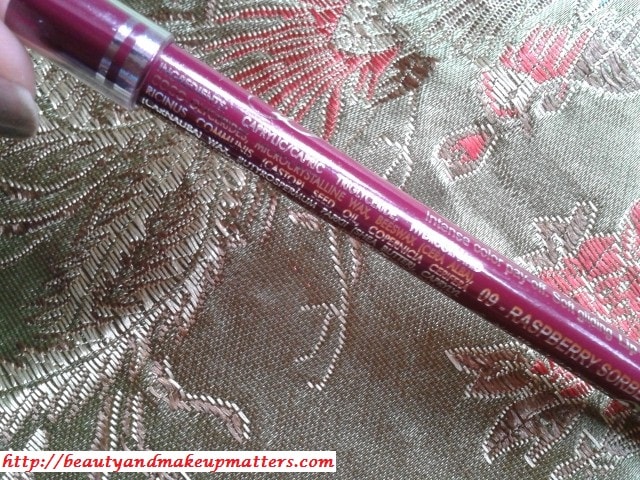 Price:- Rs.290 for 1.1gm
Packaging:- The liner comes in a wooden sharpen able pencil form with a sturdy transparent glass cap. The cap locks tightly with the pencil. It is so easy to identify or locate the shade I want to use by just glancing at the outer-packaging which carries the color of the lip liner.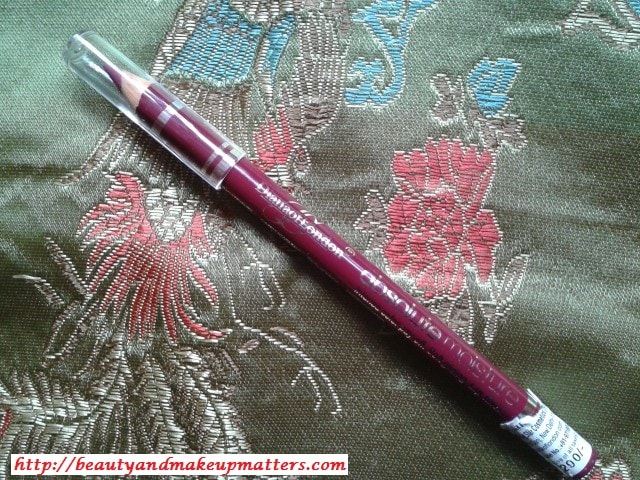 My experience with Diana Of London Absolute Moisture Lip Liner – Raspberry Sorbet:-
Raspberry Sorbet is deep berry pink shade with some red and rich fuchia undertones. The depth in the shade makes it a fabulous winter lip color which will be suitable for all skin tones.
Texture:- The texture of the lip liner is absolutely smooth and creamy which glides effortlessly over lips unlike Colorbar Lip Liner in Plum which tugs badly. The texture is creamy which doesn't made lips go dry but it isn't moisturizing either.
I use this without a lip balm underneath but for extremely dry and chapped lips I would suggest to layer it or top-it up with a lip balm.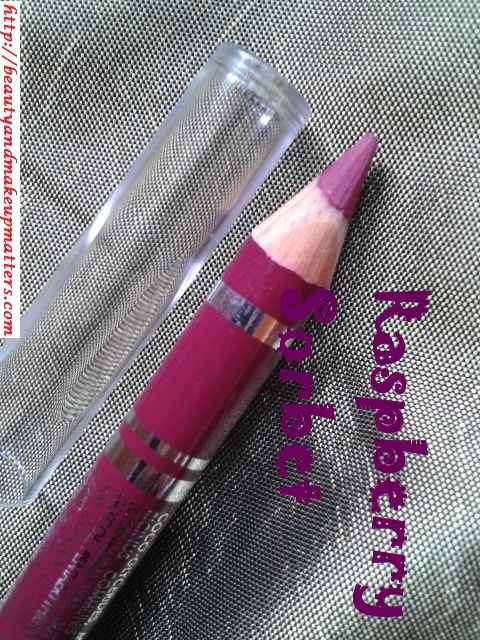 Pigmentation:- The color payoff is super-awesome as its rich color pigments reveals the true color of the liner in a single swipe. I didn't require to sweep it again to get complete coverage as it gives an absolutely opaque finish in a single swipe.
Finish:- The liner gave a soft matte finish to the lips . The liner doesn't move from its place even a bit and confides the color to the lip area only. It also doesn't transfer and becomes kiss-proof when patted once.
Staying:-  The soft creamy texture doesn't trade off with the wearability of the shade and lasts throughout the day on my lips. The liner leaves a lovely berry pink stain on my lips which also stay for quite a long time
Don't Miss to Checkout:
Swatch:-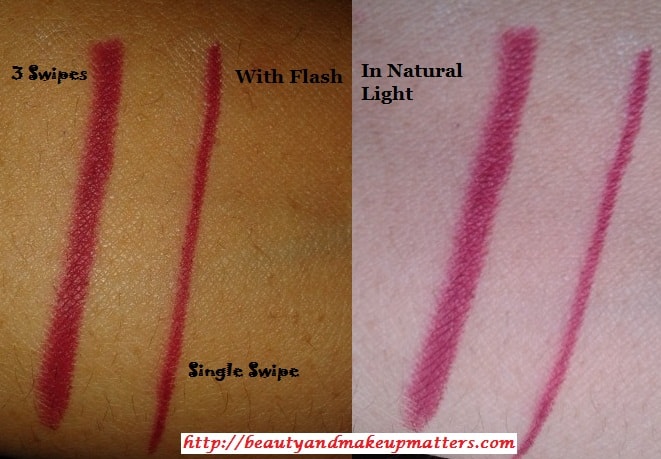 Pros of Diana Of London Absolute Moisture Lip Liner – Raspberry Sorbet :-
Smooth Creamy texture but not buttery
Glides smoothly over lips with zero tugging
Lasts really long and survives meals in between
Doesn't dry out my lips
Kiss-Proof
Soft Matte Finish
Doesn't bleeds or flake.
Hygienic, sharpenable pencil packaging
Colored covering makes it easy to locate
Dermatologically tested
Cons of Diana Of London Absolute Moisture Lip Liner – Raspberry Sorbet:-
Availability is the only issue
Recommendation:- Diana Of London Absolute Moisture Lip Liner – Raspberry Sorbet is an enticing rich berry plum shade in matte finish. The liner is creamy and has matte finish. It is well pigmented and goes opaque in a single coat. I was amazed to see how readily it spreads over the lips (when used as lip filler) giving an even coverage with minimum effort. The lip liner feels slightly dry to lips but doesn't give any uncomfortable parched look neither does it settles into fine lines. Looking for a long staying or staining lip color try these Diana Of London Lip liners Raspberry Sorbet makes an amazing lip color for freezing winters. Highly Recommeded!

In the bullet it looks similar to Maybelline Jewels Lipstick in Berry Brilliant but shows its deep reddish-plum tones when swatched where Berry Brilliant looks pinkier..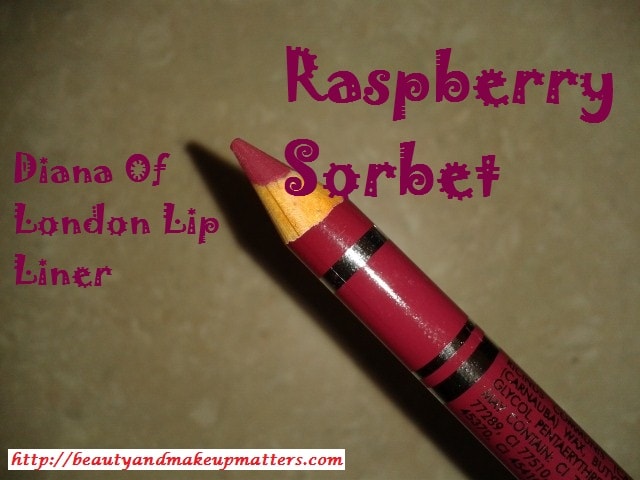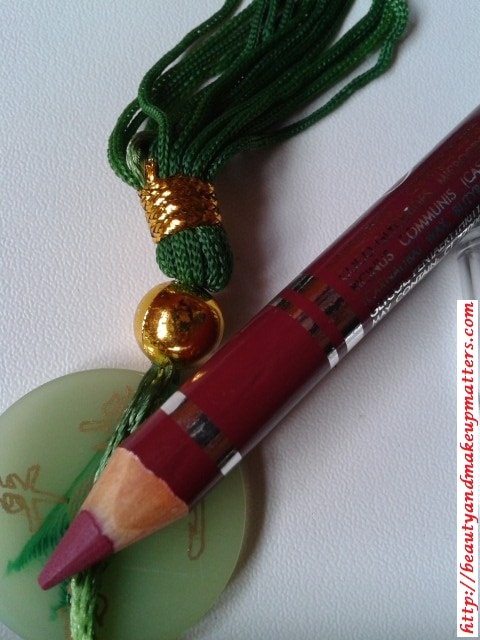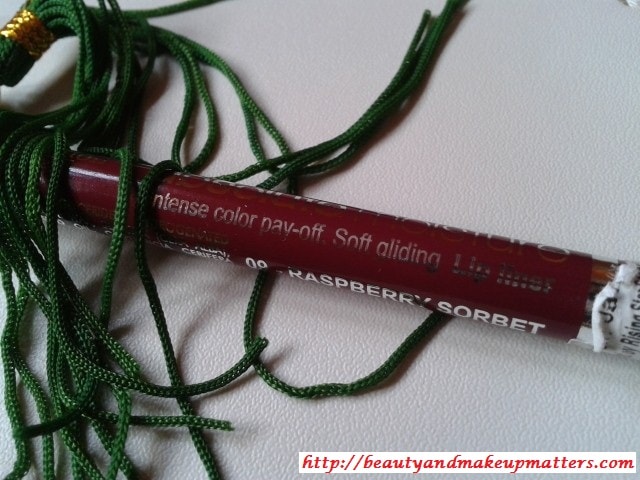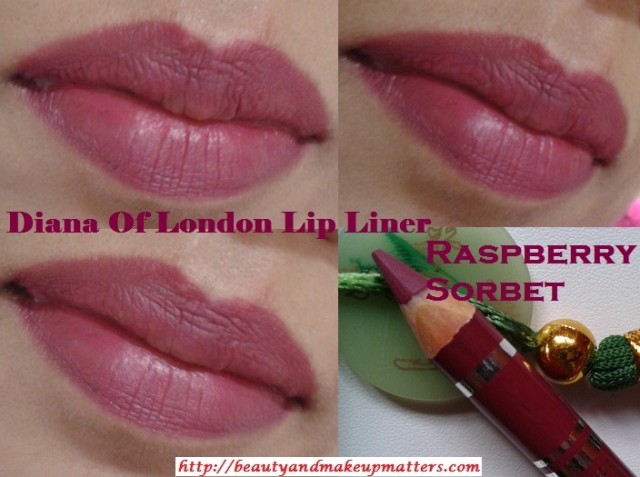 Rating:- 4.8/5
Have you tried Diana Of London Absolute Moisture Lip Liner – Raspberry Sorbet? Do you use lip liners to define lips before filling with lipstick?