Dermocalm by GlaxoSmithClime Review
Product Claims:- Dermocalm Lotion is used as an antipuritic (anti-itching) agent to treat mild pruritic conditions such as sunburn, eczema, rashes, poison ivy, chicken pox, insect bites and stings.
Light liquid paraffin is used as emollient to prevent dryness of the skin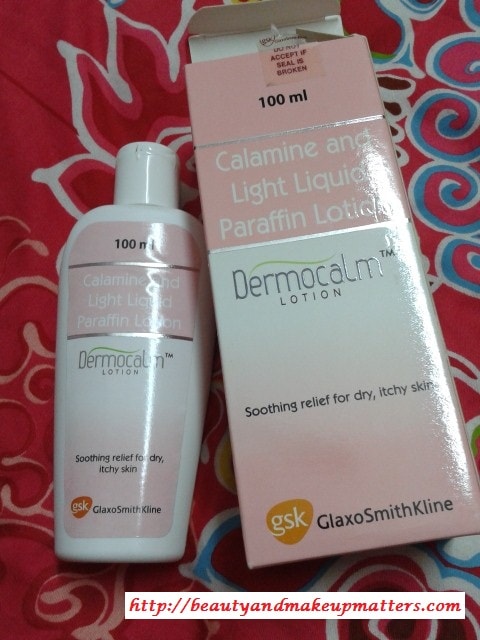 Direction for use:- Apply gently on the affected area of the skin by gentle massaging, until it vanishes.
Ingredients:- Aloe Vera Gel, Glycerin, Bentonite, Steareth-2, Steareth-21, Silicone oil, Dimethicone and Dimethiconol , Magnesium Aluminium Silicate, Methyl paraben, Propyl paraben, Perfume, Citric acid, Purified water.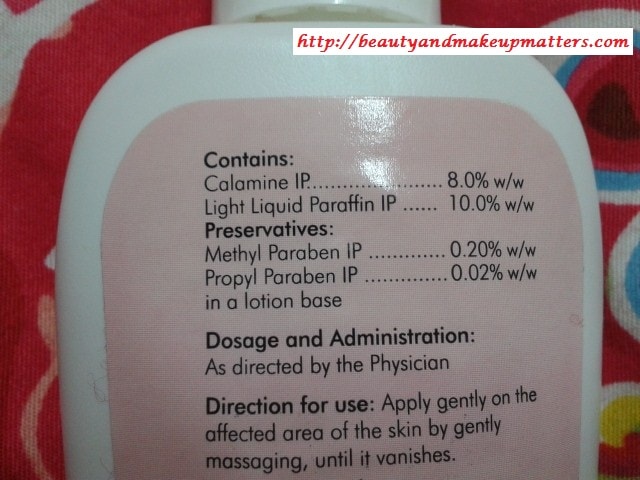 Price:- Rs.105 for 100ml
Shelf Life:- 24 months from the Mfg date.
How is Calamine lotion different from normal moisturizers? What exactly calamine lotion is :-
Calamine is a mixture of zinc oxide (ZnO) with about 0.5% ferric oxide (Fe2O3). It is the main ingredient in calamine lotion and is used as an antipruritic (anti-itching agent, attributed to the presence of phenol in the formulation) to treat mild pruritic conditions such as sunburn, eczema, rashes, poison ivy, chickenpox, and insect bites and stings. It is also used as a mild antiseptic to prevent infections that can be caused by scratching the affected area, and an astringent to dry weeping or oozing blisters and acne abscesses.
Not sure why this lotion contains silicones? Google says – Silicons covers the skin to protect and keep the moisture in. By doing so, silicone also fills in uneven skin texture like fine lines and acne scars so it gives the illusion of great skin.
Good or Bad of Silicones for skin:-
Good:- The molecules in Dimethicone are too large to penetrate into the skin layers and only sit on top of the skin. By having this silicone layer on top of the skin, the skin moisture is prevented from escaping, thus helping keep the skin moisturized. Silicone in skincare is also supposed to be better for those with sensitive skin due to this occlusive nature and it does not irritate the skin nor does it cause acne.
Bad:- Because the silicone sits in a layer on top of the skin keeping in moisture, it also keeps in any sebum, dirt and bacteria that may already be on the skin and do not allow the skin to breathe. Once the skin is irritated, it will breakout.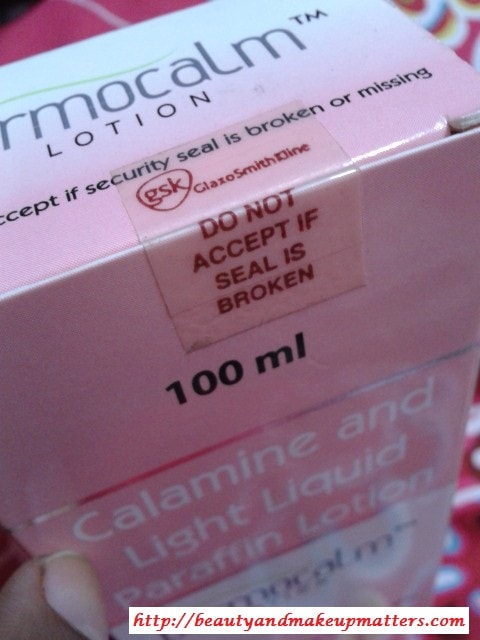 Packaging:- It comes packed in a white-pink cartoon box with a seal. The actual lotion comes in an opaque plastic bottle with a flip cap. The cap shuts tight. The bottle is compact and travel friendly as its not going to leak or mess while travelling.

What I liked in Dermocalm by GlaxoSmithClime :-
The lotion has a runny consistency but spreads evenly all over the face without slipping.
The lotion is peachy brown in color and gives a light coverage to the skin. It makes look skin smooth and even, may be due to the presence of silicones.
I have a dry skin and few drops of this lotion are enough to cover entire face and provide ample moisturisation without making it greasy.
It gets absorbed into the skin with a little massage. Massage it well till it gets completely absorbed else it will leave a whitish cast on skin and giving patchy application,
In summers, I prefer to mix this with my sunscreen Lotus Matte 3-in-1 (check review here) . It gets along with it well and provides enough moisturization and sun – protection in a single step. No need to wait for it to get completely absorbed and then apply sunscreen.
It has helped me in lightening the skin blemishes and acne scars with regular usage.
It has mild fragrance not overwhelming
I love to slather this on skin before going to bed as it helps in improving skin tone.
Reasonably priced. Works on acne scars and blemishes without burning a hole in pockets
Contains Aloe Vera Gel and Glycerine which are known for their moisturisation and healing properties.
Don't Miss to Checkout: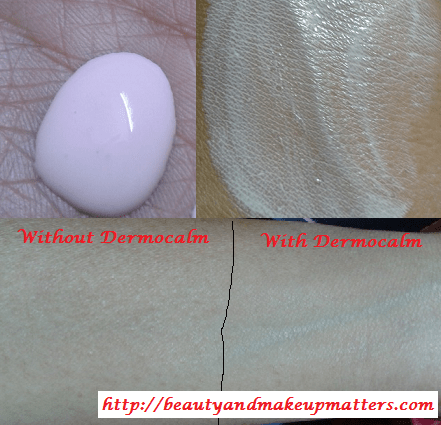 What I disliked in Dermocalm by GlaxoSmithClime:-
If used excessively especially in summers it turns my face sweaty and greasy so don't over do with this during day.
Contains parabens
Available only on medicinal stores.
Recommendation:- I have been using Lacto calamine since long and like it very much but Dermocalm by GlaxoSmithClime is something better than Lacto calamine in terms of skin care. It works on scars and blemishes and also soothed and relieves dry, itchy skin. If you are looking for a change from the regular calamine lotion. Give this a try.

No sure if it will suit Oily-skinned ladies.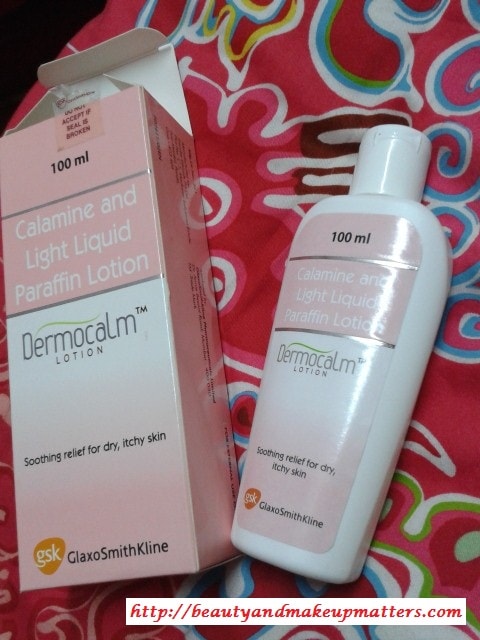 ** Sorry for this long post but review wouldn't be complete without the details. Hope you find it useful
Rating:- 4/5
Have you tried Dermocalm by GlaxoSmithClime ? Do you use calamine lotions?