#DekhbhaalRichCremeKi with Godrej Expert Rich Crème Hair Colour
Hey Guys,
Today I will be introducing you to the "Godrej Expert Rich Crème Hair Colour".,Well I know most of us must have seen the sachet packaging of this hair colourbut they have come up with a bigger packaging this time and it is a Multi-Application Pack. I used to stay away from hair colours as I had inhibitions that it will damage my tresses but when I saw those grey hair strands peeping through I gave up. My mom loves Godrej Expert Rich Crème Hair Colour and have been using it since years but this time I tested it on myself.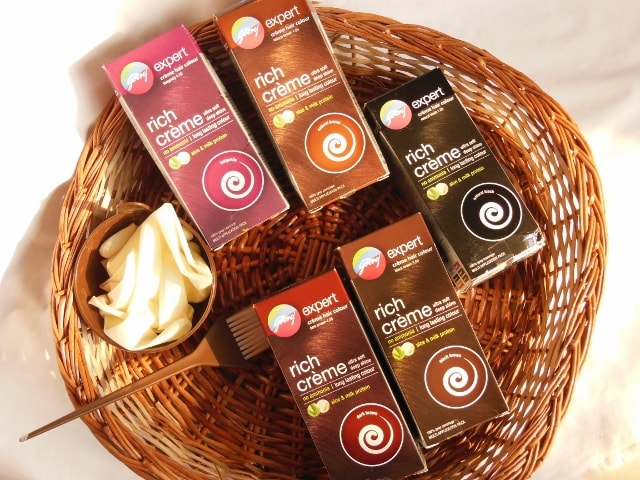 Product Claims: Godrej Expert Rich Crème Hair Colour Multi-application Pack for more Colourful Moments.
Godrej Expert Rich Crème Hair Colour has become your favourite hair colour owing to the rich colouring experience it offers and the joy that follows when people compliment your beautifully coloured hair.
Now, this experience will last even longer with our new Godrej Expert Rich Crème Hair Colour Multi-Application Pack. It comes with a Colourant (Tube) & Developer (Bottle), and 2 Conditioner sachets. So colour your hair multiple times and even do root touch ups with just a single pack, at the comfort of your home. 
Our 100% grey coverage Crème is just what you need for your greying tresses. Its Aloe & Milk Protein enriched formulation makes your hair unbelievably soft & shiny and its No-Ammonia formula keeps your hair damage free*
Getting beautiful coloured hair just got simpler.
With 5 gorgeous shades to choose from, Natural Black (1.00), Black Brown (3.00), Dark Brown (4.06), Natural Brown (4.00), & Burgundy (4.16), you can now give your hair the makeover it deserves, anytime.
Direction for Use: Pour the developer and the colorant into the mixing bowl and blend them well. Now apply this mixture on clean hair with the brush and leave for 30 minutes before rinsing with water.
Contents:
1 Tube of Crème Colourant (50 g)
1 Bottle of Developer (50 ml)
2 Conditioner sachets (12 g)
1 Instruction leaflet
Price: Rs.120 for 62gms + 50ml
Shelf Life: 2 years from the Mfg date.
Packaging: Godrej Expert Rich Crème Hair Colour's Multi Application Pack comes in a box. The crème colourant is packaged in a metallic squeeze tube and the developer comes in a plastic bottle. It is accompanied by 2 sachets of Conditioner for even smoother hair. Detailed instructions are mentioned on the pack along with show casing color effect to give a good idea about how the hair will look post-application. I just wish it had come with disposable gloves and a hair brush to apply the colour, it would have been a perfect hair coloring kit, but these can be easily purchased from your nearest drugstore.
Available in 5 shades –
Natural Black
Black Brown
Dark Brown
Natural Brown
Burgundy
My experience with Godrej Expert Rich Crème Hair Colour-
Godrej Expert Rich Crème Hair Colour is available in 5 gorgeous shades and with lots of browns to choose from so that you can find the perfect match to your natural hair color. But I chose to go with "Burgundy" because I wanted to have those purple hue tresses.
Black: I personally feel "Black" will be too black but if you are in mid-twenties or obsessed with black hair then you can try this shade.
Black brown: It will be the perfect shade for covering gray hair for naturally dark Indian hair. All middle aged women (especially mom's) who have gray hair issues will find this a perfect match for their hair as it gives a soft blackish brown color to hair.
Dark Brown: If your hair is slightly brownish and Black Brown is too dark for you than Dark Brown would be a great shade to hide those pesky greys and still enjoy natural looking hair.
Natural Brown: I think this is a good option for youngsters who like to experiment with their hair color or suffer from grey hair. Few of my friends during school and college days had gray hair issues (genetic reasons) and they had to get them colored quite frequently, though most of them used to go for natural Heena but it was quite a task. So you can use it as an overall color or if you would like to get streaks.
Burgundy: I am always drawn towards colors and this hair color had my name written over it. If you are like me and like to experiment then this is a great shade. It won't actually make hair look purple or burgundy but just add a colored sheen to them which looks beautiful in sunlight.
It is claimed to be a long lasting hair colour with benefits of Aloe Vera & Milk Protein. Also, the formula is free from Ammonia so you won't feel choked while applying this hair colour, as this hair colour doesn't have a pungent smell.
Application: The contents come with pre measured quantities of both the Colourant and the Developer and I just needed to pour them in a bowl to mix. The pack can be used 2-3 times if you are going for roots touch up but for using as an all-over color, whole pack will be used at once for middle-long hair length. The Hair color has a pleasant smell and it also doesn't irritate eyes because the formula is ammonia free.
Results: I don't have much gray hair and my hair is naturally very dark black so the burgundy color is light on my hair and just a beautiful purply sheen visible under sunlight. I am not able to locate those gray hairs on my scalp post hair color so I can say for sure that the color did a good job in camouflaging them. And my hair doesn't feel even a bit rough or frizzy and remain soft and smooth with no hair fall issue. The color sustains 6-7 washes (20 days approx) after which it starts fading and needs a touch up.
PS: Do a patch test 48 hours before using the hair colour to avoid any allergic reaction,
Recommendation: Godrej Expert Rich Crème Hair Colour is one of the best affordable options to colour hair at home and cover those grey hairs. I really love that Godrej Expert Rich Crème came up with this bigger version aka Multi-application pack which will last 2-3 touchups. In spite of it being affordable it does give other colour brands a run for their money because of its Ammonia-Free formulation and the Aloe & Milk Extracts which helps keeping hair soft and smooth. Also, it is one of the most easily available hair colour. Overall, good pick for someone looking for budget hair colour with no strong fragrance but great results. Now, Give your hair beautiful color & Dekhbhaal with Godrej Expert Rich Crème Hair Colour. Recommended!!
Rating: 5/5
Have you tried Godrej Expert Rich Crème Hair Colour?
PS: The product was sent by brand for consideration.
You could follow the brand on their following channels:
Website -http://www.godrejexpert.com/
Facebook -https://www.facebook.com/GodrejExpert
Twitter -https://twitter.com/GodrejExpert
Instagram -https://www.instagram.com/godrejexpert/