Deep Cleanse Skin with Innisfree Super Volcanic Pore Clay Mask 
Hello Everyone,
I have another awesome product from Korean skin care today and this time its from Innisfree.. the only Korean brand that has stores in India. :D. I didn't had great experience with ready made face packs/masks earlier as the one from FabIndia broke me out badly and the Lotus Herbals one didn't do anything great and there is that common tingling sensation in most of these clay masks which I am not comfortable with. So, I had my own set of inhibitions before trying out this mask but the results surprised me and for good.. lets check out why I love this mask so much, Innisfree Super Volcanic Pore Clay Mask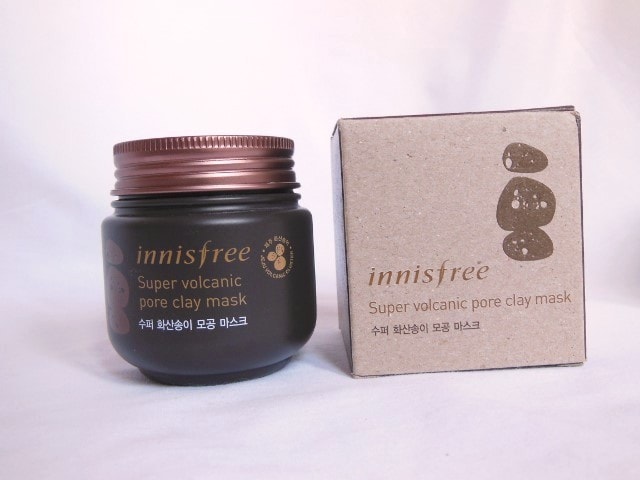 Product Claims:
6-in-1 Pore Care :
Contract Pores + Controls sebum + Exfoliate + Deep Cleanse + Brighten Tone + Cooling
What is Super Volcanic Pore Mask?

Jeju volcanic clay is made with the Jeju volcanic mineral from the explosion of Jeju volcano. It's an alkalescence resource, categorized as a preserved resource, and is effective in removing sebum and other impurities. (Contains 6,020mg of Jeju volcanic clay)

Strong removal of sebum through the Super Volcanic Capsule

As the capsule bursts, its exfoliates any dead skin cells. AHA element helps chemical exfoliation and smoothes out the skin.

Clear & Refreshing Pore Contraction!

Strong absorption of sebum and cooling effect of the clay refreshes the skin and contracts pores.
Direction for Use: After cleansing, wipe your face gently with the toner to even out skin texture. Then apply the mask over the entire face, avoiding the eye and lip area. After 10 minutes, gently rinse off with lukewarm water using your fingertips.
Ingredients:- WATER, TITANIUM DIOXIDE, BUTYLENE GLYCOL, VOLCANIC ASH, GLYCERIN, SILICA, TREHALOSE, KAOLIN, BENTONITE, POLYVINYL ALCOHOL, CAPRYLIC/CAPRIC TRIGLYCERIDE, ZINC OXIDE (CI 77947), GLYCERYL STEARATE, CETEARYL ALCOHOL, JUGLANS REGIA (WALNUT) SHELL POWDER, CAMELLIA SINENSIS LEAF EXTRACT, CITRUS UNSHIU PEEL EXTRACT, OPUNTIA COCCINELLIFERA FRUIT EXTRACT, ORCHID EXTRACT, CAMELLIA JAPONICA LEAF EXTRACT, PVP, PEG-100 STEARATE, POLYSORBATE 60, STEARIC ACID, PALMITIC ACID, HYDROGENATED VEGETABLE OIL, XANTHAN GUM, IRON OXIDES (CI 77499), ZEA MAYS (CORN) STARCH, SORBITAN STEARATE, POLYACRYLATE-13, MANNITOL, MICROCRYSTALLINE CELLULOSE, LACTIC ACID, POLYISOBUTENE, MENTHOXYPROPANEDIOL, ETHYLHEXYLGLYCERIN, TETRASODIUM PYROPHOSPHATE, POLYSORBATE 20, IRON OXIDES (CI 77491), DISODIUM EDTA, PHENOXYETHANOL
Price: Rs.1100 for 100ml
Shelf Life: 18 months from the Mfg date.
Packaging: Innisfree Super Volcanic Pore Clay Mask comes in a brownish black plastic jar with a dark brown colored metallic screw lid. There is another plastic separator to keep the contents secure. The packaging is good considering the consistency of the mask but there is a fear of mask drying out in the tub so have to be consistent with it..if they could deliver it in a squeeze tube that would have been a life saver.
My experience with Innisfree Super Volcanic Pore Clay Mask:-
Innisfree Super Volcanic Pore Clay Mask is a medium grayish brown colored paste with a super thick texture. I don't have to dig in my fingers to pick it up but it is one of those kinds where you have to lift the product with fingers like you are scooping ice cream out of the tub.
In spite of its thick texture it does spread out pretty easily on the face giving a quick application without creating any mess but use it over damp skin for smoother application. It does have a mild sour fragrance but it isn't noticeable even on application until you dig your nose into the jar to smell it.
The mask does give slight cooling sensation while it dries on skin but it isn't the usual tingling sensation that I have experienced with other clay masks. It is actually quite nice and soothing. It took around 20-30 minutes for the mask to dry up on my face after which I rinsed it off with running water but I could feel the cooling sensation even during that.. which is kind of surprising but in a good way. I have to do some extra effort to take out the formula off my face but that is the case with clay masks so its fine.
Don't Miss to Checkout:
Results: Coming to the results, I loved how this clay mask pulled out the oil and dirt from skin without drying it out and my super dry skin didn't feel stretchy or drier at all rather softer and smoother.
Tightens pores: I guess it did because while it was drying on me I can feel my skin getting a bit firmer and that feeling stayed even after washing my face. Though for a visible difference I have to use it for months.. because these things doesn't change overnight.
Removes Sebum: This the thing that every clay mask would do by absorbing excess oil/sebum from skin… and this mask does that too!
Exfoliates Dead skincells: I can't say for sure because I didn't felt any exfoliation thing but it contains volcanic ah which has tiny granules for the purpose.
Deep Cleanses: Of course.. my skin felt clean and fresh but not the drying types which means it doesn't strip natural oils off skin.. so Yayy! Though I didn't see any visible difference in the black head situation as of now.
Enhace Skin Tone: If we consider how effectively it cleanses skin by lifting off the impurities.. yes it does!
Provides Cooling Sensation: Yes yes Yes.. It absolutely does that and I love it!
Recommendation: Innisfree Super Volcanic Pore Clay Mask is a thick cream face mask with lots of good ingredients and it works wonderfully even on dry skin by lifting off the impurities without stripping natural oils from skin. I don't have any active acnes but it does work on reducing the acnes and their occurrence with regular usage. I was not a fan of clay masks as most of them are for oily skin and just big claims with no results but this Innisfree Super Volcanic Pore Clay Mask impressed me a lot.

The clay mask is quite pricey but it delivers what it claims, so there is nothing like that. I have not tried many clay masks but if you are venturing out in the world of clay masks or need to try a clay mask that suits every skin type, start with this. Highly Recommended!
Rating: 4.5/5
Have you tried Innisfree Super Volcanic Pore Clay Mask? Which is your favorite Clay Mask?
PS: Product sent by brand for consideration.