December Fab Bag 2016: The Partyholic
The last month of the year 2016 has started.. can you believe it guys!! Another amazing year is just wrapping up to say good bye. But you gotta be ready for the celebrations and welcome 2017 with both arms. And this Party themed December Fab bag I guess is just perfect for the occasion. December Fab Bag 2016 is themed around The Partyholic and will prepare you and your skin for upcoming festivities.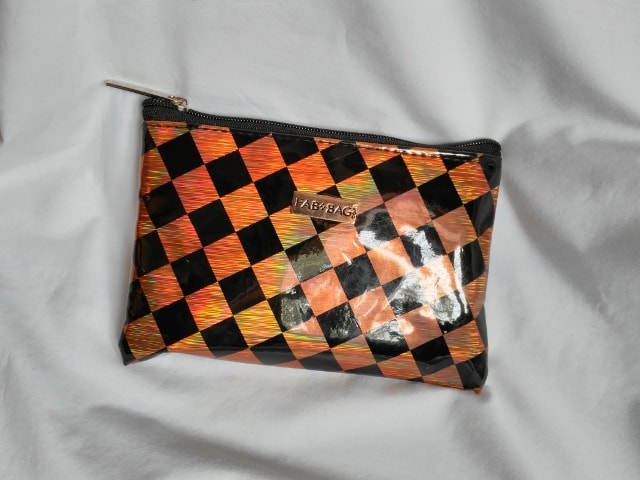 Received the Fab bag on the 1st of the month. Bingg..!! What an amazing way to kick start the last month of the year with cheer.
December Fab Bag is a glossy finished, metallic gold and black pouch. The clutch feels solid and I like the chess pattern boxes print on it!
Video is now live:

Let's just quickly see what all you can expect in December Fab bag.
Price: Rs.599/ month (Buy on fabbag.com)
Products in December Fab Bag 2016: 
Be A Bombshell Lip Stain – Riot: Rs 750 (Full size)
IBA Halal Care Nourishing Foot Massage Cream: Rs 95 for 50 gms (Full Size)
Palmer's Cocoa Butter Formula Skin Therapy Oil – Rs 460 for 60 ml ( 15 ml sample)
Natural Bath & Body Wild Wonder Hair Mist – Rs 525 for 100 ml (50 ml sample)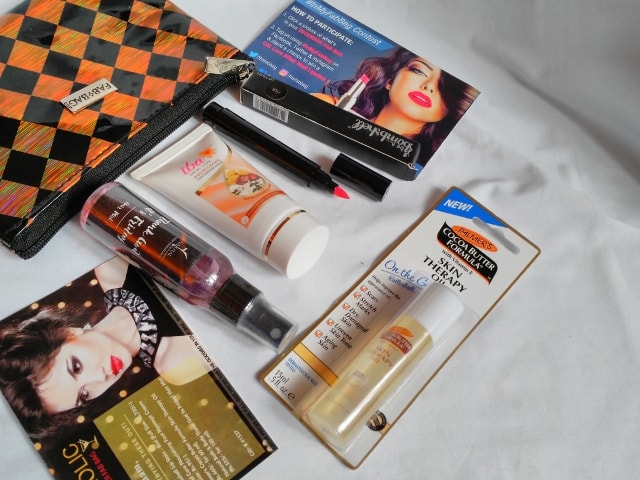 December Month's Makeup Choice:
I got to choose from a number of Be A Bombshell Lip Stains. I opted for this beautiful pink lip stain from the brand because one cant go wrong with pink lips!
Product Details:
Be A Bombshell Lip Stain – Riot: I am obsessed with Pink lipsticks these days. On a bad hair day I just a  pink lipstick to amp up my look and mood too. There were many gorgeous shades to choose from but as I could pick only one I chose this beautiful riot shade from the Be a Bombshell Lip stain collection. It is like a lip marker or sketch pen with a light weight texture and pigmented formula. I am really excited to try it!
Halal Care Nourishing Foot Massage Cream: I have been looking for a good moisturizing foot cream for my super dry feet and this Halal Care Nourishing Foot Massage Cream seems like an answer to my worries. A must have for me in winters.
Palmer's Cocoa Butter Formula Skin Therapy Oil: I am all about body oils this winters. I have slowly switched from body lotions to body butters and now Body Oils. I have read amazing things about this Oil and I am super excited to try it myself! The formula is enriched with many natural oils that nourishes skin from deep within.
Natural Bath & Body Wild Wonder Hair Mist: Another skincare product in the bag and it's a hair mist. I have never heard of hair mists and this one doesn't specially mention anything on the bottle. Well, I am assuming it will add shine and texture to the hair which is an absolute essential for dry hair in winters.
Overall:
So, these are the 4 products I received in this month's Fab Bag. I loved that they put Palmer's Skincare product and Iba Halal products in the bag for the first time. There are mainly deluxe samples in this month's bag with 2 full sized products. All the products Well known skincare and makeup brands which makes it better .
So, the Fab bag is worth around Rs 1300 which is good. I am really happy to get that Palmer's Cocoa Butter Therapy Oil and IBA Halal Foot Cream.
Don't Miss to Checkout:
Have you booked your December fab bag? Which one is your favorite product here?
PS: Bag sent by brand for consideration